The Witches Moon
The Witches Moon is a very private group of witches that prides itself on serving its customers, providing tools to help them manifest their desires, dreams and intentions. Subscribers receive a monthly box to work with the moon and celebrate the Wheel of the Year. Not curated to be used for a full moon ritual, supplies in the spiritually inspired boxes are chosen to harness energies and apply them to the Craft in a way that is meaningful to each individual's journey.
A few months ago, PaganPagesOrg was sent the Lunar Magick box for review. Removing it from the shipping box and lifting the lid, I was greeted with a letter about the box and its contents and an oracle card from the Magical Spellcards deck by Lucy Cavendish selected as a personalized reading with a special meaning. Mine asked Isis, Goddess of Magick, to bring me Inspiration.
Beneath that were two laminated pieces of art created by the same intuitive artist especially for this box, suitable to be added to a book of shadows. One was of Selene, Goddess of the Moon, and her associations. The other shows eight phases of the moon and describes the energy of each, making it useful each day of each month to take advantage of the energies of each.
Opening the blue tissue paper of The Witches Moon Box revealed a collection of carefully wrapped and packed objects.
The first things I reached for were three packets of herbs, each three inches square: California Blindeyes (commonly known as California poppies), wild lettuce and Carrageen or Irish moss. The letter explained their uses from calming to protection.
A box hand stamped with a sigil said to represent supreme power drew my attention. Inside was a nickel-free pewter crescent moon pendant inscribed with the phases of the moon to represent supreme power, control and blessings. The letter suggests that you allow it to hold the moon energies with which you work, so that you can keep them with you by wearing it.
Continuing the moon magic theme, I retrieved a four-ounce jar of Lammas Sacred Salt, created for use during the first harvest – preferably by taking a ritual bath. The aromatic blend contains chamomile, sandalwood, and a special acknowledgement-infused oil, along with calendula and chamomile.
A two-ounce bottle of Luna Aura Spray and an atomizer were the next discovery. The letter explains it was created "with the intention of energizing your Auric Field, just as the Moon is the energizer of Emotions and Inner Strength." A fan of moon oil, I thought I could catch a hint of it among the complex blend.
As with everything in the box, the large white hand-rolled beeswax candle was lovingly wrapped. Around it was tied a scroll printed with affirmations paired with each moon phase. The affirmations are intended to be recited before and after rituals and meditations.
A five-and-a-half-inch selenite wand is meant to "bring the energy you wish to attract into your Sacred Space." Among its many abilities is drawing down the moon energy to charge your intentions, direct energy to specific areas, clear chakras and cast circles. I have used a variety of items as wands, from wooden spoons and animal bones, roses to a large key and a tree branch, never finding one I was extremely fond of. I love the energy I feel when holding this selenite wand and think it's become my fast favorite.
The moon anointing oil was created to assist in manifesting, connecting and crafting energy during rituals. According to the information provided, the oil "is made from a pure Heart and Mind, so that you are able to work your intentions into its use. … [T]his oil acts as a magnet to those things that we desperately need to enhance our lives and our practice." Use it to anoint yourself or your tools. The bottle is 15ml and contains a blend of herbs including jasmine, lemon balm, sandalwood and poppy seeds, along with a Lemurian quartz.
I love rope incense and it is not easy to find. The bundle included in this box is sandalwood, chosen for this collection to offer a sense of peace, meditation and divinity during moon work.
Perhaps the best was what I opened last – a selenite sphere with a stand. Although this box was not made to work rituals on the full moon, that is exactly what it looked like to me. Selenite is a master of cleansing and clearing, able to pull negativity from the body, mind and spirit. Its energy will also facilitate opening a portal between the physical and spirit realms. I found myself drawn to just holding it as thoughts slipped out of my consciousness.
The box sells for $54 within the United States. While I might not have to purchased each of these items individually, there was nothing in this box I did not like or would not use. I was impressed how the items all fit a theme, their quality and their size – no samples, all full-size items – making it a great value.
"Although the value of the items within our collections always exceeds the subscription cost, we have never focused on making this a prominent point in our service. We truly live and breath the Magic that is placed within each item and focus solely on serving our customers in the most unique and beneficial way," said Nicole, the owner and a resident of Arizona.
"We come from a line of tarot readers, psychics and witches, being emerged in the craft since a very young age. We started The Witches Moon in December of 2016 with a mission to serve those that need a stronger connection to the Divine and working to offer unique powerful tools to help in manifesting one's intentions. We truly hope our passion and love show through the items we create, curate and share," she said.
The knowledge of and respect for the Craft with which this box was assembled gave off great energy even before it was opened. The idea of a subscription so that a box containing 10-20 item comes every month is enticing.
The Witches Moon also offers two additional subscription services: The Witches Roots and The Witches Bounty. The roots collection focuses around the energy of a specific herb each month with items for the green witch. The box is priced at $29 within the U.S. The bounty collection includes a high-quality custom-made pendant monthly along items that pair with its energy. These boxes are $78 within the U.S. International shipping is also available.
Themes for the upcoming month's collections are revealed between the 15th-20th.
For more information, visit thewitchesmoon.com.
***
About the Author:
Lynn Woike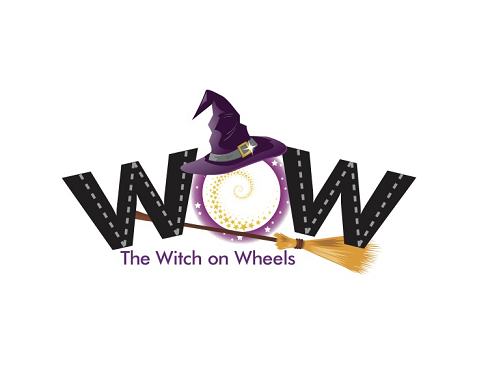 All my life I have known magic was real. As a child, I played with the fae, established relationships with trees and "just knew things." In my maiden years I discovered witchcraft and dabbled in the black-candles-and-cemeteries-at-midnight-on-a-fullmoon magick just enough to realize I did not understand its power. I went on to explore many practices including Zen, astrology, color therapy, native traditions, tarot, herbs, candle magic, gems, and, as I moved into my mother years, Buddhism, the Kabbalah and Reiki. The first man I dated after my divorce was a witch who reintroduced me to the Craft, this time by way of the Goddess. For 11 years I was in a coven, but with retirement, I have returned to an eclectic solitary practice. When accepting the mantle of crone, I pledged to serve and teach. This is what I do from my skoolie – a 30-year-old school bus converted into a tiny house on wheels that I am driving around the country, following 72-degree weather, emerging myself into nature, and sharing magic with those I meet. Find me at thewitchonwheels.com, Facebook and Instagram.