Book Review – Pagan Portals- Guided Visualisations: Pathways into Wisdom and Witchcraft by Lucya Starza
Book Review
Pagan Portals: Guided Visualisations
Pathways into Wisdom and Witchcraft
by Lucya Starza
Moon Books
83 Pages
Let me begin by giving some background on the ever-growing list, currently 56+ strong, of titles published by John Hunt Publishing under their sub-division of Moon Books and entitled Pagan Portals. As the title of the series of books suggests these books provide foundational information relevant to the nuances of developing a pagan practice. Each title is concisely written by adept practitioners offering enough meat on the bones to satisfy both the novice and the more experienced practitioner. I've had the pleasure now of reviewing several of these titles and have not been disappointed in the breadth of information and presentation of the content. As a side note, because John Hunt is a UK based publishing house, you will find variances on spelling in many of the books and titles. Not a typo or misspelling, be assured.
To these points, Pagan Portals-Guided Visualisations: Pathways into Wisdom and Witchcraft by Lucya Starza is a wonderful example of writing that is inspired and content that is immediately recognizable and usable. A lovely addition at the end, Chapter 6: How to Write Guided Visualisations hands over the reigns of creativity to the reader and encourages active participation in the journey of incorporating the practice of visualization into their own.
,,,, Let me guide you to amazing places. It will be an adventure, I promise you. There are discoveries to make, secrets to learn and mysteries to unravel. They are your own secrets and mysteries, but no one will pry into them except yourself. I will lead you – at least at first – but you will learn to find your own way too. I will show you how to stay safe on your travels and teach you to plot your own pathways into wisdom and witchcraft…. (Introduction)
Ms. Starza begins by differentiating between the common terms used, often interchangeably for practices that share some commonality but vary in their intention, background and approach. Meditation, pathworking, visualization, guided meditation and journeying, etc… are addressed and the reader begins the journey of guided visualization with an understanding of what they are about to embark upon. Organically, the "where" and the "how" follows concluding with the intention and timing you may wish to consider as you incorporate the tool of guided visualization into a routine practice.
Chapter 1: Short Guided Visualisations primes the reader for subsequent chapters that provide deeper and slightly longer sequences. Ms. Staza advises in the Introduction that the reader should begin with the first visualition of Chapter 1, Your Safe Place as this will set the tone and create the necessary container for future work that will put you at ease in the setting you have chosen.
Each of the following chapters has a point of focus such as the Wheel of the Year (Chapter 2), The Power of the Moon (Chapter 3), the Alchemical elements (Chapter 4) and Psychic Work and Creativity (Chapter 5). Most of the visualizations are only a few pages in length, but make up for the length in the skill of writing that allows the reader to immediately and deeply connect to whatever the action and intention is.
I especially enjoyed Chapter 5: Visualisations for Psychic Work and Creativity. This chapter included three (3) visualizations "The Magic Mirror in the Enchanted Tower", "The Building of Ideas" and "Gods and Goddesses of Creative Art". Each are meant to stimulate the creative juices as part of your pagan path and open the reader to using tools often overlooked. Scrying and the building of intention and idea flow through each of these as one builds upon the other in unlocking the creative nature.
Chapter 6: How to Write Guided Visualisations, brings it all into the reader's personal power. It is lovely to read and work through visualizations created by others, but the real power lies in what is organically an emanation from your experiences and energetic signature. The basic starters of "Research-Brainstorm Ideas and Plan an Outline" are discussed and location or setting for the guided visualization and its action are integrated as important considerations in crafting a focused and powerful visualization.
Would I Recommend:
Pagan Portals-Guided Visualisations: Pathways into Wisdom and Witchcraft by Lucya Starza is a lovely starting place to begin exploring guided visualizations as another tool in your pagan practice. There are enough scripted visualizations that cover a broad base of the foundational work of the craft and information to prompt the reader to try their hand at this wonderful act of magickal writing. All in all a good addition to your bookshelf.
About Author Lucya Starza:
Lucya Starza is an eclectic witch living in London, England, in a rambling old house with her husband and cat. She writes A Bad Witches Blog at www.badwitch.co.uk and has contributed to Naming the Goddess, Essays in Contemporary Paganism and Paganism 101.
Pagan Portals – Guided Visualisations: Pathways into Wisdom and Witchcraft on Amazon
***
About the Author: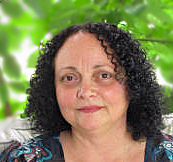 Robin Fennelly is an Elder within The Assembly of the Sacred Wheel Tradition and serves as High Priestess of Coven of the Mystic Path, the 12th Coven within the Assembly of the Sacred Wheel Tradition. She teaches and facilitates classes for the Pagan Experience Study Group that serves as foundation for membership within Coven of the Mystic Path.  
Her spiritual journey is strongly rooted in both Eastern philosophy and the Western Magickal systems from which she has formed a core foundation that is diverse in knowledge and rich in spiritual practice.  A life-long learner, her practice has evolved from the classical and philosophical teachings of books, practical experience and enrichment of this knowledge base by attending workshops of various spiritual traditions presented by master teachers.
Robin formally came to the Wiccan path in 1994. Following a practice as a solitary for 2 years, she dedicated to Oak and Willow Coven of The Assembly of the Sacred Wheel Tradition in November of 1996. She received her 1st, 2nd, 3rd and 4th (Elder) degrees within the Assembly Tradition and has served as High Priestess of two ASW covens since Samhain of 2001 and the Winter Solstice of 2015.

As a teacher of esoteric and magickal studies she uses Energetic Anatomy, Tarot, Astrology, Hermetic Qabala, Eastern Philosophy, and Numerology as the foundations of her diverse selection of workshops and writings for more than 25 years. Exploration of varied energetic protocol has been the focus of her work for some time now and the information gained through direct experience informs all of her magickal and spiritual work.
Robin's writings have been featured online, and in print Internationally.  She has authored several books incorporating her unique style of writing making use of poetry, prose and pathworking to enhance the concepts presented.  She has taught extensively throughout the Pagan community, including Sacred Space Conference, Spring Magick, Between the Worlds Interfaith Conference and Free Spirit Gathering Festival. Her most recent projects include a channel on youtube: A Journey to the Inner Chamber. She also shares audio pathworkings and ritual on her bandcamp site: Teachings on the Path with Robin.
Robin is the owner of Holistic Embrace providing services for mind, body and spirit such as Tarot readings, Astrology reports, Spiritual Guidance and other related offerings.  She lives in Eastern Pennsylvania and her life is blessed by a 40+- year marriage, five children and the opportunity to work in the field of public education.
Robin's Website: www.robinfennelly.com
Coven of the Mystic Path, ASW: www.covenofthemysticpath.org
Her books can be found on Amazon or purchased directly through her website:
For more info: http://www.robinfennelly.com/books.html
The Inner Chamber, Vol. 1 It's Written in the Stars-Astrology
The Inner Chamber, Vol. 2 Poetry of the Spheres-Qabalah
The Inner Chamber, Vol. 3 Awakening the Paths-Qabalah
The Light of SELF: Consciousness, Spiritual Practice and Learning to Breathe
Magickal Verse: A Collection of Poetry and Prose
A Year of Gaia: The Eternal Cord
The Elemental Year: Aligning the Elements of SELF
Temple of the Sun and Moon: Luminous Devotions
Sleeping with the Goddess: Nights of Devotion
A Weekly Reflection: Musings for the Year
The Magickal Pen: A Collection of Esoteric Writings
The Enchanted Gate: Musings on the Magick of the Natural World
The Temple of the Sun: An Astrological Solar Year
Writings in the Shadow: An Exploration of the Shadow Nature