Learning Lenormand Reviews Pixie's Astounding Lenormand Deck
Pixie Astounding Lenormand!! And it IS Astounding!
I've been studying the Lenormand for a couple of years now and I have to admit that I have fallen into somewhat of a rut – which happens, ya know – when you are using the same cards over and over again and reading only for yourself. It's not so very different than what happened with the Tarot and my other divinatory practices – when I retired from active employment and decided to embrace my singleness relationship-wise, there was little reason to consult any form of divination – life was more or less the same every day and it was comfortingly boring.
With COVID-19, my life has shrunk even further. With the exception of a little grocery shopping, I go nowhere and see no one. Since my son has left for the Army, I live for his letters and the few phone calls he is allowed to make. I read books, watch Netflix, write poetry and do needlework.
I was reading some old diaries of mine recently – they will filled with tarot readings and with readings of the "Secret Dakini Oracle" that I had gotten as a present from a lover. I realized that I missed doing readings – I just don't know what I need to know! If that sounds crazy – well, I know it does. But when you're not in love and not looking for love, what do you need to know? If you're retired from the workplace and employment isn't an issue, why would you ask the cards about that? If you only child is in the Army – well, you don't need a deck of cards to figure out his future. Still – I have that longing. I want to lay out the cards again and read what was going on. There just isn't anything going on.
When it came to the Tarot, the Rider-Waite deck was my first deck and remains my go-to deck for readings. While I possess other Tarot decks, I can do a reading with the Rider-Waite deck and read the cards like it's a Dick and Jane book – the original reader. Learning the Lenormand hasn't been that easy for me – it's been a difficult second language, to say the least.
However, when I compare the two systems – Tarot and Lenormand – it seems to me that Lenormand is far more suited for this time of coronavirus than the Tarot. The Tarot has so many people – a typical Tarot reading is like going to a party – no social distancing whatsoever. But the Lenormand has very few people – there's animals and places and things. You can do a "Line of Five" reading and not have a card with a person at all. It's really perfect for the times in which we now live.
I was going to buy a new Lenormand deck no matter what. There were several I was considering – because of their beautiful artwork, basically. I decided on Pixie's Astounding Lenormand because of its artistic closeness to the Rider-Waite – I love Pamela Coleman Smith's artwork. And I wanted to eventually work out a system where I could perhaps use the two decks in one reading. That, of course, is well in the future – I just received the Pixie deck today!
The cards are so adorable.
It was created by Edmund Zebrowski, a massage therapist – really! – who explains in the "little book" that the cards were originally "an exercise in creativity" and "not even intended to be published" (Zebrowski, 4). However, after he posted a few of the cards online, the buzz was so great that U.S. Games became interested, and the rest is history.
I Googled Zebrowski and it seems that his only online presence is his Instagram page. He has a wide range of interests. I became one of his followers. Check him out!
Pixie's Astounding Lenormand comes in a fabulous little tin, which, if you're a box-collector like I am, you are absolutely going to love!
I couldn't wait to use them!
However, I took the time to read the entire "little book" – I would advise you to do the same. Not only does Zebrowski give the "meaning" of each card, but he explains how he put together the artwork of the card – which Tarot cards he used and why. As someone who regards the Tarot as her first "divinatory" language – and the Rider-Waite deck her natural dialect among first languages – knowing the sources of the imagery of Pixie's Astounding Lenormand helps immensely in analyzing the cards within a spread.
I shuffled them for a while – they're nice and small and made of quality card stock, with a smooth, glossy feel to them – they slide well through the fingers. I cut them three times, as is my wont.
I was going to do a simple Three-Card Spread and then I thought I'd do a Line of Five, but then I thought – what the hey, do a Grand Tableau – let's see the whole deck laid out. So that's what I did. (You can see my cat Radar's feet at the side of the spread!)
You have to admit, they are a lovely set of cards! They are close enough to the original Rider-Waite imagery to seem like old friends but they are totally Lenormand in every way! And of course – there are Lenormand images that were never pictured in Pamela Coleman-Smith's tarot work, so the differences only make the similarities stand out that much more. In some ways, Pixie's Astounding Lenormand is a palimpsest of the Rider-Waite tarot – quite a brilliant one.
I'm not going to get into the whole analysis of the spread here, but I will focus on The Lady (who is me, of course):
I think this shows that although I'm looking at the obstacles (XXI The Mountain) in my path and feeling negative about life, there is news coming from the man (whom I assume is my son, the only man in my life) – XXVII The Letter below me could be literally the letter I am waiting for or the fact that I spend most of my days writing – the birds are the chatty nature of my writing. I have a lot about which to feel happy – I just have to turn myself around!
All in all, I am delighted with Pixie's Astounding Lenormand and I look forward to getting back into a daily practice of Lenormand readings with it – this was definitely the kick-start that I needed!
References
Zebrowski, Edmund. Pixie's Astounding Lenormand. Stamford, CT: US Games, Inc. 2015.
All photographs © Polly MacDavid
Pixie's Astounding Lenormand on Amazon
***
About the Author: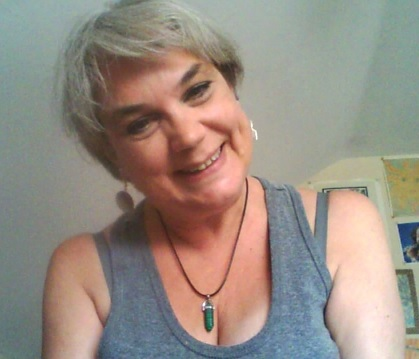 Polly MacDavid lives in Buffalo, New York at the moment but that could easily change, since she is a gypsy at heart. Like a gypsy, she is attracted to the divinatory arts, as well as camp fires and dancing barefoot. She has three cats who all help her with her magic.
Her philosophy about religion and magic is that it must be thoroughly based in science and logic. She is Dianic Wiccan but she gets along with a few of the masculine deities. She loves to cook and she is a Bills fan.
She blogs at silverapplequeen.wordpress.com. She writes about general life, politics and poetry. She is writing a novel about sex, drugs and recovery.