Book Review – The Complete Guide to Astrological Self-Care: A Holistic Approach to Wellness for Every Sign of the Zodiac by Stephanie Gailing
Book Review
The Complete Guide to Astrological Self-Care
A Holistic Approach to Wellness
for Every Sign of the Zodiac
by Stephanie Gailing
Wellfleet Press
256 Pages
I was so excited to get this new book, not yet released to the public. The Complete Guide To Astrological Self-Care: a holistic approach to wellness for every sign in the zodiac, by Stephanie Gailing is set to be published in April, 2021 by Wellfleet Press, an imprint of The Quarto Group. It's a wonderful book!
As anyone who knows me will attest, I am passionately into self-care, holistic health and astrology, so this was right up my alley! I confess that I had never heard of Stephanie Gailing but a quick Google search cured that – her website is here: https://stephaniegailing.com/. Do check it out! It showcases her classes, her books and her philosophy, and tells you how you can contact her for more information. She also has a presence on Instagram, Facebook and LinkedIn. There's also an email list and of course I subscribed to it. I have to say that she has the loveliest laugh-lines I have ever seen! She must live a most joyous life.
Other than the Introduction in the beginning and the Resources, Acknowledgments and Index in the rear, the book has four sections: Zodiac Signs, Stellar Life Stages, Moon Signs, and Planetary Retrogrades. There are sidebars along the main body of text, so don't neglect to read these pieces of very important information!
There are also nifty charts. You all know how I love charts!
She advises reading the astrological profiles for your sun sign, your moon sign and your rising sign when you are reading part one, "Zodiac Signs" and seeing what your health issues are as determined by your various signs and what to do to make your overall health and life better. For instance, I have Taurus sun (born on the Gemini cusp, so I usually read Gemini as well), Pisces moon and Cancer rising. Every single sign had health issues that rang true with me – especially Taurus. I really like the Yoga exercises she recommends for each sign. Some of them I have been doing for years! How serendipitous is that?
Part II is about our Stellar Life Stages. Everyone goes through these. You can be a teenager and already been through a Jupiter Return.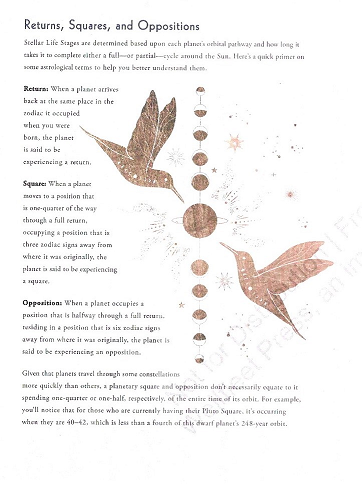 Although some of the other returns, like Saturn and Chiron, occur when we are older, knowing that they are coming can help prepare us for their eventuality. And in my own case – I turned 60 this past year, so I experienced a Jupiter return of my own – I thought back to other Jupiter returns I experienced – when I was 12 years old, when I was 24, 36 and 48 years old. Noting what had changed in my life and what had stayed the same.
This section is written like a workbook, with boxes with questions and lines for you to write in your answers. Each stellar return has its own questions to be answered. For instance, questions posed for the Jupiter Return are, "Who is my role model when it comes to living my life with positivity and enthusiasm? What new goals do I want to set? What am I inspired to learn?" (Gailing, 195). Whereas the Saturn Return questions are, "What life goals feel aligned with who I am? How can I connect more deeply to the authority within me? What is it that I truly stand for?" (Gailing, 197). Similar but different, given Jupiter and Saturn's similar but different focuses in the astrological world. And of course – the answers we might give to these questions at age 24 might be quite different than we might give at age 60 – or maybe not. It depends on our own lives and the lessons we may or may not have learned.
I was quite interested in the Pluto Square, the Neptune Square, and the Uranus Opposition, since they happen in your early 40's and that was one of the most difficult times of my life – probably the worst time of my entire life (so far). I plan to do some therapy work around these returns in the near future and work through the issues that were plaguing me during those years and still haunt me to this day. I wish I'd had this information before the year 2000 but I have it now.
Part III is all about the Lunar Cycle. This part of the book could stand on its own; if text on the waxing and waning moons were added, it would be an excellent volume on moon meditations, rituals and affirmations. Since I am writing this on the New Moon of January, 2021, I decided to add the text for the Capricorn New Moon that we're currently experiencing:
Compare this to the Leo Full Moon that we will have later this month:
We can refer to these charts every single month and plot our course accordingly, using our own astrological information and that which is currently in the skies. And of course, we can help our loved ones live better lives with this information, too. Share the wealth!
As far as I'm concerned, you can't go wrong with this book! It has everything – astrological information, holistic health advice, yoga instructions, knowledge about meditation and rituals, affirmations and all kinds of positive vibes. As soon as it's published, get your hands on a copy of The Complete Guide to Astrological Self-Care: a holistic approach to wellness for every sign in the zodiac, by Stephanie Gailing. You won't be sorry! You will, in fact, be grateful for the rest of your life!
References
Gailing, Stephanie. The Complete Guide to Astrological Self-Care: a holistic approach to wellness for every sign in the zodiac. NY: Wellfleet Press, 2021.
The Complete Guide to Astrological Self-Care: A Holistic Approach to Wellness for Every Sign in the Zodiac (Complete Illustrated Encyclopedia) on Amazon

***
About the Author: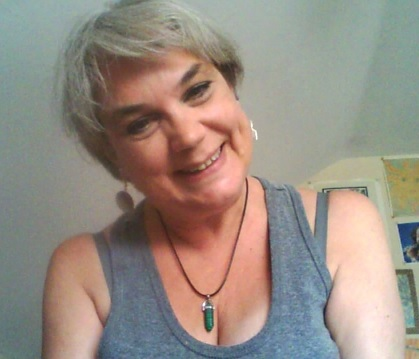 Polly MacDavid lives in Buffalo, New York at the moment but that could easily change, since she is a gypsy at heart. Like a gypsy, she is attracted to the divinatory arts, as well as camp fires and dancing barefoot. She has three cats who all help her with her magic.
Her philosophy about religion and magic is that it must be thoroughly based in science and logic. She is Dianic Wiccan but she gets along with a few of the masculine deities. She loves to cook and she is a Bills fan.
She blogs at silverapplequeen.wordpress.com. She writes about general life, politics and poetry. She is writing a novel about sex, drugs and recovery.