Celebrating the Old Ways in New Times
Celebrating the Old Ways in New Times for January 2021
Bright Blessings, and happy 2021!
As it is between Sabbats, I get to pick what to write about, and I decided there is something I want to say to my Pagans. Without further ado…
An Open Letter to My Pagans
It has been over a year since I have seen some of you who I see regularly. Last Winter, we did craft gatherings, and Circles- and in January and February, we died back with the earth for a bit. I was planning to have more craft gatherings, and then Beltane. Then the virus hit. I canceled everything. A few close loved ones have met with me to visit on my patio. We ate, drank, and made merry on a small scale. One friend in particular comes without fail almost EVERY SINGLE THURSDAY. Last week it was in the 30's. In the cold dark night, we had dinner in our coats on the patio anyways. This week, we might be sitting in the snow. Without the people who I still get to see, I don't know what I would have done.
For some, it has been even longer since I have seen you, and that's because I am still struggling with my health and trying to get out more. Don't give up on me. I am trying. I want to see you. I want to come to gatherings, shops, events, and your homes. I am trying. Keep inviting me. You will never know how much I miss you, and it's hard to talk about it because I just start crying.
We now have vaccines pouring into the US, but a good part of the population states they will refuse vaccinations. Some are beating their chests about rights, personal freedom, and control over their own bodies. They are terrified, stating the vaccine is too new, was developed too quickly, and they refuse to put what could have microchips in their bodies. I hear from the scientists, doctors, and front-line workers who watched countless people struggle and die from this virus, and I am waiting in hope there will be vaccines for all of us. Those of us who will take the vaccines, anyways.
I have only cast Circle for myself once in all this time. I know we don't have to be in the presence of others to have Circle, and the gods are everywhere, but let me tell you- it's just not the same on my own. We are physical representations of the gods, all of us, and while my personal relationships with the gods and goddesses are not dependent on other people, the absence of my Pagans feels like a small death. What I wouldn't give to be in the presence even of the people in the community who either loathe me, or who I can't stand.
I rely very heavily on social media to ease the isolation, and keep me slightly sane- long past are the days I was sound of mind, and almost as long past are the days I cared to fake it. Seeing the things each person posts about their day, or the jokes they share, reminds me we are still together, no matter how far apart we may be for as long as it has to be this way.
"We isolate now so when we gather again, no one is missing" is what is in my heart now.
I look forward to the day I can welcome all those I love back inside my home, when we can eat from the same table and the same plates. When we can hug, kiss, cry on each other, hold hands, and fall asleep in the same spaces.
Hang in there, please. Hold out a little longer. I know everybody is tired of isolating. Some of us have been doing this since close to Imbolc time- but because many refused, we are in the deadliest time yet. This Winter is the most crucial time to ensure our survival. At the holidays especially, give the gift of life and the possibility of good health to those you love by staying away.
For me, it's easy to say this because I am married, and have four pets. I can also get curbside pickup and delivery of all I need. The work I do is from home. My husband's work allows all the staff to distance in different areas from one another. In all this time, out of 100 people, it looks like five of them have had this virus, and the company sent them home immediately for two weeks. Paid.
Not all of you have this amount of privilege. Some of you cannot distance. Your work puts you with countless people daily, and some of you ride the bus. Some of you live with multiple people all of whom have to go different places daily, and you all expose one another unintentionally, but daily.
Some people reading this may catch this virus and die or else lose somebody close to you.
I know multiple people who have had this, and some of them know people who have died from this.
This affects us all.
As of right now, 303,482 have died. There are over 16 million who have gotten this. That we know of. Just in the US.
I don't want any of you to be included in these numbers.
When I cast Circle next, I want everybody there.
Hold on a little longer. By Summer- unless this mutates so badly the vaccine is useless, we might be out of the water. Distance, isolate, take the vaccine. Be well, survive.
We are the bodies and hearts of the gods on earth for one another. You are my family. Without you, I may as well dissolve into nothing, because there is nothing left of me.
I will isolate for you. I will wait for you no matter how long it takes, and no matter how long I have to miss you.
I will see you when the Universe brings us back together again.
Until then, I love you.
Blessed Be.
***
About the Author: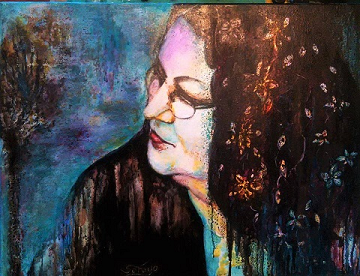 Saoirse is a practicing witch, and initiated Wiccan of an Eclectic Tradition.
A recovered Catholic, she was raised to believe in heaven and hell, that there is only one god, and only one way to believe. As she approached her late 20's, little things started to show her this was all wrong. She was most inspired by the saying "God is too big to fit into one religion" and after a heated exchange with the then associate pastor of the last Xtian church she attended, she finally realized she was in no way Xtian, and decided to move on to see where she could find her spiritual home.
Her homecoming to her Path was after many years of being called to The Old Ways and the Goddess, and happened in Phoenix, Arizona. She really did rise from her own ashes!
Upon returning to Ohio, she thought Chaos Magic was the answer, and soon discovered it was actually Wicca. She was blessed with a marvelous mentor, Lord Shadow, and started a Magical Discussion Group at local Metaphysical Shop Fly By Night. The group was later dubbed A Gathering of Paths. For a few years, this group met, discussed, did rituals, fellowship, and volunteering together, and even marched as a Pagan group with members of other groups at the local gay Pride Parade for eight years.
All the while, she continued studying with her mentor, and is still studying for Third Degree, making it to Second Degree thus far.
She is a gifted tarot reader, spellworker, teacher, and was even a resident Witch at a Westerville place dubbed The Parlor for a time.
Aside from her magical practice, she is a crocheter, beader, painter, and a good cook. She has been a clown and children's entertainer, a Nursing Home Activities Professional, a Cavern Tour Guide, a Retail Cashier, and a reader in local shops. Her college degree is a BA in English Writing. She tried her hand at both singing and playing bagpipes, and…well…let's just say her gifts lie elsewhere! She loves gardening, reading, antiques, time with friends and soul kin, and lots and lots of glorious color bedecking her small home!
On the encouragement of a loved one several years back, she searched for a publication to write for, and is right at home at PaganPagesOrg.
She is currently residing in Central Ohio with her husband, and furbabies.
Saoirse can be contacted at [email protected].