Book Review – In Focus: Sacred Geometry Your Personal Guide by Bernice Cockram
Book Review
In Focus Sacred Geometry
Your Personal Guide
by Bernice Cockram
Publisher: Wellfleet Press
144 Pages
Publication Date: 1/12/21
From the Publisher….
… What is sacred geometry? Geometry at its basic level is the design of shapes based on mathematics; geometry literally means "earth measure," as geo refers to the earth and metry to measurements. Geometric shapes are so much a part of our everyday life that we may not even notice just how frequently they can be found. Hopefully, after reading this book, you will start to see many examples that you never noticed before. Mathematicians have studied geometry for thousands of years. The early mathematicians marveled at the perfection of their calculations, and they attributed this perfection to the Creator—this is how geometry came to be sacred. Geometry began to be used in a symbolic way, especially in religion, due to the fact that the general population were not able to read and write, but they were able to recognize shapes. Some shapes were also used symbolically in secret societies, where only the members of the society would understand their meaning…. Introduction
Shapes, patterns and the use of visual imagery have long been a staple of both mundane and spiritual pursuits. From the shape of the "Stop" sign to the image of a Pentagram, we instinctively respond and recognize what certain shapes represent. In Focus: Sacred Geometry Your Personal Guide by Bernice Cockram offers a wealth of visual imagery and lays the foundation for training the brain to have a deeper recognition and understanding of why certain shapes are used and what their more esoteric meanings could be. So, before I go any further let me remind you that this exploration does not require that you be a mathematics wiz or have passed Geometry in school. Once you read through the description of the shapes and add the layer of how they are used and were created, the process is relatively painless and quite easy to understand.
In Focus: Sacred Geometry Your Personal Guide is part of the 11-book In Focus Series exploring a variety of esoteric subjects. This is a hardcover book and as with each of the In Focus books includes an 18×24 wall chart that outlines each of the auric levels and specific attributes for quick reference. I've had the privilege of reviewing two (2) of the books in this series and find them to be very informative in a small and readable package.
The book is divided into ten (10) chapters and moves from Two-Dimensional Shapes (Chapter One) through Three-Dimensional Shapes (Chapter Two), Platonic Solids (Chapter Three) into more complex designs. Polyhedras and Spirals comprise separate chapters and the additional layering of numbers, lettering and locations of geometric symbology round out the exploration. Chapter Nine pulls the symbology into the venue of use as religious symbolism and the final Chapter Ten: How You Can Use Sacred Geometry serves as a fitting ending towards putting it all together.
Each of the chapters has many of the usual shapes as well as many that we do not routinely make use of or would otherwise give consideration to. These coupled with tables of expanded correspondence for use and a meditation on one of the more dynamic patterns in each chapter add a depth of opportunity that encourages further exploration and trial on your own. Each shape is cleanly diagrammed and lends itself nicely to placing your consciousness or awareness in its patterns and allowing the shape to speak and inform you, the reader. This was something that I organically arrived at given that I am a highly visual learner and having the benefit of the visual allowed for a deeper connection to what that shape is and how it may be used.
One of my favorite chapters was Chapter Seven: Symbolic and Geometric Letters. The author offers a wealth of various systems that use/have used geometry in the formation of their lettering and in some cases, the foundational imagery used for their paths. Topics include: The Greek Alphabet, Elder Futhark Runes, The Celtic Oghams, the Hebrew Alphabet and the Glagolitic Alphabet. Each is represented in a table format with supplemental information such as image, name and meanings. A meditation of connection for each of the disciplines is provided and setting up the material in this way, offers a sampling of each for further exploration and possible affinity.
Would I Recommend:
In Focus: Sacred Geometry Your Personal Guide by Bernice Cockram is an encyclopedia of shapes and forms and a visual treat. This title would be the perfect companion to those who have an interest in creating sigils and amulets as there is always a mathematical formula (albeit not necessarily obvious) and many of these lesser known shapes are embedded within those more traditionally used. Chapters Six: Numbers in Sacred Geometry and Chapter Seven: Symbolic and Geometric Letters add more nuance and selection in their topics of numbers and letters aligning with sacred geometry giving the reader additional overlays to maximize the effects and power of the workings.
My preferred way of is incorporating patterns and imagery in my workings, so In Focus: Sacred Geometry Your Personal Guide by Bernice Cockram is in keeping with something I am very familiar with. The surprises were in the expanded uses and some considerations to the practice of using sacred geometry in ways that I would have not normally done. The included wall chart will serve as a great visual in and of itself. Thumbs up for this one!
About Bernice Cockram:
Bernice Cockram grew up on a farm in rural Devon, UK. Even though she now lives in a city, she spends a lot of time in the countryside, visiting Dartmoor and walking around local woods and exploring the local beaches. She worked for many years as a secretary before giving up work to raise her son. Just a few years later, her life started moving in a different direction when she discovered crystal healing and self-development. Nowadays, Bernice likes to keep herself busy. As well as being a crystal therapist, having a part-time job, and running a stall at the local market, she enjoys learning to play the harp, British Sign Language, and expanding her knowledge on crystal healing.

About the Series:
The In Focus series applies a modern approach to teaching the classic body, mind, and spirit subjects. Authored by experts in their respective fields, these beginner's guides feature smartly designed visual material that clearly illustrates key topics within each subject. As a bonus, each book includes reference cards or a poster, held in an envelope inside the back cover, that give you a quick, go-to guide containing the most important information on the subject.
In Focus Sacred Geometry: Your Personal Guide on Amazon
***
About the author: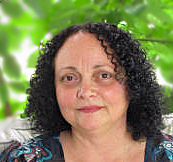 Robin Fennelly is an Elder within The Assembly of the Sacred Wheel Tradition and serves as High Priestess of Coven of the Mystic Path, the 12th Coven within the Assembly of the Sacred Wheel Tradition. She teaches and facilitates classes for the Pagan Experience Study Group that serves as foundation for membership within Coven of the Mystic Path.  
Her spiritual journey is strongly rooted in both Eastern philosophy and the Western Magickal systems from which she has formed a core foundation that is diverse in knowledge and rich in spiritual practice.  A life-long learner, her practice has evolved from the classical and philosophical teachings of books, practical experience and enrichment of this knowledge base by attending workshops of various spiritual traditions presented by master teachers.
Robin formally came to the Wiccan path in 1994. Following a practice as a solitary for 2 years, she dedicated to Oak and Willow Coven of The Assembly of the Sacred Wheel Tradition in November of 1996. She received her 1st, 2nd, 3rd and 4th (Elder) degrees within the Assembly Tradition and has served as High Priestess of two ASW covens since Samhain of 2001 and the Winter Solstice of 2015.

As a teacher of esoteric and magickal studies she uses Energetic Anatomy, Tarot, Astrology, Hermetic Qabala, Eastern Philosophy, and Numerology as the foundations of her diverse selection of workshops and writings for more than 25 years. Exploration of varied energetic protocol has been the focus of her work for some time now and the information gained through direct experience informs all of her magickal and spiritual work.
Robin's writings have been featured online, and in print Internationally.  She has authored several books incorporating her unique style of writing making use of poetry, prose and pathworking to enhance the concepts presented.  She has taught extensively throughout the Pagan community, including Sacred Space Conference, Spring Magick, Between the Worlds Interfaith Conference and Free Spirit Gathering Festival. Her most recent projects include a channel on youtube: A Journey to the Inner Chamber. She also shares audio pathworkings and ritual on her bandcamp site: Teachings on the Path with Robin.
Robin is the owner of Holistic Embrace providing services for mind, body and spirit such as Tarot readings, Astrology reports, Spiritual Guidance and other related offerings.  She lives in Eastern Pennsylvania and her life is blessed by a 40+- year marriage, five children and the opportunity to work in the field of public education.
Robin's Website: www.robinfennelly.com
Coven of the Mystic Path, ASW: www.covenofthemysticpath.org
Her books can be found on Amazon or purchased directly through her website:
For more info: http://www.robinfennelly.com/books.html
The Inner Chamber, Vol. 1 It's Written in the Stars-Astrology
The Inner Chamber, Vol. 2 Poetry of the Spheres-Qabalah
The Inner Chamber, Vol. 3 Awakening the Paths-Qabalah
The Light of SELF: Consciousness, Spiritual Practice and Learning to Breathe
Magickal Verse: A Collection of Poetry and Prose
A Year of Gaia: The Eternal Cord
The Elemental Year: Aligning the Elements of SELF
Temple of the Sun and Moon: Luminous Devotions
Sleeping with the Goddess: Nights of Devotion
A Weekly Reflection: Musings for the Year
The Magickal Pen: A Collection of Esoteric Writings
The Enchanted Gate: Musings on the Magick of the Natural World
The Temple of the Sun: An Astrological Solar Year
Writings in the Shadow: An Exploration of the Shadow Nature