Book Review – The Witch's Book of Potions: The Power of Bubbling Brews, Simmering Infusions & Magical Elixirs by Michael Furie
Book

R

eview
The Witch's Book of Potions
The Power of Bubbling Brews,
Simmering Infusions & Magical Elixirs
by

Michael Furie
Publisher: Llewellyn Worldwide
260

Pages
Publication

Date

:

2/08/21
As a child, Michael Furie would stir together "potions" of cooking spices and water, not knowing that potion- and brew-making would become a passion as an adult practicing witchcraft.
"There is something so perfectly dramatic and innately magical about gathering various ingredients and combining them into a rich mixture of liquid; adding and stirring as fragrant steam rises from the bubbling cauldron," he wrote in the book's introduction.
It's as if it's the very essence of magical witchcraft, and yet it doesn't rate its own chapter in many books. "The Witch's Book of Potions" contains a collection of recipes for traditional and modern concoctions – his own, those from people he personally knows, and those historically associated with what is generally understood to be witchcraft.
Michael defines a potion as exclusively magically charged, water-based, edible, herbal infused or boiled liquids meant to be drunk. Brews, which are steeped like tea and not fermented like beer, are inedible. They are used as an anointing liquid, applied to skin, put on objects to charm them, or used to asperge an area of unsettling vibrations.
The book has three sections.
The first gives an overview of the symbolism, history, magic, and seasoning of cauldrons. Kettles, pots, and other cooking vessels are also covered. The background and basics include some of the main points of the practice of magic and the theory about how it works. Ingredients, the book explains, are chosen based on their corresponding magical context and alignment. Charging the ingredients with energy and intention is the magic, which he describes as "the science and process of projecting emotionally and intellectually charged energy into the spiritual plane in order to manifest change in the physical world." Methods to extract herbal properties are explained. The process primarily used in the book's recipes is infusion, where ingredients are added to heated liquid, covered, allowed to steep, and then strained.
The eight chapters comprising Part 2 are full of recipes. There are astrological and planetary recipes; recipes for love, luck, and money; cleansing and banishing recipes; divination brews; and potions and brews for the sabbats, esbats, and elements.
Calling it "one of the most noble of magical practices," Michael writes, "Of all the amazing magical pursuits available to try, perhaps the most transformative is healing. … [It] is so powerful and deeply emotionally satisfying …" For this he turns to magical healing tonics, elixirs, and potions.
Many recipes can be made with ingredients found at supermarkets; they are marked with stars. If ingredients are rare, he offers reasonable substitutions to prevent further endangering rare plants.
Part 3 delves into other magical mixtures including making oils and ointments, and giving a recipe for Green Fairy Potion – perhaps better known as absinthe, – drunk in preparation for ritual or psychic work.
Helpful appendixes list magical correspondences for colors and for more than a hundred ingredients.
Reading this book introduced me to the many effective ways of making potent, powerful magic from herbs and spices. There was a sense of ease, simplicity, and empowerment in the infusions that invited rather than intimidated. Written with passion and joy, this book could spark a revival of the nearly lost art of potion making.
About Author Michael Furie
Michael Furie has been a practicing witch for more than twenty years, and is a priest of the Cailleach. He also wrote "Supermarket Sabbats," "Spellcasting for Beginners," "Supermarket Magic," "Spellcasting: Beyond the Basics" and more – all from Llewellyn Worldwide. He lives in Northern California. Visit him online at www.MichaelFurie.com.
The Witch's Book of Potions: The Power of Bubbling Brews, Simmering Infusions & Magical Elixirs on Amazon
***
About the Author:
Lynn Woike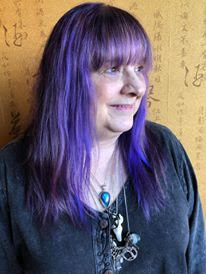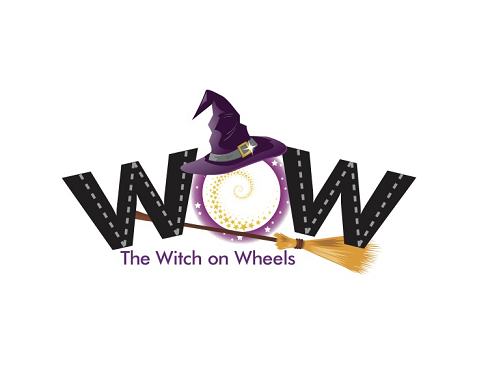 All my life I have known magic was real. As a child, I played with the fae, established relationships with trees and "just knew things." In my maiden years I discovered witchcraft and dabbled in the black-candles-and-cemeteries-at-midnight-on-a-fullmoon magick just enough to realize I did not understand its power. I went on to explore many practices including Zen, astrology, color therapy, native traditions, tarot, herbs, candle magic, gems, and, as I moved into my mother years, Buddhism, the Kabbalah and Reiki. The first man I dated after my divorce was a witch who reintroduced me to the Craft, this time by way of the Goddess. For 11 years I was in a coven, but with retirement, I have returned to an eclectic solitary practice. When accepting the mantle of crone, I pledged to serve and teach. This is what I do from my skoolie – a 30-year-old school bus converted into a tiny house on wheels that I am driving around the country, following 72-degree weather, emerging myself into nature, and sharing magic with those I meet. Find me at thewitchonwheels.com, Facebook and Instagram.