Book Review – Missing Witches: Recovering True Histories of Feminist Magic by Risa Dickens and Amy Torok
Book Review
Missing Witches
Recovering True Histories
of Feminist Magic
by Risa Dickens and Amy Torok
Publisher: North Atlantic Books
312 Pages
Publication Date: 3/23/2021
I thoroughly enjoyed reading Missing Witches: Recovering True Histories of Feminist Magic, by Risa Dickens and Amy Torok, published by North Atlantic Books. But I have to laugh … am I so very old? None of these witches were "missing" to me! I had heard of every single one of them, in fact, many years ago. I have books on my shelves by some of these very women!
But there's always room for new books about famous witches and to those growing up in the internet age, it's no wonder that the stories of these witches might be "missing". Unlike what we were told about the "internet superhighway" being able to provide all the information anyone ever needed, it actually censors and inhibits what we are able to access. Meanwhile, local libraries have had to sell their books or close completely. The small occult shops and bookstore that flourished in the late twentieth century, vibrant meeting places for witches and pagans, are also gone. So it's understandable that a generation of witches feel that their forebears are "missing". They are.
Risa Dickens and Amy Torok live in Canada, and their rural living informs their writing. Again I had to laugh, because in the introduction, they write, "We're both city girls who moved to the woods." (Dickens and Torok, 6); I was a country girl who moved to the city. They each have websites which are worth checking out: Risa Dicken at http://risadickens.com and Amy Torok at http://amytorok.tumblr.com and on Instagram. Those pics on Instagram look like a really fun party!
The book is organized around the Wheel of the Year. I read it within one day but it would be perfect for using for each Sabbat, either with your coven, your family or yourself. Each section is presented as a circle, either led (written) by Risa or Amy. There's a biography of one or two "missing" witches and at the end of each section, a suggestion for a ritual and even poetry!
Not only does each section present biographies of great feminist witches but Risa and Amy blend in their own stories of living in the woods, pregnancy, giving birth, and their personal politics, which of course, is their prerogative. Their inclusion of Z. Budapest was mostly to trash her but I will decline to go into this. All I will say is that Z. is the true feminist here.
Other witches whose stories were told are Zora Neale Hurston, Monica Sj??, Faith Ringgold, Marija Gimbutas, H.P Blavatsky, Paula de Equiluz, among others. But I was really surprised to see Doreen Valiente and Pamela Coleman-Smith (they call her Pamela "Pixie" Coleman) listed. Both these women are really well-known – who doesn't know the illustrator of the best-known Tarot deck in the world? And what witch doesn't know that Doreen Valiente wrote "The Charge of the Goddess"? Still, these are important additions to a fabulous book and I don't want anyone to think I'm complaining or being critical like some old woman! Believe me, I enjoyed every moment that I spent reading this book.
All in all, it's a wonderful book that I am sure will stand the test of time, gracing the shelves of many a witch – if not that, then gracing their Kindles! Do yourself a favor and check out Missing Witches: Recovering True Histories of Feminist Witches, by Risa Dickens and Amy Torok. You will not regret a moment spent with this magical book!
References
Dickens, Risa and Amy Torok. Missing Witches: Recovering True Histories of Feminist Magic. Berkley: North Atlantic Books, 2021.
Missing Witches: Recovering True Histories of Feminist Magic on Amazon
***
About the Author: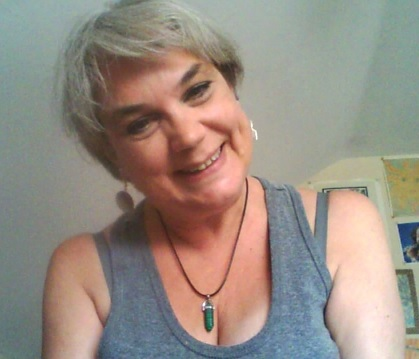 Polly MacDavid lives in Buffalo, New York at the moment but that could easily change, since she is a gypsy at heart. Like a gypsy, she is attracted to the divinatory arts, as well as camp fires and dancing barefoot. She has three cats who all help her with her magic.
Her philosophy about religion and magic is that it must be thoroughly based in science and logic. She is Dianic Wiccan but she gets along with a few of the masculine deities. She loves to cook and she is a Bills fan.
She blogs at silverapplequeen.wordpress.com. She writes about general life, politics and poetry. She is writing a novel about sex, drugs and recovery.