Book Review – Pagan Portals: Iris, Goddess of the Rainbow and Messenger of the Godds by Irisanya Moon
Book Review
Pagan Portals: Iris, Goddess of the Rainbow
and Messenger of the Godds
by Irisanya Moon
Publisher: Moon Books-John Hunt Publishing
96 Pages
Publication Date: July 1, 2021
Iris, Goddess of the Rainbow and Messenger of the Godds* by Irisanya Moon is a new release that is part of the Pagan Portals collection of books published by Moon Books, an imprint of John Hunt Publishing. I must say that given all that we have been through with politics, global affairs, COVID-19 and more this past 18+ months, the timing of this title speaks to me of hope and the fresh and beautiful start a rainbow provides at the conclusion of a heavy downpour. I also found it refreshing in reading the author's reasons for using the particular spelling of "Godds" for this title….
…*Note: I will use 'godd' to help move away from gendered words for deity who I believe move beyond human categorization… 1.
Iris, Goddess of the Rainbow and Messenger of the Godds is organized into seven (7) chapters, each building upon the last to provide the reader with enough information to whet the appetite for deeper exploration and relationship. I must admit that Iris is not a god that I commonly have come across and this was reinforced in the author's statement…
…. Iris doesn't have a lot of resources and references as compared to the other Greek godds. While She plays roles in many stories you might know, Her role is often written out or minimized to focus on the 'larger' godds. While considered a minor deity, Iris is certainly the one who moves stories along, who moves lives along, and who comes at precisely the right time. And that is where we begin…. 2.
The author, Irisanya recounts her meeting with Iris with a journey to Berlin and a visit to the Pergamon on a day off. Her first encounter being that of an image of Iris on a relief , beside Hera and leading Zeus' four-horse chariot. A search on the internet returned other information and the many rainbows that seemed to be consistently prevalent in all of the author's settings prompted deeper investigation. Taking a magical name that is inclusive and honoring a specific deity one is called to always organically arises and is gifted. The author shares with the reader the taking of her name Irisanya and the profound connection to the god Iris that developed.
Chapter 1:Meeting Iris presents valuable information and questions to be asked of oneself in cultivating relationship with any deity. These are outlined as…
Stop: Why Are You Called?
Steady: Release Expectation
Hear: The Messages are Everywhere
and conclude with a contemplative activity to "get to know more about"…
Practice: Trance into the Realm of Iris
Each statement, in and of itself, provokes self exploration and accountability before entering into any relationship. These are also a reminder to the reader that magick and magickal relationships are hard work, and require self scrutiny as well as knowledge of the who and what you are working with if a fruitful and useful collaboration is to occur.
Chapters 2 – 4 offer the myths, correspondences and energies to be found in working with Iris. I especially liked Chapter 5:Traveling the Rainbow-A Magickal Practice.
Traveling the Rainbow-A Magickal Practice begins with the science behind the formation of the physical rainbow. These beautiful creations are the out-picturing of water and light, the vehicle of Iris…
… So many steps happen to conjure the magick of water and light (a rainbow). And, from there, Iris travels and is seen carrying messages. Some say that She travels in forms that people can recognize. I believe the rainbow is one of those forms. It is instantly recognizable, but also not an everyday event… 3.
The author then continues to provide the reader with practices that can be aligned with each of the colors and vibrations contained within the prism of a rainbow. Collages, spell workings, divination and more are sprinkled throughout the colors and energies of each.
The final Chapter 7: Cultivating a Relationship with Her is a fitting way to move the reader into taking what experiences they may have had in the reading and practice of the suggested activities and what may have arisen in more of a calling to enter into relationship.
…. Not all relationships are the same, true. But all relationships need attention. Even in this moment, I can think about my relationships with deities and the attention I offer to them. I feel closer to those who I devote more time to and I feel less close to those I only wave to from time to time. In the overall scheme of relationships, the more attention I devote, the more the relationship works for me. While this is what is said of humans, I believe this to be true of deities too. The more I spend time with Iris, the more messages I receive. The more I follow the messages I hear, the more I feel Her in my life…. 4.
This chapter includes all that the reader would need in consideration of what the next steps would be in cultivating a working relationship with Iris, or for that matter any deity. Journaling, altars, a dedication ritual and a thoughtful inclusion of a section entitled "When Relationships Don't Work" provide solid ground for flexibility in what these steps will/could be for each individual.
Would I Recommend:
I have had the privilege to review multiple titles from the Pagan Portals series and have found each to fit nicely into the categories of "just enough information to intrigue, but not so much as to overwhelm". Iris, Goddess of the Rainbow and Messenger of the Godds by Irisanya Moon falls neatly in alignment with that sentiment.
Irisanya Moon gives a compelling recounting of her experience of Iris, while leaving it open-ended for the reader to write their own story. This provides an overall gentle tone to this godd's energies and makes Her very inviting in the possibility for deeper relationship. There is additionally, some very sound advice that is useable in the quest for deepening relationship with any deity and I always, personally, appreciate these thoughts being woven into a book's reading, laying the groundwork for making consciously informed choices in all magickal practices.
Iris, Goddess of the Rainbow and Messenger of the Godds by Irisanya Moon is a bright book of beauty and joy, with unexpected treasured revealed much like the rainbows we are rarely privy to unless we waited the storm out and really look at what arises.
Notes:
Author's Notes, x

Author's Notes, x

pps. 36-37

p. 66
About Author Irisanya Moon
Irisanya Moon is a priestess, teacher, and initiate in the Reclaiming tradition. She has taught classes and camps around the world, including the US, Canada, UK and Australia. Irisanya has also contributed to a number of books including Elements of Magic, Naming the Goddess, and The Goddess in America. She is based in California, USA.
Pagan Portals – Iris, Goddess of the Rainbow and Messenger of the Godds on Amazon
***
About the author: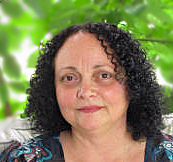 Robin Fennelly is an Elder within The Assembly of the Sacred Wheel Tradition and serves as High Priestess of Coven of the Mystic Path, the 12th Coven within the Assembly of the Sacred Wheel Tradition. She teaches and facilitates classes for the Pagan Experience Study Group that serves as foundation for membership within Coven of the Mystic Path.  
Her spiritual journey is strongly rooted in both Eastern philosophy and the Western Magickal systems from which she has formed a core foundation that is diverse in knowledge and rich in spiritual practice.  A life-long learner, her practice has evolved from the classical and philosophical teachings of books, practical experience and enrichment of this knowledge base by attending workshops of various spiritual traditions presented by master teachers.
Robin formally came to the Wiccan path in 1994. Following a practice as a solitary for 2 years, she dedicated to Oak and Willow Coven of The Assembly of the Sacred Wheel Tradition in November of 1996. She received her 1st, 2nd, 3rd and 4th (Elder) degrees within the Assembly Tradition and has served as High Priestess of two ASW covens since Samhain of 2001 and the Winter Solstice of 2015.

As a teacher of esoteric and magickal studies she uses Energetic Anatomy, Tarot, Astrology, Hermetic Qabala, Eastern Philosophy, and Numerology as the foundations of her diverse selection of workshops and writings for more than 25 years. Exploration of varied energetic protocol has been the focus of her work for some time now and the information gained through direct experience informs all of her magickal and spiritual work.
Robin's writings have been featured online, and in print Internationally.  She has authored several books incorporating her unique style of writing making use of poetry, prose and pathworking to enhance the concepts presented.  She has taught extensively throughout the Pagan community, including Sacred Space Conference, Spring Magick, Between the Worlds Interfaith Conference and Free Spirit Gathering Festival. Her most recent projects include a channel on youtube: A Journey to the Inner Chamber. She also shares audio pathworkings and ritual on her bandcamp site: Teachings on the Path with Robin.
Robin is the owner of Holistic Embrace providing services for mind, body and spirit such as Tarot readings, Astrology reports, Spiritual Guidance and other related offerings.  She lives in Eastern Pennsylvania and her life is blessed by a 40+- year marriage, five children and the opportunity to work in the field of public education.
Robin's Website: www.robinfennelly.com
Coven of the Mystic Path, ASW: www.covenofthemysticpath.org
Her books can be found on Amazon or purchased directly through her website:
For more info: http://www.robinfennelly.com/books.html
The Inner Chamber, Vol. 1 It's Written in the Stars-Astrology
The Inner Chamber, Vol. 2 Poetry of the Spheres-Qabalah
The Inner Chamber, Vol. 3 Awakening the Paths-Qabalah
The Light of SELF: Consciousness, Spiritual Practice and Learning to Breathe
Magickal Verse: A Collection of Poetry and Prose
A Year of Gaia: The Eternal Cord
The Elemental Year: Aligning the Elements of SELF
Temple of the Sun and Moon: Luminous Devotions
Sleeping with the Goddess: Nights of Devotion
A Weekly Reflection: Musings for the Year
The Magickal Pen: A Collection of Esoteric Writings
The Enchanted Gate: Musings on the Magick of the Natural World
The Temple of the Sun: An Astrological Solar Year
Writings in the Shadow: An Exploration of the Shadow Nature