Review of The Guilt Trip
Seth Rogen fans got an extra special treat when he teamed up with the goddess Barbara Streisand as a mother/ son pair in the hysterically funny film The Guilt Trip.
You can watch the side-splitting funny trailer here:
In the film, Rogen plays Andy Brewster, an extremely intelligent under achiever who has more education than accomplishments. He's spent every penny of his inheritance to invent, and produce his so-called wonder cleaning product, ScieoClean- and doesn't understand why nobody is buying it. He's chronically single, lives in a lousy apartment, and doesn't even have any friends. Not only that, he's chronically annoyed, and pretty much just a miserable grouch of a human being.
The film begins showing him check his dwindling bank account, going to yet another failed attempt to market his invention, and all along, he is grudgingly listening and deleting voice mail messages from his widowed mother, Joyce, who is lovingly played by the magnificent Barbara Streisand. She is bursting at the seams with joy because Andy is about to come to visit her. He really doesn't want to go see her, he really doesn't want to be there, and all he can think of is getting her a boyfriend so he won't have to bother with her.
During the visit, Joyce confides in him that she had loved a man before she married his father, and Andy hatches a plan to get her in touch with the man, hoping to marry her off to him! He looks the man up on the internet, places a phone call to his company, and finds out he's in San Francisco, working the same job he did all those years ago, and asks his mother if she wants to join him on an eight day, 3,000 mile trip hitting different locations to try and sell his ScieoClean. But her REALLY just wants to get her to the old flame.
Well, of course she does!!!!!!! "I can't wait!" she cries!
What happens next is Andy is perpetually annoyed with every last thing Joyce does on the trip from her eating M&M's as a nighttime snack to calling his ex-girlfriend for help when there are no motels available in one city. It all finally comes to a head when he wrongfully blames Joyce for the fact yet another business is not interested in his product, and he lets his mean streak loose on her.
At first broken-hearted, Joyce tells him off in a way only Barbara Streisand could, and that jolts Andy into understanding that he has been perhaps the world's biggest asshole, his attitude is terrible, and he immediately straightens up. Unbelievably, suddenly, Joyce is no longer annoying to him, and he can see all the great things about her that he took for granted. He starts really enjoying spending time with her, and interestingly enough, Joyce meets perhaps the most charming cowboy in all the West- and guess what? He insists she go out with him. The trip goes from Andy's worst time to both he and Joyce having the best time of their lives until Andy comes clean and admits to her he asked her on the trip to try and marry her off to her old flame.
Joyce reacts by being rightfully hurt- but then something happens- she says "What the hell"" and they show up on the front doorstep to see her old flame. The result is one you would never imagine, and is one of the best things that's ever happened to Joyce. I won't ruin it for you, and I will let you discover for yourself just what it is! Suffice to say it is life changing, and pure magic. As a matter of fact there is a lot of magic in this film revolving around one theme- our perceptions.
In the beginning, Andy believed his mother was to blame for his unhappiness, and even went so far as to blame her when he ruined a sale for himself. Once she talked some sense into him, he realized that HE was the only thing holding himself back, and he changed his attitude and behavior accordingly. The second he did that, everything improved dramatically. And you know what? He even made one hell of a good sale too! His first one, and probably the only one he would ever need.
Joyce had settled into the habits of being a widow, and saw no other life or role for herself, but people were drawn to her during the whole trip. She did have friends at home, but she had deliberately avoided men, sad about being widowed and still reeling from what she deemed a major rejection from her old flame. Well, I mean, it WAS Barbara Streisand, the sexy siren who played as Joyce, you know good and well men were falling all over her- but Joyce couldn't see it. Besides that, people in general loved Joyce for her bubbly enthusiasm and positive attitude. She just needed to get out, see more of the world, and take some risks she never had before. She won an eating contest and experienced the excitement of doing something she'd been too afraid to do: she got her ears pierced! Had Andy not dragged her out of the house and on that trip, none of that would have been possible.
Once both Joyce and Andy adjusted their perceptions of themselves, other people, and the world in general, they achieved more than they ever imagined.
That is the great magic of this film. Well, that and the humor. It reminds us not to screw up our own lives with bad attitudes, not limit ourselves, to GO for whatever it is we want, and to do what it is that makes us happy. Not everybody has a mother or a son who can help jolt them into these realizations and we have to do that for ourselves. That's okay, we can do it. What are you waiting for! Get out there and go for it like Joyce and Andy!!!!
Enjoy the film.
Blessed Be!!!!

The Guilt Trip on Amazon
***
About the Author: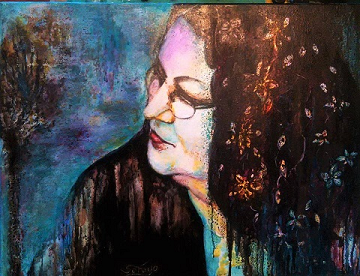 Saoirse is a practicing witch, and initiated Wiccan of an Eclectic Tradition.
A recovered Catholic, she was raised to believe in heaven and hell, that there is only one god, and only one way to believe. As she approached her late 20's, little things started to show her this was all wrong. She was most inspired by the saying "God is too big to fit into one religion" and after a heated exchange with the then associate pastor of the last Xtian church she attended, she finally realized she was in no way Xtian, and decided to move on to see where she could find her spiritual home.
Her homecoming to her Path was after many years of being called to The Old Ways and the Goddess, and happened in Phoenix, Arizona. She really did rise from her own ashes!
Upon returning to Ohio, she thought Chaos Magic was the answer, and soon discovered it was actually Wicca. She was blessed with a marvelous mentor, Lord Shadow, and started a Magical Discussion Group at local Metaphysical Shop Fly By Night. The group was later dubbed A Gathering of Paths. For a few years, this group met, discussed, did rituals, fellowship, and volunteering together, and even marched as a Pagan group with members of other groups at the local gay Pride Parade for eight years.
All the while, she continued studying with her mentor, and is still studying for Third Degree, making it to Second Degree thus far.
She is a gifted tarot reader, spellworker, teacher, and was even a resident Witch at a Westerville place dubbed The Parlor for a time.
Aside from her magical practice, she is a crocheter, beader, painter, and a good cook. She has been a clown and children's entertainer, a Nursing Home Activities Professional, a Cavern Tour Guide, a Retail Cashier, and a reader in local shops. Her college degree is a BA in English Writing. She tried her hand at both singing and playing bagpipes, and…well…let's just say her gifts lie elsewhere! She loves gardening, reading, antiques, time with friends and soul kin, and lots and lots of glorious color bedecking her small home!
On the encouragement of a loved one several years back, she searched for a publication to write for, and is right at home at PaganPagesOrg.
She is currently residing in Central Ohio with her husband, and furbabies.
Saoirse can be contacted at [email protected].