Book Review – Practical Tarot Techniques: Your Essential Tool Kit for Better Readings by Marcus Katz and Tali Goodwin
Book Review
Practical Tarot Techniques
Your Essential Tool Kit for Better Readings
by Marcus Katz and Tali Goodwin
Publisher: Llewellyn Publications
240 Pages
Publication Date: September 8, 2019
Originally published in 2012 under the title Tarot Face To Face, this 2019 version titled Practical Tarot Techniques is published by Llewellyn Publications, a Division of Llewellyn Worldwide Ltd., 2143 Wooddale Drive, Woodbury, MN 55125-2989. Copywrite by both authors in 2012 (Tarot Face to Face) and 2019 (Practical Tarot Techniques).
Practical Tarot Techniques is a 6 inch by 9 inch soft cover book with a matte finish full color front cover showing four card images, and a back cover containing a description of the book and short bios of the authors. It contains 228 pages with black print on white paper, nicely sturdy and inviting repeated use.
This great how-to-read-the-Tarot book begins with a brief Introduction, and then dives right in. There are ten chapters with valuable focuses including two chapters on coming Face to Face with Your Deck, Facing the Questions, Facing the Querent, and then a couple of chapters covering live readings including Facing the Crowd, Facing the Outside World, and Facing Each Other. Next are the final chapters, Facing Yourself, Facing all Fronts (which contains twelve useful spreads and sample interpretations), and Tarot to the World. The book ends with a Glossary, an online resource list, and a reading list organized by chapter, which is very useful; last but not least are the Endnotes.
I just love this book. The Introduction states that in Practical Tarot Techniques ". . . you will be getting face-to-face with Tarot in encounters ranging from reading for yourself, to reading for friends at parties, to reading for complete strangers." This book covers all the challenges that a reader could experience, and offers surprisingly simple yet very effective tools for solving those challenges. While there certainly are correspondence lists and black and white card images, the majority of this book is about getting past the circumstances that might discourage us from reading and interpreting our cards, whether for ourselves or for others.
Here is just one example: the chapter entitled Facing the Questions addresses just about every situation I could imagine that would need to be dealt with in order to provide a valuable reading. These situations include When the Querent Doesn't Have a Question, Too Many Questions, Yes or No Questions, as well as Rephrasing the Question, Handling an Intense Question, Dealing with a Repeat Question, Handling Questions of Payment, and even When and How to Say No.
Both Marcus Katz and Tali Goodwin have been involved with the Tarot in some form for many years, and their experiences and the wisdom gained through those experiences are apparent in this book. Practical Tarot Techniques is not a Tarot book that focuses on individual card meanings, although the authors do include very useful keyword and key phrase lists. This is a book that focuses on the strategies for effectively interpreting a spread in a valuable and useful way. Katz and Goodwin approach this sometimes-monumental task by focusing on the connections between the cards rather than on the individual cards, presenting their methods in an easy-to-understand manner.
Whether you are new to the Tarot or you are an experienced reader, this book needs to be in your library. You will connect with the methods and strategies, and learn from the exercises and spread interpretations offered in the book. Practical Tarot Techniques will help you to present card interpretations in an effortless manner, and it will help you to develop your own personal and unique style.
Marcus Katz is the author and co-author of over fifty books and is a teacher and lifelong practitioner of the Western Esoteric Initiatory System, and the Co-Director of the Tarosophy Tarot Association. He has studied and taught Tarot for over 35 years and has offered more than 10,000 in-person readings. He and Tali Goodwin have worked together before, co-authoring several books including Around the Tarot in 78 Days, and Secrets of the Waite-Smith Tarot. Find out more about him at his website, www.MarcusKatz.net.
Tali Goodwin is a Tarot researcher and Co-Director of the Tarosophy Tarot Association. She is responsible for the Cards of Antiquity campaign, which researched the likely sources of the symbolism of the Waite-Smith Tarot Minor Arcana cards, uncovered the Waite-Trinick Tarot images, hidden for a century, and she set the ground for the return of the Lenormand, Kipper, and other antique decks within the mass market. With Marcus Katz she has co-authored several books, and they both have created a virtual Tarot learning experience called Arkartia. Learn more about her at her website, www.TaliGoodwin.net, and learn about Arkartia at www.arkartia.net.
Practical Tarot Techniques: Your Essential Tool Kit for Better Readings on Amazon
***
About the Author: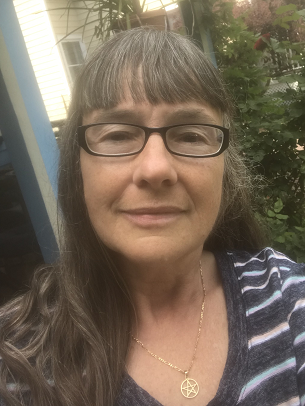 Raushanna is a lifetime resident of New Jersey. As well as a professional Tarot Reader and Teacher, she is a practicing Wiccan (Third Degree, Sacred Mists Coven), a Usui Reiki Master/Teacher, a certified Vedic Thai-Yoga Massage Bodyworker, a 500-hr RYT Yoga Teacher specializing in chair assisted Yoga for movement disorders, and a Middle Eastern dance performer, choreographer and teacher.  Raushanna bought her first Tarot deck in 2005, and was instantly captivated by the images on the cards and the vast, deep and textured messages to be gleaned from their symbols. She loves reading about, writing about, and talking about the Tarot, and anything occult, mystical, or spiritual, as well as anything connected to the human subtle body. She has published a book, "The Emerald Tablet: My 24-Day Journal to Understanding," and is currently working on a book about the Tarot, pathworking and the Tree of Life. Raushanna documents her experiences and her daily card throws in her blog, DancingSparkles.blogspot.com, which has been in existence since 2009. She and her husband, her son and step son, and her numerous friends and large extended family can often be found on the beaches, bike paths and hiking trails of the Cape May, NJ area.