Book Review — Hekate: Goddess of Witches by Courtney Weber
Book Review
Hekate: Goddess of Witches
by Courtney Weber
Published by Moon Books
224 Pages
Published: August 1, 2021
"…Who is Hekate? Like many goddesses of the Old World, Hekate's origins are mysterious. She is commonly known as a goddess of ancient Greece, a period which is generally understood to encompass 1200 BCE–500 CE, but she did not originate there. She may have originated in the Minoan civilization (2700–1100 BCE), or was at least influenced by gods of that culture. Evidence of Hekate worship has also been found in Sicily, Libya, Turkey, Bulgaria, and Syria. The town of Lagina is thought to be home to her most important cult center. In Roman times (800 BCE to roughly 500 CE), she was given many complimentary titles, including "savior," "greatest," and "most manifest." The first writer to describe her was the poet Hesiod, who lived in ancient Greece between 750 and 650 BCE and wrote about Hekate as though she was already quite familiar—not only to himself but to his contemporaries, too, giving us a hint that we are looking at a very ancient goddess indeed…" ¹
I have had the privilege of reading Ms. Weber's previous books, Brigid: History and Magick of the Celtic Goddess and The Morrigan: Celtic Goddess of Magick and Might. And, what has always struck me was the academic information that was woven throughout a writing that was ultimately the sharing of a personal, intimate and authentic journey unfolding for the reader to experience. Hekate: Goddess of Witches by Courtney Weber did not disappoint in that expectation.
The Goddess Hekate is perhaps the most prominent of Goddesses that comes to mind when speaking of the magickal arts, Goddess magick, Witches, Samhain, etc. And, despite the prominence of who many believe Her to be, Ms. Weber has turned a few new pages on the possibilities and all pervasive power of adaptability Hekate holds.
Hekate: Goddess of Witches is crafted into nine (9) chapters; a very fitting and auspicious number for a Goddess who holds the power of life, death and rebirth within her gifts. Nine is that number of death and rebirth as well as initiation, also very fitting for this Goddess of transformative ways and catalytic force. There is a lengthy section of Notes aligned with each of its respective chapters and a robust Bibliography that attests to the scholarly perspective of the author.
Chapter 1: Meeting Hekate fills all of the check boxes for both the historical background of who and how Hekate came to be and provides just enough information to pique further investigations by the reader. This approach is one that allows the reader to have and formulate their own identifiers for Hekate that are solidly based in the "what was" and may be developed into the "what I see now". Perhaps a very subtle nudge, perhaps intended by the author, but most definitely akin to how Hekate would instruct and guide.
"…Hekate, I believe is not meant to be explained or be completely transparent like some deities. I believe her essence is unexplainable; a feeling, a gesture, the mystery of the Magick. How you choose the materials for the spells and rituals, communing with the spirits and your ancestors… all these acts are in her name…" — Wilson Joel Rios, Modern Devotee of Hekate ²
Chapter Two: The Witch in the Family provides a closer look at the lineage that Hekate carries and offers. The information contained therein is rich with the myths of Hekate and her relationships with other Deities, the Cosmos and other Divine Beings. As a cosmic citizen her reach is vast, her gifts are many and she is a reflection of many thought-forms, ways of worship and cultural patterns. A point of sweet resonance in this chapter is one of Ms. Weber providing the reader with the realization that there are ways to connect with Hekate if you are the "witch in the family". Perhaps you are the odd one out, the sensitive, the psychic, the magickal one. A key writing in this chapter is that of claiming that power and title; the tools provided for these being a few simple questions to ask yourself.
Subsequent chapters provide the reader with the more familiar aspects of Hekate, while moving beyond the stereotypical correspondences and offering a fresh approach to the meaning of these symbols as well as how to incorporate into a modern practice.
"… Crossroads, ghosts, dogs. The Underworld, liminal spaces, ethereal realms. The world soul. Magic. She is these and so much more. Yet nine years working with and for her, I'm still not sure who she is. That's the thing about Hekate. She feels like a mystery because she embodies life, death, and rebirth.
She keeps me guessing and searching, making me go beyond and deeper within…" — Tamrha Gatti Richardson, Modern Priestess of Hekate ³
Chapter Four: Ritual, Magick, and the Crossroads is filled with ways to connect with Hekate at a deeply personal level. There are no grandiose rites; instead, the reader is provided with very simple actions and ways of offering to open themselves to Hekate's magick and begin the dialogue.
Chapter Nine: Hekate's Grimoire was my favorite chapter. Ms. Weber, having laid the groundwork of a deep and rich foundation of understanding who Hekate is and can be, provides the reader with ample workings, spells, invocations and more. This is the practical application of what has come in the previous chapters, which is vital in making those weavings of energetic connection to any Deity. Theorizing about Them is a wonderful way to start, to learn and to grow. But, the magick occurs in the actual working with Them. This quickens the emotions and will which are the catalysts for deeper dialogue.
Would I Recommend:
Hekate: Goddess of Witches by Courtney Weber is a personal glimpse of Hekate through the eyes of one who has been called by the Divine. The importance of this book is in the updating of a frame of reference for Hekate that better serves the witches of today's crafting. Having the reference points of historical story and evolution of the Goddess sets firm footing for walking a path that has also evolved in accord with that of Hekate. The Hekate of old is clearly present, but just as we have evolved, so too has Hekate in response to the ways of devotion and thought-forms being offered by HER modern followers. Ms. Weber has captured this transformation and in its telling provides a clear path towards standing in your own power as you greet Hekate at the crossroads.
Footnotes:
1. From the Publisher Excerpt
2. page 21
3. page 61
Courtney Weber is a priestess, witch, author, and tarot adviser. She is the author of Brigid, Tarot for One, and The Morrigan, and the designer of Tarot of the Boroughs, a modern tarot deck set in New York City. She has been featured in the New York Times, Maxim, Playboy, Huffington Post, Vice, and the Thom Hartmann Show, and cohosts the podcast That Witch Life. Follow her on Instagram at @thecocowitch.
Hekate: Goddess of Witches on Amazon
**
About the author: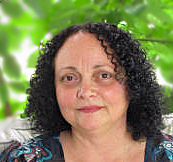 Robin Fennelly is an Elder within The Assembly of the Sacred Wheel Tradition and serves as High Priestess of Coven of the Mystic Path, the 12th Coven within the Assembly of the Sacred Wheel Tradition. She teaches and facilitates classes for the Pagan Experience Study Group that serves as foundation for membership within Coven of the Mystic Path.  
Her spiritual journey is strongly rooted in both Eastern philosophy and the Western Magickal systems from which she has formed a core foundation that is diverse in knowledge and rich in spiritual practice.  A life-long learner, her practice has evolved from the classical and philosophical teachings of books, practical experience and enrichment of this knowledge base by attending workshops of various spiritual traditions presented by master teachers.
Robin formally came to the Wiccan path in 1994. Following a practice as a solitary for 2 years, she dedicated to Oak and Willow Coven of The Assembly of the Sacred Wheel Tradition in November of 1996. She received her 1st, 2nd, 3rd and 4th (Elder) degrees within the Assembly Tradition and has served as High Priestess of two ASW covens since Samhain of 2001 and the Winter Solstice of 2015.

As a teacher of esoteric and magickal studies she uses Energetic Anatomy, Tarot, Astrology, Hermetic Qabala, Eastern Philosophy, and Numerology as the foundations of her diverse selection of workshops and writings for more than 25 years. Exploration of varied energetic protocol has been the focus of her work for some time now and the information gained through direct experience informs all of her magickal and spiritual work.
Robin's writings have been featured online, and in print Internationally.  She has authored several books incorporating her unique style of writing making use of poetry, prose and pathworking to enhance the concepts presented.  She has taught extensively throughout the Pagan community, including Sacred Space Conference, Spring Magick, Between the Worlds Interfaith Conference and Free Spirit Gathering Festival. Her most recent projects include a channel on youtube: A Journey to the Inner Chamber. She also shares audio pathworkings and ritual on her bandcamp site: Teachings on the Path with Robin.
Robin is the owner of Holistic Embrace providing services for mind, body and spirit such as Tarot readings, Astrology reports, Spiritual Guidance and other related offerings.  She lives in Eastern Pennsylvania and her life is blessed by a 40+- year marriage, five children and the opportunity to work in the field of public education.
Robin's Website: www.robinfennelly.com
Coven of the Mystic Path, ASW: www.covenofthemysticpath.org
Her books can be found on Amazon or purchased directly through her website:
For more info: http://www.robinfennelly.com/books.html
The Inner Chamber, Vol. 1 It's Written in the Stars-Astrology
The Inner Chamber, Vol. 2 Poetry of the Spheres-Qabalah
The Inner Chamber, Vol. 3 Awakening the Paths-Qabalah
The Light of SELF: Consciousness, Spiritual Practice and Learning to Breathe
Magickal Verse: A Collection of Poetry and Prose
A Year of Gaia: The Eternal Cord
The Elemental Year: Aligning the Elements of SELF
Temple of the Sun and Moon: Luminous Devotions
Sleeping with the Goddess: Nights of Devotion
A Weekly Reflection: Musings for the Year
The Magickal Pen: A Collection of Esoteric Writings
The Enchanted Gate: Musings on the Magick of the Natural World
The Temple of the Sun: An Astrological Solar Year
Writings in the Shadow: An Exploration of the Shadow Nature