Celebrating the Old Ways in New Times Exclusive Interview with Oberon Zell
Celebrating the Old Ways in New Times for October 2022 – Interview with Oberon Zell
Bright Blessings, all!
I trust by the time you read this, you are elbow deep in apples, pumpkins, mums, and all things spicy and Fall flavored. I trust your homes and gardens are bedecked in golds, oranges, burgundies, and purples, and many of you are planning to allow leaves to stay in the yard so insects can safely survive the winter.
I trust all you Pagans are planning for Samhain including gatherings with friends and soul kin, and you plan to open yourselves to communication with spirits as the veil grows thinner. Many observe Samhain as a time to celebrate the final harvest as well as remember the beloved ancestors, but this time, I suggest a different celebration. Celebrate our Elders who we are fortunate enough to still have with us. One such elder was good enough to answer questions with us, and he had a lot of wonderful things to say. His name is Oberon Zell. Before you read his wonderful words, let me share a bit about who he is.
I mean we KNOW who he is but let me go into more detail than just that he is one of our most influential Pagans today.
Oberon Zell
Oberon Zell is the Headmaster of the Grey School of Wizardry and Primate of The Church of All Worlds. He got his B.A. in Westminster College in 1965, and attended Washington University, studying clinical psychology before earning his Doctor in Divinity in 1967 and the following year, earned his teaching certificate. He has taught and counseled at various schools and served as Director of Services at the St. Louis Human Development Corporation from 1966 until 1975. He also taught at Lane Community College in the 1970's.
As if all this hard work was not enough, he founded Green Egg, a Pagan publication in 1968 and it is still in operation. You can view that here: Green Egg Magazine – A Journal of Awakening Gaia
He founded the Grey School of Wizardry, which was incorporated in 2005, and it accepts both adults and children as students. There are sixteen departments for majors and Minors and over 500 classes! You can find the Grey School here: The Grey School of Wizardry
He appears at countless events and festivals and has even appeared on tv and radio. He has written numerous books and articles and is even an artist, creating jewelry, sculpture, posters, statues, and ornaments. His Millennial Gaia is a universally recognized masterpiece portrait of the goddess and can be found here: The Millennial Gaia – Oberon Zell's Masterpiece
Elder Honoring
In celebration of our Elders who have crafted classes and celebrations for us, some like Oberon for pretty much their whole lives, reach out to your Elders, and tell them how much they mean to you. You can do a gathering in their honor if you like, but you don't have to. Just tell them how much you love them. Most of all, follow their teachings, because they are not going to be around forever. The Neo-Pagan traditions are living traditions our Elders are passing along to us. Not all Elders are as influential as Oberon, but they are all as dedicated, and they all do all they can for Paganism. No fancy ritual is required. Just reach out to your Elder and let them know you appreciate them in your won way. That is my special working I suggest for October of 2022.
Now, I am happy to share with you an interview the illustrious Elder Oberon Zell was kind enough to grant us.
Interview of Oberon Zell with Saoirse
Saoirse- What was the event or moment that made you realize your own Path? Can you share that story with us?

Oberon- That would have to have been in the 1940 movie Fantasia (I saw it when it was re-released in 1956; I was 13), where one segment was Beethoven's "Pastorale Symphony," enacted against a tapestry of Greco- Roman mythology by centaurs (and topless centauresses…), unicorns, and pegasi. There appeared, for the first time on film, several of the old Gods: Jupiter, Vulcan, Diana…and a tipsy Bacchus. Most of the sequence, of course, was pretty saccharine. But at the very end, when Nyx draws Her veil of night over the Arcadian landscape, and the thin crescent of the new moon appears against the stars, and the view zooms in to reveal Diana standing on a cloud, flanked by a deer, drawing the bow of the new moon, and shooting a meteoric arrow across the sky… Well, that arrow struck right in my heart! I knew from that moment that I was a Pagan!
(My first reading as a precocious child had been children's versions of the Greek myths—derived from
Ovid's Metamorphosis, where they all had Roman names.)
And much later, in 1962, in my first year of college, when I read Robert Heinlein's sci-fi novel, Stranger
in a Strange Land, and encountered his fictional Church of All Worlds (CAW), I knew that my life
Mission would be to create that religion in reality.

Saoirse- What would you say is your greatest accomplishment for Neo-Paganism? If there is not just one, what do you feel are your greatest accomplishments?

Oberon- Well, founding it, of course. As well as actively continuing to foster and promote it for over half a century. CAW was the first fully-incorporated church in modern times to claim the identity of "Pagan;" to legally ordain women as Priestesses; to sanction and perform same-sex and multiple marriages; to sacralize entheogens, ritual nudity and sacred sexuality; and to revive and restore the ancient Cthonic
Mysteries of Beltaine, Samhain, and Eleusis.
From its founding water-sharing on April 7, 1962, the Church of All Worlds was my first and most spectacular creation, but by no means my last. The intention there was to create an inclusive religion that I and others like me could believe in and be proud to be part of. 55 years later, I'm proud that CAW is still going strong, and becoming more beautiful all the time with the beautiful people who are drawn to it.
"The Sacred Mission of the Church of All Worlds is to evolve a network of information, mythology and experience to awaken the Divine within and to provide a context and stimulus for reawakening Gaea and reuniting Her children through tribal community dedicated to responsible stewardship and the evolution of consciousness."
And I can claim the entire Pagan community as a legacy, since I was the first to claim the term as a self-identification, way back in Sept. of 1967, and to promote it through the pages of Green Egg.
I was also the first (in 1970) to articulate and develop the "Gaea Thesis" as a foundational Pagantheology, reconciling science and religion.
Wiccan Priestess and teacher Valerie Voigt says:
Without Morning Glory and her husband Oberon, both the face and the depths of modern Paganism would look very, very different. It is largely thanks to them that the Pagan movement in the USA embraced the Goddess as Mother Nature.
The Zells articulated the Gaea Thesis and spread the word about it in GREEN EGG in the early 1970s. Back then, GREEN EGG, published by the Church of All Worlds, was the only real pan-Pagan publication, and it was the one place where regularly-published unfettered and
uncensored discussion and debate occurred among many different individual practitioners and paths of Pagan practice.
GREEN EGG was what we had: No Aquarian Tabernacle, no Circle Network, no Witchvox, no Pagan music publishing companies, no Internet, no Pagan or occult section at Barnes and Noble—indeed, precious few books at all, really. GREEN EGG was the lifeline that let us connect to each other.
I am particularly proud of my networking efforts in the Pagan community, and I feel that they, too, are a significant legacy: I have founded, co-founded and/or been a major player in the Council of Themis (1968), the first Pagan ecumenical council; the Council of Earth Religions (1972); The Covenant of the Goddess (1976); Bay Area Pagan Assemblies (1980s); the Universal Federation of Pagans (1990); The Papal Apology Petition (1999); the Pagan Leaders Summit (2001); the Grey Council (2002); the Coalition of Scholars in Pagan Studies (2013); and the Office of Wardens (2013). I was privileged to have served several years on the Board of the Sonoma County Pagan Network (SCPN) and helped to found a local chapter of the Covenant of Unitarian Universalist Pagans (CUUPS). And I am particularly proud of my Grey School of Wizardry, which I hope to be a valued educational resource for the entire magickal community for the long haul. As one of our student Prefects, Aaran Sherwood wrote:
"Just Imagine! Ten years from now. Over a hundred have graduated to Journeymen Wizards, and another thousand Apprentices continue in training. The pendants we wear are no longer merely logos of the school we attend, but the symbol of our Order. And our symbol is not just recognizable to those who we call brother and sister, but to the greater world both Magickal and Mundane. We are respected as honored and reliable sources of wisdom, guidance and hope to the communities we live in. We are recognized in congress, the military, in covens and conclaves, and through our deeds we are recognized as an organization devoted to helping influence the evolution of the world."
I am pleased that Morning Glory's coining in 1990 of the terms "polyamory" and "polyamorous," and our lifetime of successful open relationships and two 10-year group marriages have inspired a vast movement of expanded relationships involving multiple partners. We were both very active in the early days of the Poly movement (the 1990s), and helped get it off the ground.

And we brought Living Unicorns back to the world in 1980!
Saoirse- I wanted to ask you about The Green Egg. I see you created it in 1968, and it continues today! What would you like to say about why you began Green Egg, and what would you like to see in the future for it?

Oberon- Yes, I am immensely proud of Green Egg. My most potent and effective vehicle for promoting and fostering the Pagan movement I envisioned over half a century ago. I created it to be a Pagan interfaith journal, as well as an expression of the philosophy and teachings of the CAW. We have published manifestos and newsletters of numerous groups, and a third of the print magazine was devoted to the infamous "Forum" letters section, in which were thrashed out all the issues and controversies of the community. After 180 award-winning issues (far surpassing any other magickal publication ever!), I hope that Green Egg will continue to serve the Pagan community as a major interfaith journal for many years to come.

Saoirse- What differences do you see in Neo Paganism today than when you were a new Pagan? How has Neo-Paganism in general changed over the years, and what do you foresee for the future of American Neo-Paganism?

Oberon- I've written much and given many talks on Paganism as "The Once and Future Religion." Over the past 55 years since I first claimed "Pagan" and "Neo-Pagan" as a religious identity for myself, the Church of All Worlds, and other newly-forming "Earth Religion" groups, I have seen this movement grow from a mere handful to become recognized as "the 2 nd -largest Faith Group in America"—with an estimated 5 million self-identified adherents!
Neo-Paganism has always been a home for all the lonely changelings and "ugly ducklings" who felt they didn't belong in the mundane world. In the early days, finding other kindred was incredibly difficult, and
we were very grateful to find a coven, grove, hearth or nest that could become our true family. We were secretive, paranoid and fearful of being discovered, as we encountered considerable suspicion and
outright persecution from the dominant Christians.
But now we are out, public and visible. Pagan Pride days are happening all over the country, and most of us wear our pentacles openly and proudly. We're easy to find, and large Pagan festivals and gatherings all have a sign over their entrance saying: "Welcome Home!" Most of the public no longer sees us as scary, but rather interesting. And we have become the fastest-growing religion in the Western world!
I consider Paganism to be "Green Religion." And I expect Paganism to be a major force in Earth healing and restoration—as well as in the Awakening of Gaea. Here are some of my predictions—from my "2020
Vision" website, and my GaeaGenesis book:

In the 2020s, the Gaea Thesis (that the entire planetary biosphere is a single vast living organism) will become the pre-eminent paradigm and unifying image in the Western world, bringing peoples of all persuasions together into a global Family. We will recognize that we are all children of the same Mother, as well as cells in Her immense body.

In the 2020s, planetary healing and restoration will become the great Mission of many people and countries, to be funded and organized as an international "Gaia Corps" just as the Peace Corps was in the 1960s. Example: "The Pachamama Alliance." Many will identify as "Earth Warriors," "Gaia's Guardians," "Mama's Minions," etc. Example: the "Earth Guardians."

In the 2020s, Pagan organizations and individuals will achieve national prominence and public respect for their educational efforts and activism in environmental clean-up, wildlife rescue, community gardens, highway adoption, social justice, equal rights, community service, and organized opposition to logging, mining, drilling, fracking, and other environmentally and socially destructive practices.

In the 2020s, economic prosperity will finally come to the Pagan community via flourishing Pagan businesses, creative enterprises, landed communities, and especially, a national Pagan Credit Union. Pagan-owned lands will grow into significant and expanding territories, providing for Pagan villages and large land-based communities. Permanent festival sites and retreat facilities will become increasingly elaborate, with stone circles, temples, great halls, orchards, gardens, labyrinths, cemeteries, baths, workshops, forges, guest facilities, homes, stores, theatres, libraries, museums, restaurants, etc…

In the late 2020s, Neo-Pagan outreach to other non-Abrahamic religious communities will result in global alliances that will swell the ranks of so-identified "Pagans" to include Hindus, Shinto, Hellenes, Baltics, Norse, and all indigenous peoples (Native Americans, Australian Aborigines, Polynesians, Ifa, Afro-Caribbeans, etc.). Paganism—old and new—will be recognized as the largest religion in the world.

In the late 2020s-early 2030s, as the fastest growing (and 2 nd largest) faith group in the US, modern Paganism will begin to vie with a declining Christianity as the pre-eminent religion in America, as well as in much of the Western world. There will be significant backlash from Christian Fundamentalists, televangelists and Dominionists as they finally realize they have lost the "Culture War" they started in the 1920s and escalated in the '60s.

Saoirse- I hear you are retiring from The Grey School. What next? I mean, you do so much between writing, teaching, and making public appearances. How will you fill the time the Grey School took up? 

Oberon- I'm not exactly retiring from the Grey School! I will continue as Prez of the BoD, Dean of the Dept of Wizardry, and teaching a few classes. What I'm doing this Nov. 26 is passing the torch of Headmaster to my personal apprentice, protégé and chosen successor, Provost Nicholas Kingsley. I will then become "Headmaster Emeritus." Much as I have done with Green Egg, where I remain "Publisher Emeritus."

Saoirse- My Priest told me you are an artist. Would you like to discuss your artwork as well? 

Oberon- I've always had an innate ability to create in art anything I can imagine. In the late '60s I did a number of illustrations for sci-fi fanzines. When I started publishing Green Egg, I illustrated many articles, did covers, etc. I made many models, and a bit of sculpture, and in the early-'80s I took ceramics classes and started sculpting museum replicas of paleolithic Goddesses. These became the start of a collection, and when people began asking for copies, I learned how to make molds and reproduce them. Over the next 20 years I sculpted around 50 votive figurines, plaques and jewelry designs of Goddesses, Gods, and mythic/legendary creatures. When I finally felt that my skill level was adequate, I sculpted my Magnum Opus: the Millennial Gaia. She is a "sermon in stone" of the entire "GaeaGenesis" vision and concept I had in 1970. I spent two years working on Her, and presented the finished piece to my community at Beltaine of 1998. Since then many thousands have been sold all over the world, and She is now available in several sizes, from 4" to 24".
Saoirse- I cannot thank you enough for taking the time out of your busy schedule to do this interview.
Oberon- Thank you. One is glad to be of service.
Oberon was also good enough to provide suggested websites for more info about him and all he does. By the way, OZ means Oberon Zell!
OZ's Website: www.OberonZell.com
OZ's Facebook page: https://www.facebook.com/oberon.zell
OZ's friends & fans FB page:  https://www.facebook.com/pg/oberonzellwizard/community/
OZ's Patreon page: https://www.patreon.com/oberonzell
OZ's statues, jewelry, books, posters:  https://www.themillennialgaia.com/
OZ's jewelry from Peter Stone Co.:  https://www.peterstone.com/search?q=Oberon+Zell
Green Egg magazine: https://greeneggmagazine.com/
Grey School of Wizardry: www.GreySchool.com
Grey School of Wizardry Facebook:  https://www.facebook.com/groups/1436042009981163
Church of All Worlds: www.CAW.com
Church of All Worlds Facebook:  https://www.facebook.com/cawinc
2020 Vision: The Awakening: http://2020visionawakening.com/
There are also interviews you may like to see for more on OZ:
The Wizard OZ (film documentary by Danny Yourd, 2017) Boston SciFi Film Festival – Best Documentary Short https://vimeo.com/215849774
A concise overview of Oberon Zell's "Gaea Thesis," published in Ecstadelic, 10/22/21:
https://www.ecstadelic.net/top-stories/theagenesis-awakening-of-the-living-earth
An Exclusive Interview of Oberon Zell on Gaia as Theagenesis (Jan. 2, 2020). Oberon Zell, on Theagenesis, on how it works, and discusses the Millennial Goddess. This is a fundamental look at what is becoming the essential truth of the next age. https://www.youtube.com/watch?v=nhlNf8rl_KE&feature=share
Sideshow World (2007), Featured Interview by Rick West, with many photos: "The Great and Powerful OZ: Unicorn, an Unusual Tale." http://www.sideshowworld.com/9-ms-pi/interview-OZ.html
Comprehensive 2017 article on Oberon, done at the Academy of Arcana, with many amazing photos: https://www.dailymail.co.uk/news/article-4685902/Inside-relationship-inspired-polyamory-Oberon.html
Many thanks to Oberon for all you do, and have always done for so many years!
I would like to extend my respect and thanks for all of our Pagan Elders, wherever you may be. No deed is too small, and no devotion unnoticed. Our communities thrive because of your love and how you reach out to all of us in the name of the old gods, and the goddess.
Blessed Be!
**
About the Author: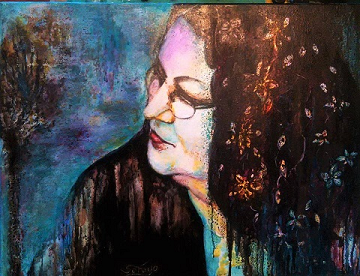 Lady Saoirse is a practicing witch, and initiated Wiccan of an Eclectic Tradition.
A recovered Catholic, she was raised to believe in heaven and hell, that there is only one god, and only one way to believe. As she approached her late 20's, little things started to show her this was all wrong. She was most inspired by the saying "God is too big to fit into one religion" and after a heated exchange with the then associate pastor of the last Xtian church she attended, she finally realized she was in no way Xtian, and decided to move on to see where she could find her spiritual home.
Her homecoming to her Path was after many years of being called to The Old Ways and the Goddess, and happened in Phoenix, Arizona. She really did rise from her own ashes!
Upon returning to Ohio, she thought Chaos Magic was the answer, and soon discovered it was actually Wicca. She was blessed with a marvelous mentor, Lord Shadow, and started a Magical Discussion Group at local Metaphysical Shop Fly By Night. The group was later dubbed A Gathering of Paths. For a few years, this group met, discussed, did rituals, fellowship, and volunteering together, and even marched as a Pagan group with members of other groups at the local gay Pride Parade for eight years.
All the while, she continued studying with her mentor, Lord Shadow, and she became a Third Degree High priestess in 2022. She belongs to the Black Dragon Clan.
She is a gifted tarot reader, spellworker, teacher, and was even a resident Witch at a Westerville place dubbed The Parlor for a time.
Aside from her magical practice, she is a crocheter, beader, painter, and a good cook. She has been a clown and children's entertainer, a Nursing Home Activities Professional, a Cavern Tour Guide, a Retail Cashier, and a reader in local shops. Her college degree is a BA in English Writing. She tried her hand at both singing and playing bagpipes, and…well…let's just say her gifts lie elsewhere! She loves gardening, reading, antiques, time with friends and soul kin, and lots and lots of glorious color bedecking her small home!
On the encouragement of a loved one several years back, she searched for a publication to write for, and is right at home at PaganPagesOrg.
She is currently residing in Central Ohio with her husband, and furbabies.
Saoirse can be contacted at [email protected].