______________________________________________________________________________
Cover art: Wild Harvest By: Michelle Maiden of ElementalOtherworld 
Michelle Maiden is an English illustrator inspired by myth, folklore, ancient cultures, archaeology, shamanic and mystical traditions, the forms and forces of nature, and her own imagination. Her painting 'Wild Harvest' shows a wild woman decorated with the harvest from native northern European trees and hedgerows; blackthorn sloes, hawthorn and elder berries, crab apples and hazelnuts. The image was created in vivid Autumn colours using artists watercolour and pencil crayon. You can find the Wild Harvest Print, as well as the Colouring Page, to purchase at ElementalOtherworld on Etsy.
______________________________________________________________________________
First I would like to mention that our site has won an award.  We are #15!!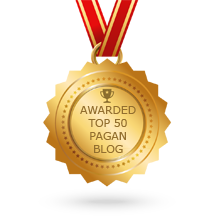 This award goes to all of the Writers who make PaganPagesOrg possible.  I would like to thank you, from the bottom of my heart, for the tireless work, the late nights, the tender moments & all you do.  We are truly a labor of love.
Okay, wipe the tears…
Welcome to the November Issue of PaganPagesOrg!  We hope everyone had a safe and wonderful holiday!  Once again we are back & with a fresh, interesting, NEW Issue of PaganPagesOrg!!   Just a few note worthy features:
Nikki Sleath's Book Explains Witchcraft to the Unfamiliar, for PaganPagesOrg She Talks About Her Magick to the Familiar.  Lynn Woike brings us a wonderful Interview with Nikki Sleath.  
"In this book the author Thomas Hatsis embarks on a quest to research and tell the (until now largely) untold story of a magical substance called "witches' ointment."…

Imelda Almqvist Reviews The Witches' Ointment:

The Secret History of Psychedelic Magic.
In 
SpellCrafting: Spells & Rituals
we are introduced to Becky Coates, a fire performer that uses her talent with fire to do Fire Clearings.  
Worth the Witch
, this month, explores a recurring, monthly Pagan box subscription,

Box of Shadows. 

We break it down to let you know what we really think!   

______________________________________________________________________________