_____________________________________________________________________
Cover art:
Harvest Magic Autumn Story Goddesses Handmade Statues crafted by Molly & Mark of BrigidsGrove on etsy.
About the artists:
Brigid's Grove is a creative partnership between Molly & Mark Remer who co-create original Story Goddesses, Goddess Sculptures, Mini Goddess Pendants, Goddess Grids, and Ceremony Kits at brigidsgrove.etsy.com. They also publish Womanrunes Books & Decks, based on the work of Shekhinah Mountainwater. Brigid's Grove uses visual, artistic expression as a means of story-telling and experience-sharing to help you honor your story & to celebrate lifecycle transitions and pivotal life moments. Molly & Mark create art and ceremony in order to "tell about it." You can connect with Brigid's Grove through their Website, Patreon, Facebook, Instagram, Etsy, Facebook Group, or through their Free Everyday Magick Class.
Brigid's Grove Downloadable Coloring Page Freebie!
As a free gift, Brigid's Grove is giving our readers a free Wheel of the Year Coloring Page that you can Download Here.
_____________________________________________________________________
This month we are helping you prepare for Yule with a great issue featuring wonderful Reviews on Products & books that will make great gifts for you, your loved ones, and your kids!  We also feature a good number of interviews to surely peak your interest.  And of course we have our wonderful monthly columns with their ever-present, wise authors!  Here's a taste of what's inside:
Our Tarot Teacher, Raushanna, Gives Her Opinion of the Book 'Naked Tarot: Sassy, Stripped-Down advice' by Janet Boyer. See why she says that she "Never expected to recommend a digital book on the Tarot."
An Interview with Wendy Steele, or Wendy Woo, the Amazing Witch Lit Author of the Ongoing Lilith Trilogy, the Standing Stone Books and the Lizzie Martin Witch Lit Series.
This Month "Worth the Witch" Found Another Great Subscription Box to Share with You and Just in Time for Yule! The Magickal Earth is a Box You Do Not Want to Miss.
Last Month We Reviewed the Book "Faerie Stones." This Month, We Introduce You to the Book's Talented Author Ceri Norman in an Amazing Interview!
Plus so much more.  So what are you still doing here?  Get to reading!!
_____________________________________________________________________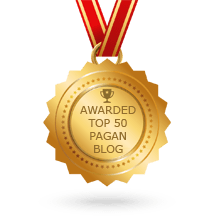 Thank you for enjoying us so much!
_____________________________________________________________________
_____________________________________________________________________
I have spread my dreams under your feet. Tread softly because you tread on my dreams. -WB Yeats