Uncategorized
Book Review – Angels, Spirit Guides and Goddesses by Susan Gregg
Book Review
Angels, Spirit Guides and Goddesses
by Susan Gregg
Quarto Publishing
Ms. Gregg's book contains 100 different Divine Beings that can be called up for various situations. I love the art work for each being. There are four sub headers in this book: Archangels and Angels; Saints; Ascended Masters and Master Teachers; and Goddesses and Deities.
I think that the way Ms. Gregg has laid the book out is very intuitive. Each page begins with the name of the Divine Being, then if applicable she writes where it comes from (i.e. religion, culture), then the author states in what ways the being will help you. Then Ms. Gregg gives an Invocation, and she also includes a small bit about each Divine Being.
I knew most of the Archangels, Angels and Saints. I learned somethings in the Ascended Masters and Master Teachers. There were a few there that I had only heard the names and knew nothing else of that being, and only one I had never heard of before reading this book. (And I am one who then takes that information and goes on a mad search to learn more as soon as I can. So, this opened a new rabbit hole for me.)
Goddesses and Deities really opened my eyes (and lead to another rabbit hole). There were many Goddesses and Deities from other areas of the world, that I admit I knew nothing about. Now that I have read a bit of something about them, I can start to learn about them and develop a relationship with them.
The way that Ms. Gregg has written this book, she has given some great in-depth information in a page. Each entry is only a page long, but it is packed with important information. No fluff or filler, but information that gives the reader the ability to start dialog with that Divine Being.
You can tell that Ms. Gregg wrote this book from a place of knowledge and understanding. The 220 pages of this book contain Divine beings from Hindu, Greek, Roman, Irish, Celtic, Sumerian, Norse, Hawaiian, Inuit, Mesopotamian, to only name a few. I had a great time reading this book and doing more research on the Divine Beings that were calling for me to learn more about them.
I think Ms. Gregg has written a great book for those that are looking for a starting point or are looking for information on how a Divine Being will work with them. Use this book as a way to deepen your relationship with any Deity, Archangel or Ascended Master you work with now. Or to build a new relationship with one calling to you now.
Angels, Spirit Guides & Goddesses:A Guide to Working with 100 Divine Beings in Your Daily Life on Amazon
***
About the Author: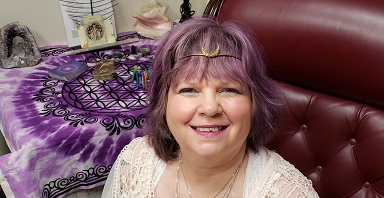 Dawn Borries loves reading and was thrilled to become a Reviewer for PaganPages.Org. Dawn, also, has been doing Tarot and Numerology readings for the past 25 years. Dawn does readings on her Facebook page. If you are interested in a reading you can reach her on Facebook @eagleandunicorn.