Book Review – The Morrigan: Celtic Goddess of Magick and Might by Courtney Weber
Book Review
The Morrigan: Celtic Goddess of Magick and Might
by Courtney Weber
240 Pages
….Goddess of war, witchcraft, death, protection and retribution, the Morrigan is one of Pagan Ireland's most famous-and notorious-Goddesses…
There are books that are few and far between that give the appropriate balance of myth, historical context and a deepened relationship with the Deity of focus, and The Morrigan: Celtic Goddess of Magick and Might by Courtney Weber, is indeed among those titles. I would have expected nothing less from Courtney having had the pleasure of reading her other titles, Brigid: History, Mystery, and Magick of the Celtic Goddess and Tarot for One: The Art of Reading for Yourself. MS. Weber has a talent for engaging the reader from the start and by the end of the reading, making the reader feel as though they have had a close up and personal interview around the subject presented.
A book of this nature is an undertaking in and of itself given the amount of information to be found about this particular Goddess and the inclination many have towards remaining with the known facets of Her energy rather than opening up to other aspects that may lend themselves powerfully to a modern setting. Being able to do this gives relevance to the power of the Goddess in all of her forms and the Morrigan is already quite a formidable presence to be called upon.
Courtney has filled the book with her own personal experiences at just the correct moment lending that affirmation that no matter how powerful a Deity may be, there is still opportunity for connection and devotion. The book begins as it should with Chapter 1: Meeting the Morrigan…
"She is the spirit of fury and peace, power and destruction, joy and terror. She is warrior,
queen, death, omen, mother, murderer, lover, spy, conspirator, faery, shape-shifter,
healer, and sometimes the living earth itself. A captivating contradiction; a
demonic female who both haunts and heals; benevolent in one moment, ghastly
in the next, and kind in the moment after that. Meet the Morrigan." 1.
Some highlights of The Morrigan: Celtic Goddess of Magick and Might include:
Each chapter ends with a ritual and/or prayer as offering to the form of the Morrigan of focus within it. I like this approach in readings that are Deity specific as it gives an opportunity to experience that energy for yourself making use of your own personal energetic signature and magickal weaving;
Courtney weaves many of her own personal experiences in working with the varied aspects of the Morrigan, making the overall feel of the book very authentic rather than relying only on the theoretical;
The inclusion of others experiences with the Morrigan. I think that one of the best ways to validate and analyze your experience is in learning what others have felt, seen and had as outcome. We re all different yet there are always some underpinnings of common thread that run through the stories of these powerful and older Deities that emanate from the collective consciousness.
By the time you reach Chapter 8-Magick with the Morrigan: Spells, Rituals and Meditations, Courtney has provided a thorough journey through the myths, visions of the Morrigan and practice rituals with each. The chapter begins with discussion of spellwork and the role the Morrigan may have in that working. Some feel that making request of a Deity such as the Morrigan is not appropriate for spellwork, and that she should only be involved in those larger workings and ritual. Others feel her power should not be used for personal spellwork; only those affecting the larger community. And, others take an alternate stance. The reminder offered by Courtney is…
"Deity gains strength through a devotion. Engaging deity
in spellwork is a type of devotion, itself. " 2.
I appreciated the simple, yet very powerful offerings of meditations, prayers and spellwork filling this chapter. And, the layering and intention of devotion is clearly evident in the focus, wording and "feel" of these suggestions.
The Conclusion ties the entirety of The Morrigan: Celtic Goddess of Magick and Might into a lovely synthesis of personal, well-researched and heart-felt writing, and ends with this beautiful sentiment…
"To better know the Morrigan, be patient. Be humble. Be open-minded. Be in joy.
There is beauty on the other side of our terror. There is even something
beautiful within fear itself. The Morrigan holds it all.
If you were called to read this book, " 3.
Would I recommend?
I found myself immersed in the reading of The Morrigan: Celtic Goddess of Magick and Might, and wanting to know more of this powerful Goddess. It is evident the time and thought that Courtney has put into this book and the addition of notes and impressive bibliography were just the right recipe for my nerdy side in wanting the back story. This is a book that speaks to the devotee and the seeker and is a definite must-read for any seeking a deeper connection to the Goddess in all of her forms.
Footnotes:
p. 2

p. 174

p. 205
Bonus Excerpt from the Publisher's Page:
Magick with the Morrigan: A Spell to Provide
This blessing spell is designed to be done in your kitchen. If you don't have a conventional kitchen, you can bless the space where you eat. You can even bless your microwave or hot plate if you don't have a hearth or an oven.
If you have a candle that you typically burn when making offerings to the Morrigan, take this candle to your cooking or eating space. If you live in a building that does not allow open flame, a battery-operated candle is a fine substitute. Light this candle in the space where you cook or eat and say the following incantation:
By the light of the Morrigan's flame,
This space is Her cooking hearth, but She is also my welcome guest.
May this space nourish, nurture, sustain, May those who eat here be well and fulfilled,
In the Morrigan's name . . .
So be it.
About Courtney:
Courtney Weber is a Wiccan priestess, writer, tarot advisor, metaphysical teacher, and social activist living in Oregon. She is the author of Brigid: History, Mystery, and Magick of the Celtic Goddess and Tarot for One: The Art of Reading for Yourself. Courtney is also the producer and designer of Tarot of the Boroughs. Courtney leads workshops throughout the US. Visit her at: thecocowitch.com.
***
About the Author: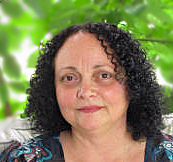 Robin Fennelly is a Third Degree Initiate within The Assembly of the Sacred Wheel Tradition and serves as High Priestess of Coven of the Mystic Path, the 12th Coven within the Assembly of the Sacred Wheel Tradition. She teaches and facilitates classes for the Pagan Experience Study Group that serves as foundation for membership within Coven of the Mystic Path.  
Her spiritual journey is strongly rooted in both Eastern philosophy and the Western Magickal systems from which she has formed a core foundation that is diverse in knowledge and rich in spiritual practice.  A life-long learner, her practice has evolved from the classical and philosophical teachings of books, practical experience and enrichment of this knowledge base by attending workshops of various spiritual traditions presented by master teachers.
Robin formally came to the Wiccan path in 1994. Following practice as a solitary for 2 years, she dedicated to Oak and Willow Coven of The Assembly of the Sacred Wheel Tradition in November of 1996. She received her 1st, 2nd and finally 3rd degrees within the Assembly Tradition and has served as High Priestess of Oak and Willow since Samhain of 2001.
As a teacher of esoteric and magickal studies she has used Energetic Anatomy, Tarot, Astrology, Hermetic Qabala, Eastern Philosophy, and Numerology as the foundations of her diverse selection of workshops and writings for more than 25 years. Exploration of varied energetic protocol has been the focus of her work for some time now and the information gained through direct experience informs all of her magickal and spiritual work.
Robin's writings have been featured online, and in print Internationally.  She has authored several books incorporating her unique style of writing making use of poetry, prose and pathworking to enhance the concepts presented.  She has taught extensively throughout the Pagan community, including Sacred Space Conference, Spring Magick, Between the Worlds Interfaith Conference and Free Spirit Gathering Festival this Summer. Her most recent project is hosting an online blogging community entitled The Pagan Experience.
Robin is the owner of Holistic Embrace providing services for mind, body and spirit such as Tarot readings, Astrology reports, Spiritual Guidance and other related offerings.  She lives in Eastern Pennsylvania and her life is blessed by a 40+- year marriage, five children and the opportunity to work in the field of public education.
Robin's Books
The Inner Chamber, Vol. 1 It's Written in the Stars-Astrology
The Inner Chamber, Vol. 2 Poetry of the Spheres-Qabalah
The Inner Chamber, Vol. 3 Awakening the Paths-Qabalah
The Light of SELF: Consciousness, Spiritual Practice and Learning to Breathe
Magickal Verse: A Collection of Poetry and Prose
A Year of Gaia: The Eternal Cord
The Elemental Year: Aligning the Elements of SELF
Temple of the Sun and Moon: Luminous Devotions
Sleeping with the Goddess: Nights of Devotion
A Weekly Reflection: Musings for the Year
The Magickal Pen: A Collection of Esoteric Writings
The Enchanted Gate: Musings on the Magick of the Natural World
For more info: http://www.robinfennelly.com/books.html
Robin's Website: www.robinfennelly.com
Coven of the Mystic Path, ASW: www.covenofthemysticpath.org