Blessed Be Box / New Moon in Aquarius
The enchanting box for the new moon in Aquarius January 24 was carefully packed with products to honor the moon cycle, empower individuals to manifest their desires, and provide support for the coming four weeks. Refreshing angelic white – representing air and the feeling of elevation – served as a sub-theme for this box.
Slipping the box out of the bag, the frankincense incense, even in its package, offered a calming, uplifting scent and hinted at the magic inside.
Opening the box reveals a card showing its contents, a copy of a Temperance tarot card that can be placed on the altar, and a small copy of the Blessed Be logo that appears on the packages of tea and salt.
A pdf file sent in an email explains that energy from the Temperance card embodies the energy of this new moon and "indicates that we can take what is given to us and transform it into something greater than the sum of its parts." A link is provided to a meditation designed for this specific moon focusing on inner strength.
Instead of the usual one, this moon had two specialty herbs: Chrysanthemum & Hops. Each was selected for their ability to calm the frazzled energy the Aquarian new moon brings. Drinking it can be a ritual of its own.
The salt bath, which also contains chrysanthemum, is recommended for the Scorpio third quarter moon to help disentangle from the fading Saturn-Pluto conjunction. The pdf file delves into more about this and other astrological factors, including the major moon phases for the upcoming month. If you know where the new moon falls in your personal natal chart, you can learn more about what the moon cycle holds for you. The file also offers suggestions for magical and spiritual practices that, while designed for the new moon in Aquarius, can be used anytime.
An organza bag holds a reiki-infuses candle, a piece of lepidolite, an angelite bracelet and an atomizer, while a bottle of Aquarius Ritual Mist was wrapped in tissue and tucked inside the chalice.
The eco-palm candle was blessed with reiki for personal empowerment and confidence – perfect to light on the new moon while writing intentions for the coming moon cycle and for focusing on during meditation.
Essential oils specially blended to capture the lightness of the Aquarian energy come in a bottle, with an atomizer included so it can be sprayed in the air for an uplifting sweetness. Smoke from the sticks of frankincense incense can be used to cleanse and to boost any magical action. The two aromatherapy items are good for meditation.
Describing the gemstone magic, the information states, "The soft blue angelite bracelet creates more peace and uplifts the spirit. It's a deeply healing stone. We thought this would be a great stone to take with you throughout the month. The sparkly purple stone is Lepidolite, and it helps us transition and make changes to our emotions. It also soothes stress."
The most spectacular offing in the box was the six-and-a-half-inch-tall chalice with a pentacle design.
The pentacle is a symbol for protection and magic, offering the strength and emotional protection especially needed during the moon cycle that could rile up old emotions and open old wounds. How to charge water in it is explained in the materials, and a link it provided to a recipe for Vanilla Water for a Sweet Life.
Stefanie Palmer, a registered and certified aromatherapist, created Awaken Essential Oils in 2012 to share her passion for aromatherapy with the world. A reiki master, and chakra balancing master, she traveled and lived sustainably for 10 years on the West Coast, collecting knowledge from elders and books on a variety of natural and energy healing methods. In 2017 she launched Chakra Box to assist those in a chakra balancing journey. Still awe-inspired by nature today, she encompasses a wholistic practice by using essential oils, flower essences, plant extracts, crystals, gems, astrology, color therapy, and other Earth elements in her cruelty-free and vegan self care products.
For her Blessed Be Boxes, she teamed up with Astrea Taylor, who blogged as Starlight Witch for the Patheos Pagan website and writes all the eclectic, non-denominational rituals that are suitable for beginners as well as adept practitioners.
Taylor's book,"Intuitive Witchcraft: How to Use Intuition to Elevate You Rituals" will be released in April 2020; "Air Magick" will be published in 2021.

Along with The New Moon Boxes that sell for $38.88 and contain products worth a minimum of $77, Blessed Be Boxes offers a series for The Eight Sabbats represented by the wheel of the year on sale for $49.88. They are especially recommended for those who love working with the sun's energy. In addition, A Love Box ($33) and A Love Spell ($13) are available.

Out of eleven reviews, ten were for five stars. Even though my atomizer leaked a bit, I'd also give it five stars.
For more information, visit Blessed Be Box at the Following Sites:
***
About the Author:
Lynn Woike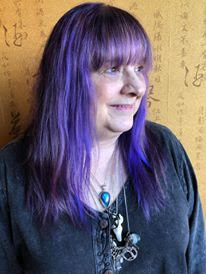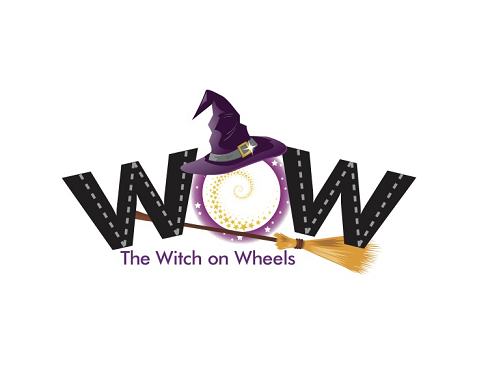 All my life I have known magic was real. As a child, I played with the fae, established relationships with trees and "just knew things." In my maiden years I discovered witchcraft and dabbled in the black-candles-and-cemeteries-at-midnight-on-a-fullmoon magick just enough to realize I did not understand its power. I went on to explore many practices including Zen, astrology, color therapy, native traditions, tarot, herbs, candle magic, gems, and, as I moved into my mother years, Buddhism, the Kabbalah and Reiki. The first man I dated after my divorce was a witch who reintroduced me to the Craft, this time by way of the Goddess. For 11 years I was in a coven, but with retirement, I have returned to an eclectic solitary practice. When accepting the mantle of crone, I pledged to serve and teach. This is what I do from my skoolie – a 30-year-old school bus converted into a tiny house on wheels that I am driving around the country, following 72-degree weather, emerging myself into nature, and sharing magic with those I meet. Find me at thewitchonwheels.com, Facebook and Instagram.