Book Review – Pagan Portals: Sun Magic by Rachel Patterson
Book Review
Pagan Portals
Sun Magic
by Rachel Patterson
144 Pages
"I think sometimes as a witch the moon tends to get pride of place and
the sun perhaps takes a back seat? But it is an incredibly powerful
source of natural energy and magic."1.
Sun Magic by Rachel Patterson provides a fresh perspective on putting the Sun and solar energies into the same place of interest and mystery that the moon has typically held in practicing the craft. The book reads easily and is parceled out into bite-size pieces. The contents read like a table of correspondences for the sun and each chapter is only a few pages in length.
Ms. Patterson has provided enough information for anyone to begin the practice of solar magick and form the correct alignments to draw the energy into your workings and make maximum use of the sun in all of its expressions.
I particularly liked the brief section on "Solar Water". This comes after the chapters on the "Solar Eclipse" and "Eclipse Magic".
"Seat out a jar or dish of water during an eclipse and let it soak up the energy." 2.
Simple, clear and filled with potency of intention; after completion you will have magically solar charge water to use as you will.
Other chapter topics cover "Sun Herbs and Plants", "Sun Signs", "Sun Incense Blends", "Sun Oil Blends", and more.
The chapter, "Sun Animals" gives an overview of those animals typically associated with solar energy. And, in keeping with the flow of topic to topic, the next chapter provides the reader with a lovely "Meditation to Meet a Solar Animal". It is a brief meditation that could be done in minimal time or expanded and stretched into a more lengthy space of journeying.
Many are familiar with the practice of drawing down the moon, but few have experienced the equally potent 'Drawing Down the Sun". This exercise is done outside in sunlight and makes use of a lovely written poem/chant to be recited as the energy of the sun is invoked into your being. This is a nice exercise to use for healing and strengthening your body(ies) when some additional bolstering is needed.
Sun Magic is a lovely addition to any beginner's library. It is a handy little reference book that provides the reader with options, information and starting points to incorporate solar energy in their workings and practice.
About Rachel Patterson:
Rachel Patterson is a witch whose practice incorporates Kitchen Witchery, Hedge Witchery and folk magic. She is also an Elder and High Priestess of the Kitchen Witch Coven/School.
For more information:
Footnotes:
p. 1
p. 22
***
About the Author: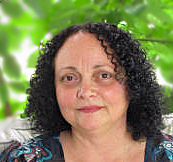 Robin Fennelly is a Third Degree Initiate within The Assembly of the Sacred Wheel Tradition and serves as High Priestess of Coven of the Mystic Path, the 12th Coven within the Assembly of the Sacred Wheel Tradition. She teaches and facilitates classes for the Pagan Experience Study Group that serves as foundation for membership within Coven of the Mystic Path.  
Her spiritual journey is strongly rooted in both Eastern philosophy and the Western Magickal systems from which she has formed a core foundation that is diverse in knowledge and rich in spiritual practice.  A life-long learner, her practice has evolved from the classical and philosophical teachings of books, practical experience and enrichment of this knowledge base by attending workshops of various spiritual traditions presented by master teachers.
Robin formally came to the Wiccan path in 1994. Following practice as a solitary for 2 years, she dedicated to Oak and Willow Coven of The Assembly of the Sacred Wheel Tradition in November of 1996. She received her 1st, 2nd and finally 3rd degrees within the Assembly Tradition and has served as High Priestess of Oak and Willow since Samhain of 2001. 

As a teacher of esoteric and magickal studies she has used Energetic Anatomy, Tarot, Astrology, Hermetic Qabala, Eastern Philosophy, and Numerology as the foundations of her diverse selection of workshops and writings for more than 25 years. Exploration of varied energetic protocol has been the focus of her work for some time now and the information gained through direct experience informs all of her magickal and spiritual work.

Robin's writings have been featured online, and in print Internationally.  She has authored several books incorporating her unique style of writing making use of poetry, prose and pathworking to enhance the concepts presented.  She has taught extensively throughout the Pagan community, including Sacred Space Conference, Spring Magick, Between the Worlds Interfaith Conference and Free Spirit Gathering Festival this Summer. Her most recent project is hosting an online blogging community entitled The Pagan Experience.

Robin is the owner of Holistic Embrace providing services for mind, body and spirit such as Tarot readings, Astrology reports, Spiritual Guidance and other related offerings.  She lives in Eastern Pennsylvania and her life is blessed by a 40+- year marriage, five children and the opportunity to work in the field of public education.
Robin's Books
The Inner Chamber, Vol. 1 It's Written in the Stars-Astrology
The Inner Chamber, Vol. 2 Poetry of the Spheres-Qabalah
The Inner Chamber, Vol. 3 Awakening the Paths-Qabalah
The Light of SELF: Consciousness, Spiritual Practice and Learning to Breathe
Magickal Verse: A Collection of Poetry and Prose
A Year of Gaia: The Eternal Cord
The Elemental Year: Aligning the Elements of SELF
Temple of the Sun and Moon: Luminous Devotions
Sleeping with the Goddess: Nights of Devotion
A Weekly Reflection: Musings for the Year
The Magickal Pen: A Collection of Esoteric Writings
The Enchanted Gate: Musings on the Magick of the Natural World
For more info: http://www.robinfennelly.com/books.html
Robin's Website: www.robinfennelly.com
Coven of the Mystic Path, ASW: www.covenofthemysticpath.org