Interview With Anujj Elviis & Review of Indian Traditional Wicca
Bright Blessings!
When my editor told me I had the chance to interview a fellow Wiccan who is in India, I was so excited! I enjoyed our conversations to make this article happen, and I had the chance to review his pages.
His name is Anujj Eliivs and he is in Dehra Dun, India. Originally from New Delhi, and raised Xtian, he's one of us, active in his community, running a Coven, doing volunteer work, administrating Pagan web pages, and is also a busy professional! Whew! I forgot to ask if he ever sleeps!
I will provide links you can view yourself!
First, in 2017, Ben Wright did a nice write-up on Anujj, you can view that here: Rev. H.P. Anuj Elvis, A Wiccan in India
Next, his professional page is HERE.
As you can see he is a very eclectic practitioner, and provides a plethora of services.
Next, he has several pages on Facebook you can join. These are pages for networking, education, and can be a lot of fun to be a part of. The one I focus on in the interview is Earth Temple, which he founded.
And here is The Website.
Anujj also helps admin the facebook group Beginners Wicca and Witchcraft: Which has over 50K members!
Then there is the facebook group Craft of the Witches: With over 34K members!
There is, also, the facebook group Empath for Beginners: With a more private 8K plus members.
But what I am most excited about is Indian Traditional Wicca facebook group, which he founded and runs!!!!
And even a group for Xtians who want to practice magic.
So much good work, so little time!
Below is the interview of this illustrious, busy Pagan!
Interview with Anujj Elviis
Saoirse (S) – So do you have a Coven?
Anujj Elviis (AE) – Yes I do have an active coven. I founded a Wiccan tradition. Indian Traditional Wicca. Under it, I have a Coven, Coven of Hecates Kin.
S – Nice! You had mentioned previously you started when you returned from the UK. What was it there that happened that inspired you?
(AE) – I met a local coven at that time joined them and learned and then wanted to spread the word in India about Wicca.
The major issues that I faced when I returned to India in propagating with was that people weren't already aware of the European Greek and Roman Pantheon and also the way of practice the way of doing the ritual was different.
Especially the Zen. Everything we find on herbs in India however you know still. There are certain items and ritual tools in books that won't be available at that time they still not available and if they are available we have to get from from the US which costs a fortune.
S – Oh yes I bet!
Now were you raised in India?
Where all have you lived?
(AE) – I am born and brought up in India, traveled extensively through the length and breadth of India and have been developed in the UK. I lived in Nepal which is a neighbouring Indian country. I have not been to the states yet but that's on the agenda I want to visit the New Orleans festival. I am friends with Christian Dey who organizes The Hexfest, and I really want to go one day. I am a Vodun practitioner and in love with Marie Laveau so I really want to go see the house of wood.
S – How is all this received in India?
(AE) –Where I live, in a country where people are still beheaded and killed because of practicing witchcraft, but you gotta' be smart and you want to play with the rules and within the loopholes of those rules.
S – Oh yes. I studied with a Voodoo Priest for a short time.
(AE) –Fantastic, how was your experience?
S – I met the Bawon and he is still part of my life.
(AE) –Oh wow.
S – So, how do you and your Coven brethren stay safe? Are you fraternal and hidden like the early Wiccans?
(AE) – Wiccan we are not, Vodun, yes, we hide. And prefer to stay that way.
S- There is a lot of misunderstanding of Voodoo. People assume all who practice are evil, and it's not that way at all.
(AE) – People are crazy about anything they don't know about and is different, it is automatically feared and frowned upon.
S – Yes, but there is less stigma of Wicca there?
(AE) –What may surprise you that I was born and raised in a Christian family I was born to be a priest I am Reverend by the way, by the power of universal life Church and internet. LOL. Wicca is basically very very near to Hinduism so it's easy to make people understand.
S – Yes Hinduism has Goddesses and polytheism like Wicca does.
(AE) – My family is a family of priests and bishops basically. Very influential and well known in the Christian (fraternity). Hence making me even more rebellious. Difficult for me. Christians there are like potatoes they are everywhere.
(AE) – I am desperately working on to launch my own Oracle deck
Pray for me
S – I will
How is it going? Are you doing the artwork?
(AE) –That's where I am stuck. I have the concept but no help. Lol. I need to collaborate with someone.
S – I was wondering if we could talk about your Wiccan group?
Tell me about them!
(AE) – I mean I am the only one who runs a Coven, Traditional Coven in India. It's face-to-face. I have about 6 people in it right now, and me. So 7. I take one student a year. I don't take everyone. We have applications in waiting. We are a mix of Wicca and Indian ways.
(About online groups.) I have just made them for people to come together. Beginners Wicca and Witchcraft, Craft of the Witches, I have created a group for Christian Witches also a safe place for them. Then I have one for Empaths too. I run charities. Earth Temple. Check out our page. This year we distributed 2000 slippers, and clothes distribution, and blanket distribution.
S – I looked at the page and I see a beautiful team!!!! The projects you contribute to, pick one and tell me how it supports the population you focus on.
(AE) – Hmmm…Happy Feet. India's biggest issue is beggars. So we decided to donate slippers. Simple idea. Happy Feet. You know sometimes they are on the street bare foot and people hurt them run the vehicle on their feet. It's terrible. Winters are terrible here, but summer is worse. At least they'll have slippers.
S – So in a way your team is helping change traditions?
(AE) – Changing tradition and mindset.
S – What is the biggest challenge is creating this kind of change?
(AE) – Money and people's mindset. Anyone who wants to give wants something in return. That's not possible all the time, you know.
S-Absolutely. Is that cultural, or a generational thing? Is the younger generation different, or does that have anything to do with it?
(AE) – I think it's not culture. it's unanimous for everyone. Generational maybe. Young ones are eager to volunteer, but can't support money wise. I don't need volunteers if I have no funds.
S – What kinds of issues do people with no shoes deal with there, and what does having shoes improve?
(AE) – Our roads are made of tar. The temperature in summers reaches up to 50 degree Celsius. It's like walking in a furnace. I can't do much at least try to make it comfortable. For projects we don't pressure people for money. If someone is comfortable donating slippers directly we take happily.
S – So the blistering heat damages feet. Awful.
(AE) – Yes. It's terrible. Tar melts. You should see their faces. Happy feet faces. I cry every time.
S – How long have you been doing this project?
(AE) – Three years. It's not expensive. $1 gives me 2 slippers you know.
S – That is good! how are the slippers distributed? Do you have a place where people can come anytime, or do you gather things, and take them someplace?
(AE) – We gather and go. In three years we have distributed 2000. There are certain areas like slums. We go to them. I aim to move from slippers to shoes. Like I always say, if you can't donate, pray for us.
S – Now, I would like to ask more about your Coven.
(AE) – Ask away.
S – How long have you had this Coven?
(AE) – Since 2009.
S – That's quite a while ago!
(AE) – Hardly anything was available to us then. Now we have Amazon. LOL.
S- What was it about Wicca that made you want to bring it to India?
(AE) – think it was its connection to earth and fertility. India is a Goddess worshiping country and when you give, you know, the newer generation the modern way to worship the eternal feminine and the earth together, I think Wicca does it in the best possible way. I think its simplicity and the way that it wasn't really so foreign and the ritualistic area and approach was very much like Hinduism, what we do in my country. I think that sort of resonated with me.
I am not Hindu. I was raised Christian, however there is a lot of Indianism about Wicca that attracted me towards it. Its modern Outlook towards femininity and the earth connection wanted me to bring it to India.
What a wonderful interview. Thank you, Anuj!
And he was kind enough to send me a bio he wrote.
Enjoy, and Blessed Be!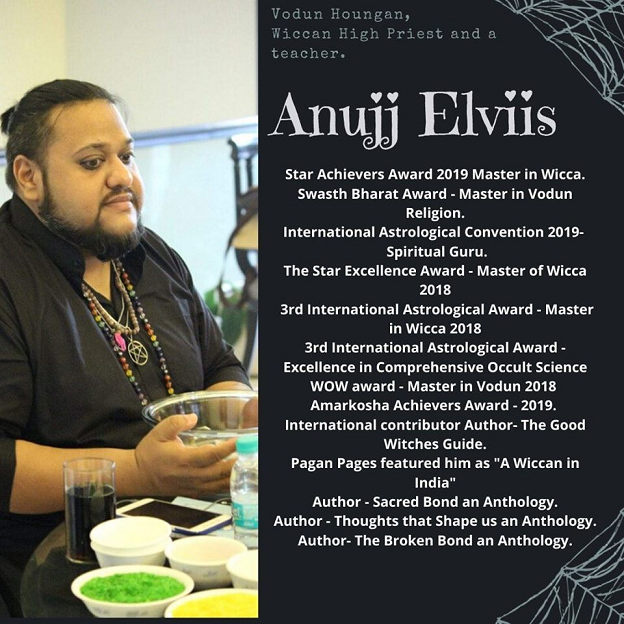 "Since childhood Dr.H.P. Anujj Elviis was attracted to spirituality and occultism. He used to think of it as some deep hidden art that very few can learn and practice. His questions started in earnest when he was 13 soon after he succumbed to jaundice. His state became so severe that the doctors gave up his recovery, but leaving no stone unturned Anujj's mother took to mystics, contacting a local yet powerful Tantra practitioner who claimed that he could bring her son back to health. Soon after Anujj did indeed recover, and when the young Dr.Anujj Elviis went back to this tantra practitioner and thanked him for his recovery, it was revealed that he had come back with special powers. After that, no one was able to put a rest to his curiosity or answer his questions.
Initially Dr.Anujj Elviis shunned away the idea of special powers and moved on. However, soon he started seeing spirits, often relatives and acquaintances that had crossed over. Naturally no one believed him, but Dr.Anujj Elviis continued exploring and soon started practicing what he would later know as basic elemental Magick. Many a time he would recount events before they happened to family and friends, shocking and surprising everyone. This spooked the kids at school, so the young Dr.Anujj Elviis never had many friends to join at recess, instead spending recess time at his favorite place-an old cemetery adjacent to his school and on which the school had been built on. fter graduating with a degree in sociology, Dr.Anujj Elviis experienced two incidents that changed his life, pushing him deeper into Occultism. One of these was experiencing his first major haunting, during the night shift at his work place.
Anujj started working for a company where many people believed the top floor of the building to be haunted. This peaked his curiosity, so one day on his night shift he decided to use the washroom on the top floor. When he entered he found there was someone else in there already, a boy. They started to chat and Anujj shared how everyone thought the bathroom was haunted. They both laughed and Anujj soon forgot the incident. Later, during the monthly meeting, the death of a fellow worker was announced. When his photograph was displayed on the projector Anujj's skin went cold. It was the same boy, but he had died in an accident three days before Anujj saw him in the washroom. After the meeting, Anujj frequently went to the top floor bathroom to see the boy, but he never reappeared.
Dr.Anujj Elviis was born in a Christian family. He was raised to be a Christian priest and indeed he did become one if only to understand the religion better. However, when Dr.Anujj Elviis was told that what he thought and what he did was worshiping the devil and a sign that he had sold his soul, it was clear he could not walk that path. Over time, as he continued reading and practicing, Dr.Rev. H.P. Anujj Elviis realized the path is wider than expected. So wide even hundreds of lives would not be enough to learn everything. It took time for Dr.Rev. Anujj Elviis to realize the abilities which he possessed from birth, such as clairvoyance, clairaudience, empathy, and other psychic abilities. The power to foresee future events, communicate with spirits, and so on, are gifts he believes many of us are born with but most of us never open the package that is our soul. We have to look within for us to see our real self.
Dr.Rev. Anujj Elviis believes that it is important to see the good in all religions and to respect all faiths. To him, this universal respect is fundamental to Wicca as a fertility, nature-oriented Earth based religion that honors the Divine in all aspects of life and nature. An eclectic practitioner, Dr.Rev. Anujj Elviis includes reiki, rune reading, voodoo, angelic guidance, and tarot reading in his practice, along with vastu consultancy. Dr.Rev. H.P. Anujj Elviis also gives a lot of importance to prayers, energy work, meditation, and divination, because he believes Magick is the Divine working through a person to bring about change in the world.
His path is based on 3 principles: 1. Knowledge of self
2. Power over Self
3. Control over self.
India is a land of myths and ancient civilizations, but in the last few centuries it has absorbed new influences into herself, taking her people further away from the nature based worship they are used to. Fake gurus and con-artists, ruining peoples life for their own benefit, have made things very difficult for the real practitioner. Unfortunately, those who follow their calling in witchcraft are shunned or worse. So many people are killed in the name of religion and beliefs in the world, and unfortunately India is no exception. People are still killed because of suspected witchcraft in this country. [Editor's Note: According to India Times, over 150 women were murdered across India in 2014 for suspected black magic.] Because of this threat, practitioners of magick must cloak themselves and any activity they do all the time. Fortunately, wicca is still so little known in India most practitioners are confused with Hindu tantric practitioners or other followers of the Hindu pantheon, as long as they do not refer to themselves as a witch openly.
After seeing so much misinformation all over, Dr.Rev. Anujj Elviis started an online Facebook school in 2011 called Earth Temple Magik School in order to offer various courses on occultism to enthusiasts in India and worldwide. The Earth Temple provides free and paid courses on various subjects and also conducts workshops all over India, using the earnings to support the underprivileged. It is Dr.Rev. H.P. Anujj Elviis' project to bring together like minded people who feel the call back to nature, who seek inner truth, and who seek to be of service to society. Dr.Rev. H.P. Anujj Elviis also founded the charity The Earth Temple, with which he and his volunteers go to the slums and work with the poor and their children. Lots of underprivileged children in India do not get to live their childhood the way intended by the universe.
Frequently, impoverished children are forced into child labor because of their parents' circumstances. Because of this Dr.Rev. H.P. Anujj Elviis created The Van, a project to ensure even the poorest child gets to live their childhood. Every weekend, The Van goes to a designated slum and takes volunteers to read fairy tales and stories to children, let them color pictures and have fun, simply making sure they enjoy their childhood Dr.Rev. H. P. Anujj Elviis is an eclectic practitioner of the craft, blending Wicca with elements from various other religions and spiritual paths into his own personal spiritual practice. As he believes Magick is the Divine working through you to bring about change in the world, Dr.Rev. Anujj Elviis gives a lot of importance to prayers, energy work, meditation, and divination. Dr.Rev. H.P. Anujj Elviis works as a spiritualist, psychic, clairvoyant, medium, and a healer and continues to explore his own ways, methods and techniques towards the path of self realization.
Recently he is featured in The Good Witch's Guide: A Modern-Day Wiccapedia of Magickal Ingredients and Spells by Shawn Robbins & Charity Bedell, where he shares his wisdom.
Star Achievers Award 2019 Master in Wicca. Swasth Bharat Award – Master in Vodun Religion. International Astrological Convention 2019- Spiritual Guru. The Star Excellence Award – Master of Wicca 2018 3rd International Astrological Award – Master in
Wicca 2018 3rd International Astrological Award – Excellence in Comprehensive Occult Science WOW award – Master in Vodun 2018 Amarkosha Achievers Award – 2019. International contributor Author- The Good Witches Guide. Pagan Pages featured him as "A Wiccan in India" Author – Sacred Bond an Anthology. Author – Thoughts that Shape us an Anthology. Author- The Broken Bond an Anthology."
***
About the Author: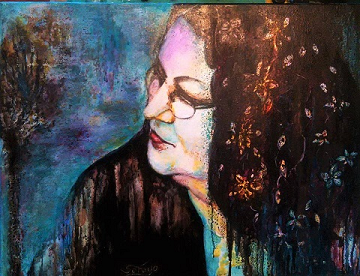 Saoirse is a practicing witch, and initiated Wiccan of an Eclectic Tradition.
A recovered Catholic, she was raised to believe in heaven and hell, that there is only one god, and only one way to believe. As she approached her late 20's, little things started to show her this was all wrong. She was most inspired by the saying "God is too big to fit into one religion" and after a heated exchange with the then associate pastor of the last Xtian church she attended, she finally realized she was in no way Xtian, and decided to move on to see where she could find her spiritual home.
Her homecoming to her Path was after many years of being called to The Old Ways and the Goddess, and happened in Phoenix, Arizona. She really did rise from her own ashes!
Upon returning to Ohio, she thought Chaos Magic was the answer, and soon discovered it was actually Wicca. She was blessed with a marvelous mentor, Lord Shadow, and started a Magical Discussion Group at local Metaphysical Shop Fly By Night. The group was later dubbed A Gathering of Paths. For a few years, this group met, discussed, did rituals, fellowship, and volunteering together, and even marched as a Pagan group with members of other groups at the local gay Pride Parade for eight years.
All the while, she continued studying with her mentor, and is still studying for Third Degree, making it to Second Degree thus far.
She is a gifted tarot reader, spellworker, teacher, and was even a resident Witch at a Westerville place dubbed The Parlor for a time.
Aside from her magical practice, she is a crocheter, beader, painter, and a good cook. She has been a clown and children's entertainer, a Nursing Home Activities Professional, a Cavern Tour Guide, a Retail Cashier, and a reader in local shops. Her college degree is a BA in English Writing. She tried her hand at both singing and playing bagpipes, and…well…let's just say her gifts lie elsewhere! She loves gardening, reading, antiques, time with friends and soul kin, and lots and lots of glorious color bedecking her small home!
On the encouragement of a loved one several years back, she searched for a publication to write for, and is right at home at PaganPagesOrg.
She is currently residing in Central Ohio with her husband, and furbabies.
Saoirse can be contacted at [email protected].