'Bad Words, Good Smells' An Interview with Desiree Horton of Co-op of Creation
'

Bad Words, Good Smells'
An Interview with Desiree Horton
of Co-op of Creation
Desiree Horton is currently on call 24/7, providing terminal decontamination for hospitals and other places, some of which have tested positive for COVID-19. She works as needed, so her schedule "can get a bit crazy."
A few years ago, she started making candles in her kitchen before moving her workspace to the garage. Before the pandemic, friends and family would come and create with her.
"I was doing my candle shop full-time, but I stepped back into this to help train people and to handle these places since it's hard to find people willing to go into these areas. Hopefully soon I can get back to candles full-time, but for now I am happy to make places safe to be," the Candle Creatrix, witch and owner of Co-op of Creation wrote in an interview by email.
Making candles is making magic for Horton, who keeps all her recipes, blends and processes in a Book of Shadows.
~ ~ ~ ~ ~ ~ ~
PaganPagesOrg (PPO): When did your love of candles begin?
Desiree Horton (DH): I've always been obsessed with candles, even as a kid. When I was young I would save all my money to go buy votives from the local coffee shop in my town even though I wasn't allowed to burn them. I would just save them and smell them. I had a pretty big collection going until one summer in Alaska, the sun, which is out almost all day and night during summer time, melted them all. That's when I decided candles were meant to be burned, not saved.
I purchased a small candle making kit a few years ago, promptly threw away the directions and started playing around. I fell in love immediately. It escalated quickly from there, as I tend to give in wholeheartedly to things I enjoy. I began with paraffin, and making large Venus of Willendorf candles and then dived into making soy candles as I found the process more forgiving, and they are better for the environment.
When I first started the shop, I was making handmade crafts of all sorts, and I would invite anyone who had an interest to come and create something with me; which is why we named it Co-op of Creation. We wanted it to represent a cooperative creating experience where everyone is welcome. I've brought people with me to vend at markets and get experience doing that as well. Some of them even have their own shops now, which makes me endlessly happy. I'm always happy to give other makers advice when they ask, or help them create whatever they want. I love the creative community!
PPO: What inspires you?
DH: I'm inspired by moods, by nature, by people – basically everything. When I first started, I was making candles with literary and poetry titles, but people were not as excited about them as I was. I got frustrated, and switched to swear words. I swear as much as the average person, but it's more about really grabbing your attention and putting you in the moment. The words create a super visceral reaction and emotion in people. That's what I want, and I try to create scents that alleviate the frustrations one may have when using these words, or adding humor to the situation. I didn't expect much, but once people got over the shock factor, they really enjoyed them because of the scents. Our tag line became "Bad words, good smells" for the scent line.
PPO: How do you make your candles?
DH: I use 100% soy wax – grown here in the United States – with no fillers or anything. It's a bit more expensive, but I really try to keep local and natural as much as is feasible. I use high-quality, phthalate-free perfume oils and I weigh out my ingredients so that I can keep each batch as consistent as possible. I design and print and cut my own labels, which is probably the most difficult aspect as I fight with technology a bunch.
My favorite candle is "Fuck It." [Scents of the beach and teakwood mingled with lemon verbena for a pseudo escape from your current shitty situation.] "Fuckin' Mondays" [a sweet blend of strong coffee and a splash of kahlua] and "Clusterfuck" [a soothing blend of lotus and morning fog, with hints of minerals, amber, and water lily] are among the top sellers currently.
As for the intention candles, candle magick has been one of my main forms of ritual practice since I started about 16 years ago. For me it is the easiest and most straightforward form of magick. Originally I was only going to make scented candles to sell, and make ritual candles for myself for fun, but a group of ladies from my daughters preschool asked me to make some candles to help them connect with their spirit guides. I came up with a big, grandiose ritual and plan, and made a whole batch of them. I offered up the leftovers for sale and they went really quickly, which surprised me. Then I just kept going with it. The more I dove into creating unique scents and intention works, the more I loved it. I feel like scent can really set a mood, which is why candle magick is so great! "PNW made with attitude and intent" is the tag line for these.
My candles have gone through many evolutions and many labels, but my recipes stay mostly the same, while also following the seasonal ingredients. I forage as much as possible for what I use, and trade or support local makers for the rest.
I charge all my ingredients, and make small batches of my own conjure oil to add to each batch, as well as using the moon cycles to plan out my calendar of batches. I use chants while making each batch as well, throughout the whole process, putting as much energy into them as I can. Some people like to use them in their spell work, and some people need a little help so I put suggested affirmations on the listings. I tried to make them as easy to use and understand as possible, and for everyone. There are so many customers who just want a little direction to get started in their spiritual practice, and I love to help if I can.
My children also each came out with their own charity candles; they got to create the scent and pick the charity, and then donate the profits. It's their favorite way to help with the shop stuff; they aren't super big fans of helping with the more menial stuff like packaging. I have been utilizing Etsy for online sales, and I vend in all different kind of markets around Washington and Oregon, and hope to move into other states as well.
PPO: I notice you also make incense.
DH: I started making incense because I really enjoyed the way smoke could change a scent and give it incredible depth. Sometimes you don't have time for a candle ritual, and incense is an easy go-to for simple intention work.
I usually make the incense along with the intention candles if they are the same recipe, and I do them for my moon cycles as well. I just decided I was going to try it out one day, so I read a few articles and gave it a shot. It took a little bit of trial and error to figure out what works for me and what people enjoy, but I feel like its going much smoother now.
Our most popular currently is the Persephone incense, but my favorite is any of our moon phase ones; they are a great way to bring in some moon phase energy at all different times of the month.
PPO: Tell me about "Pinecones and Moonstones."
DH: I started a podcast in 2019 for fun with a friend of mine who is an archeologist. It's called "Pinecones and Moonstones." We focus on witchcraft, history, and science. It's super relaxed and not very serious, but has been such a great experience since I'm pretty introverted and a podcast really puts you out there. We wanted to focus on making witchcraft super accessible, and from a different perspective than a Wiccan one, and to show that you could be a scientist and historian and still be a witch. We like to call ourselves Science Witches.
For more information:
Podcast:
@pineconesandmoonstones hosted by @co_opofcreation
Products:
www.etsy.com/shop/CoOpOfCreation
Social Media:
Facebook: https://www.facebook.com/CoOpOfCreation
Instagram: https://www.instagram.com/co_opofcreation/
***
About the Author:
Lynn Woike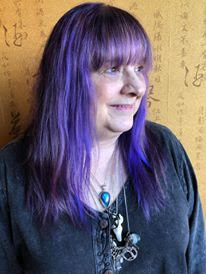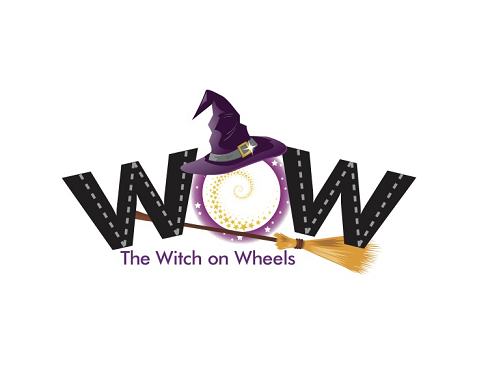 All my life I have known magic was real. As a child, I played with the fae, established relationships with trees and "just knew things." In my maiden years I discovered witchcraft and dabbled in the black-candles-and-cemeteries-at-midnight-on-a-fullmoon magick just enough to realize I did not understand its power. I went on to explore many practices including Zen, astrology, color therapy, native traditions, tarot, herbs, candle magic, gems, and, as I moved into my mother years, Buddhism, the Kabbalah and Reiki. The first man I dated after my divorce was a witch who reintroduced me to the Craft, this time by way of the Goddess. For 11 years I was in a coven, but with retirement, I have returned to an eclectic solitary practice. When accepting the mantle of crone, I pledged to serve and teach. This is what I do from my skoolie – a 30-year-old school bus converted into a tiny house on wheels that I am driving around the country, following 72-degree weather, emerging myself into nature, and sharing magic with those I meet. Find me at thewitchonwheels.com, Facebook and Instagram.