Book Review – The Language of Tarot: A Proven System for Reading the Cards by Jeannie Reed
Book Review
The Language of Tarot: A Proven System for Reading the Cards
by Jeannie Reed
Published by Llewellyn Publications
Published September 8, 2019
221 pages
The Language of Tarot is a 6 inch by 9 inch soft cover book with a glossy finish full color front cover showing the book's title and The Fool of the Major Arcana, and a back cover containing a description of the book and a brief bio of Jeannie Reed. The book has 221 pages with a nice-sized black print on sturdy off-white paper. I've already made some pencil notes in this book; the paper encourages that.
The Language of Tarot begins with two short but important Disclaimers, reminders to us all of boundaries we as Tarot readers need to keep in mind, one regarding the danger of providing medical advice (unless the reader is also a medical professional), and the other regarding the danger of providing legal advice (unless the reader is a lawyer). Next is a very useful Introduction of 13 pages, offering a bit of personal history of the author, introducing us to the different forms of oracles, possible sources of information, a bit on possible legitimate scientific explanations for oracular work, and what the reader can expect to learn from this book.
Chapter 1, which talks about Tarot Theory and Practice, begins to set the stage for Reed's unique method for card interpretation. Chapter 2 talks about the Major Arcana cards and offers the author's "Shorthand" card meanings as well as traditional card meanings and reversal interpretations; many of the card descriptions also contain a "Tip" paragraph that offers a bit of extra useful info about the particular card. Chapter 3 offers similar information for the Minor Arcana cards. Chapter 4 explores the Tarot Court, which Reed calls the People Cards. Unlike the other Chapters covering the cards, this one talks more about the theory behind the rank rather than individual card meanings. I like this less-traditional method for examining and visualizing the personalities of the Court Cards. I had trouble working with them when I first learned the Tarot, and would have benefited from using Reed's thought process that approaches the Court Cards from a different perspective.
These first four chapters offer foundational information about Reed's interpretation of the Tarot images, presented in an unusual way. There are no card images at all in this book, and while Reed's process involves the symbolism of the images of the Tarot, she is not presenting any specific deck or style. Reed offers a brief description of the foundation and offerings of the Majors and the Minors, as well as a great description of the People Cards as I mentioned above, but there are no correspondence charts or keyword lists to memorize. Instead, Reed uses allegory to encourage us to create our own images, our own connections to the symbolism of the Tarot. What is even better about this book is that Reed teaches us how to use the symbolism we have discovered about the images of our chosen Tarot decks in order to readily and accurately interpret card combinations. Using Reed's methods, we create our own simple yet useful keywords, keywords that are easily combined into a simple sentence that captures the meaning of the entire spread.
The Language of Tarot is filled with example after example of card combinations and their interpretations, with chapters describing specific focuses such as Health and the Major Arcana, Health and the Minor Arcana, The Mind-Body Connection, Relationships and Tarot, Money and Tarot, Figuring Out What's Wrong, among many. By not offering specific card images, each chapter encourages us to connect to our own card images and get to know each of their unique personalities so we can apply this depth and texture to our understanding of the messages of the cards.
There is even a useful homework section meant to help a reader begin the process of exploring their own decks. The book finishes up with a chapter on Ethics For The Professional Reader, and a Conclusion that encourages the reader to practice and make use of what they learn through this process.
I really enjoyed this book and I find Reed's method to be effective for both those new to the Tarot (because this method would create for a new reader a strong foundation of knowledge about the cards) and those who have been reading the cards for a while (because creating this unique language between the cards and the reader could bring new texture to the messages offered to a seeker). In The Language of Tarot, Jeannie Reed encourages us to get to know each of our cards in a personal way, beginning with a clean slate and without the suggestions of others. There is nothing quick and easy about Reed's methods. She is in effect asking us to create a personal relationship with each of the 78 cards in a Tarot deck, based not on correspondence lists but rather on a one-on-one exploration of the images of each card, a conversation between the reader and each card that has to create the language needed so the conversation can happen. The wonderful thing is that once we have learned this language, amazing things can happen as we work with the Tarot.
Jeannie Reed has been a tarot master and professional psychic for more than three decades. She designed a scientific system for reading the Tarot and has been teaching it for twenty-five years. She has written about oracles for AntiquityNow.org, and writes a Tarot column for the national magazine, Women-in-Touch. Jeannie Reed lives in New York City; you can read more about her at thelanguageoftarot.com.
The Language of Tarot on Amazon
**
About the Author: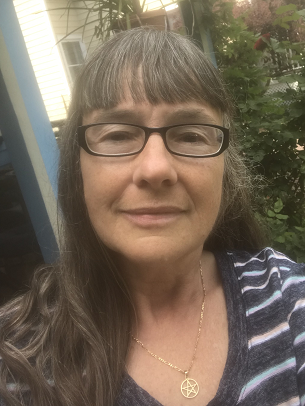 Raushanna is a lifetime resident of New Jersey. As well as a professional Tarot Reader and Teacher, she is a practicing Wiccan (Third Degree, Sacred Mists Coven), a Usui Reiki Master/Teacher, a certified Vedic Thai-Yoga Massage Bodyworker, a 500-hr RYT Yoga Teacher specializing in chair assisted Yoga for movement disorders, and a Middle Eastern dance performer, choreographer and teacher.  Raushanna bought her first Tarot deck in 2005, and was instantly captivated by the images on the cards and the vast, deep and textured messages to be gleaned from their symbols. She loves reading about, writing about, and talking about the Tarot, and anything occult, mystical, or spiritual, as well as anything connected to the human subtle body. She has published a book, "The Emerald Tablet: My 24-Day Journal to Understanding," and is currently working on a book about the Tarot, pathworking and the Tree of Life. Raushanna documents her experiences and her daily card throws in her blog, DancingSparkles.blogspot.com, which has been in existence since 2009. She and her husband, her son and step son, and her numerous friends and large extended family can often be found on the beaches, bike paths and hiking trails of the Cape May, NJ area.
De