Book Review – Moon Spells Journal: Guided Rituals, Reflections and Meditations by Diane Ahlquist
Book Review
Moon Spells Journal
Guided Rituals, Reflections
and Meditations
by Diane Ahlquist
192 Pages
… The moon has a powerful influence on our well-being. Each phase of the lunar cycle can impact our moods and emotions, bringing with it an energy that all of us can use to better understand ourselves and our desires. It's time to embrace the moon's energy and use its power for self-reflection and empowerment!….
Moon Spells Journal: Guided Rituals, Reflections and Meditations by Diane Ahlquist is the third (3rd) book in a series of writings dedicated to Moon Magic. Diane's first two titles, Moon Spells: How to Use the Phases of the Moon to Get What You Want and Moon Magic: Your Complete Guide to Harnessing the Mystical Energy of the Moon lay the foundations for this wonderful journal and used collaboratively provide the reader with plenty to do and incorporate into their practice.
Moon Spells Journal: Guided Rituals, Reflections and Meditations is separated into a monthly format, with each section's title a simple statement of what moon work will be found within its pages. January begins entitled "Finding Your True Path", an appropriate title for the start of a new year and new opportunities. May encourages you to "Bolster Creative Instincts" in keeping with the creative action of Beltane's month. And, December issues the call to "Release Negative Emotions". An apt ending to the year and necessary step in being on the threshold of a new cycle and new year's growth.
I found "How to Use This Book" to be a nice addition to the overall intention. Often times a book will have wonderful information contained but is not user friendly for all levels of seekers, so much of the information is lost because of lack of explanation. Not the case with Moon Spells Journal: Guided Rituals, Reflections and Meditations. Here the reader will find a basic overview of the lunar phases and their energy and the reminder about the power of intention in reaping the most from all of your magickal endeavors.
… I dedicate this book to those who seek self-realization. These people are my readers, who hail from all different parts of the globe. They may walk a different road, but they keep walking! They discover new things and find compassion for themselves, each other, and the planet…. Diane Ahlquist
Throughout each monthly focus there are worksheets, journal pages, writing prompts and more to give the reader the fullest experience in a very tactile and tangible way. And, all the while the reader is reminded about the energy of the moon and encouraged to incorporate these new connections and understandings revealed in the workings into all aspects.
… Because every phase of the moon is a spectacular sight, as often as possible, take time to step outside into the night and soak in the fabulous expansiveness of the night sky and our beautiful cosmic dance partner. Listen to and rest in the harmony of the universe and then in your own being. Tune in to the fullness of your being in an open, wordless fashion. Feel the connection between the eternal universe and the essence of your being; resonate with the magnetism between the lunar and terrestrial; let the realization of the order and balance sink in and merge with and attune your energies to the great heavens or cosmos…
I especially liked the "Track Your Full Moon Mood" page included in every month's work. It is set-up with a listing of various mood identifiers such as, "adventurous, depressed, empowered" and others for you to check off. There are also several lines to be used to journal more about these or other feelings you may have had during that month's full moon crowning.
Would I Recommend:
Moon Spells Journal: Guided Rituals, Reflections and Meditations by Diane Ahlquist is a gift to give to yourself or anyone who wants to deepen their connection to lunar energies and magic. There is enough to fill an entire month's work and focus in each monthly section and I loved the journaling experience throughout. There was just enough space to write in balanced by practical theory and action. I have had the privilege to read the other two titles in the Moon Magic series, and this fits beautifully into that trilogy and also stands alone as a wonderful companion to your personal explorations.
About Author Diane Ahlquist:
Diane Ahlquist is an author, speaker, and third-generation intuitive who has used her gifts in counseling for over twenty-five years, and has been featured on Elite Daily, Latina.com, LunaLunaMagazine.com, iHeartRadio, and SpiritualityHealth.com. She is the author of Moon Spells, Moon Magic, The Complete Idiot's Guide to Life After Death, The Complete Idiot's Guide to Fortune Telling, and The Moon Spells Journal.
Moon Spells Journal: Guided Rituals, Reflections, and Meditations (Moon Magic) on Amazon

***
About the Author: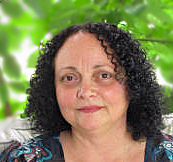 Robin Fennelly is a Third Degree Initiate within The Assembly of the Sacred Wheel Tradition and serves as High Priestess of Coven of the Mystic Path, the 12th Coven within the Assembly of the Sacred Wheel Tradition. She teaches and facilitates classes for the Pagan Experience Study Group that serves as foundation for membership within Coven of the Mystic Path.  
Her spiritual journey is strongly rooted in both Eastern philosophy and the Western Magickal systems from which she has formed a core foundation that is diverse in knowledge and rich in spiritual practice.  A life-long learner, her practice has evolved from the classical and philosophical teachings of books, practical experience and enrichment of this knowledge base by attending workshops of various spiritual traditions presented by master teachers.
Robin formally came to the Wiccan path in 1994. Following practice as a solitary for 2 years, she dedicated to Oak and Willow Coven of The Assembly of the Sacred Wheel Tradition in November of 1996. She received her 1st, 2nd and finally 3rd degrees within the Assembly Tradition and has served as High Priestess of Oak and Willow since Samhain of 2001.

As a teacher of esoteric and magickal studies she has used Energetic Anatomy, Tarot, Astrology, Hermetic Qabala, Eastern Philosophy, and Numerology as the foundations of her diverse selection of workshops and writings for more than 25 years. Exploration of varied energetic protocol has been the focus of her work for some time now and the information gained through direct experience informs all of her magickal and spiritual work.
Robin's writings have been featured online, and in print Internationally.  She has authored several books incorporating her unique style of writing making use of poetry, prose and pathworking to enhance the concepts presented.  She has taught extensively throughout the Pagan community, including Sacred Space Conference, Spring Magick, Between the Worlds Interfaith Conference and Free Spirit Gathering Festival this Summer. Her most recent project is hosting an online blogging community entitled The Pagan Experience.
Robin is the owner of Holistic Embrace providing services for mind, body and spirit such as Tarot readings, Astrology reports, Spiritual Guidance and other related offerings.  She lives in Eastern Pennsylvania and her life is blessed by a 40+- year marriage, five children and the opportunity to work in the field of public education.
Robin's Books
The Inner Chamber, Vol. 1 It's Written in the Stars-Astrology
The Inner Chamber, Vol. 2 Poetry of the Spheres-Qabalah
The Inner Chamber, Vol. 3 Awakening the Paths-Qabalah
The Light of SELF: Consciousness, Spiritual Practice and Learning to Breathe
Magickal Verse: A Collection of Poetry and Prose
A Year of Gaia: The Eternal Cord
The Elemental Year: Aligning the Elements of SELF
Temple of the Sun and Moon: Luminous Devotions
Sleeping with the Goddess: Nights of Devotion
A Weekly Reflection: Musings for the Year
The Magickal Pen: A Collection of Esoteric Writings
The Enchanted Gate: Musings on the Magick of the Natural World
For more info: http://www.robinfennelly.com/books.html
Robin's Website: www.robinfennelly.com
Coven of the Mystic Path, ASW: www.covenofthemysticpath.org