Book Review – In Focus Reflexology: Your Personal Guide by Tina Chantrey
Book Review
In Focus Reflexology
Your Personal Guide
by Tina Chantrey
144 Pages
In Focus Reflexology: Your Personal Guide, by Tina Chantrey, published by Wellfleet Press, an imprint of The Quarto Group, 142 West 36th Street, 4th Floor, New York, NY 10018. I am reviewing a digital version of the book made available by the publisher via NetGalley, so my personal descriptions are a bit limited. Amazon lists this book as a hard cover, showing an image on the front cover of the bottom of the feet with reflexology zones outlined, and a brief description of reflexology on the back cover. The digital book contains 144 pages with an easily readable black typeface and both color and black and white images. The hardcover book also comes with an 18 by 24 inch frameable wall chart; nice bonus!
The book begins with a Table of Contents followed by a 5-page Introduction that nicely sets the stage for the information that follows, and includes a history of reflexology, a description of the many benefits and how reflexology works, and a few important things to remember. Lots of great information for those who do not know about reflexology, presented in a non-technical and easy to understand manner.
Chapter 1 is titled "Reflexology Basics," and it presents more in-depth but still easy to understand information. The physical anatomy of the foot, the different areas of the foot that connect to other body parts, and the longitudinal zones of the hands, feet and body are introduced, complete with images. What to expect during a session and after a session are addressed, possible benefits, as well as situations that could be an indication that reflexology should not be practiced.
Chapter 2, "The Main Zones of the Hands and Feet," dives into the actual practice. The reflexology zones and corresponding organs of each foot and each hand are briefly described, complete with useful images. Then each area of the foot and ankle are defined. Chapter 3, "The Map of the Feet," offers detailed locations of individual zones and correspondences to organs and body parts are described, again with great images. Chapter 4, "Reflexology Areas of the Feet," offers details regarding potential issues to be addressed, including informative descriptions of the reflexes of the toes and the bottoms, the tops and the sides of the feet, and the way those reflexes can bring about a body environment that promotes healing and health. Chapter 5, "Massage Techniques for Feet," presents easily understood guidance and methods to access and awaken the reflexes presented in the previous chapters, again complete with images. These methods are broken down further in Chapter 6, "The Toes" and Chapter 7, "Moving Down the Foot."
Chapter 8, "Hand Reflexology," begins the study of the hands. Like the previous chapters focused on the foot and the ankle, reflexology zones and images are presented, including images. The benefits of hand reflexology are described, and a few practices are offered with easy to follow instructions. Both the palmist's map of the hand and the lines of the hand are described, as well as the health benefits associated with each zone. The appearances of the hands and fingers and what those appearances can indicate are included, as well as a bit of information and an image covering the reflexology zones of the ear.
Chapter 9 describes the setup of a space for offering reflexology sessions to others, including suggested equipment, the questions to ask a client before beginning, and creating a relaxing atmosphere. Chapter 10 covers treating babies, children and teenagers, Chapter 11 covers reflexology specifically for women, Chapter 12 covers reflexology specifically for men. Chapter 13 addresses reflexology for dieters, and Chapter 14 covers reflexology for athletic people.
The book ends with a Conclusion, a bio of the author and image credits, and an Index useful for revisiting specific information or instructions found in the different chapters of the book.
In Focus Reflexology: Your Personal Guide is a very useful handbook for those interested in learning about and making use of reflexology, either as part of a massage practice or as a standalone practice. This book contains more than enough information to allow someone to learn about and actually use reflexology on themselves or offer it to others. Because the descriptions are user-friendly and the images support and flesh out the descriptions, the reader can literally create a therapy immediately as needed. For those interested in training to become a licensed therapist, In Focus Reflexology offers a great introduction to this method, its history and its practice. For already-licensed therapists, this book offers a great review as well as at-your-fingertips information. Even if you are only interested in giving yourself a great foot massage, this book will inform, enlighten and encourage you to include reflexology in your daily routine.
Tina Chantrey is an author, running coach, massage therapist, reflexologist, and Reiki practitioner. She is the fitness editor of Women's Running UK and regularly writes for health, fitness and outdoor women's publications. Her website, https://www.tinachantrey.com contains her bio, a list of her books, her blog, and online contact information.
***
About the Author: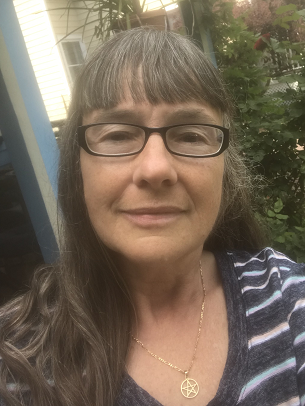 Raushanna is a lifetime resident of New Jersey. As well as a professional Tarot Reader and Teacher, she is a practicing Wiccan (Third Degree, Sacred Mists Coven), a Usui Reiki Master/Teacher, a certified Vedic Thai-Yoga Massage Bodyworker, a 500-hr RYT Yoga Teacher specializing in chair assisted Yoga for movement disorders, and a Middle Eastern dance performer, choreographer and teacher.  Raushanna bought her first Tarot deck in 2005, and was instantly captivated by the images on the cards and the vast, deep and textured messages to be gleaned from their symbols. She loves reading about, writing about, and talking about the Tarot, and anything occult, mystical, or spiritual, as well as anything connected to the human subtle body. She has published a book, "The Emerald Tablet: My 24-Day Journal to Understanding," and is currently working on a book about the Tarot, pathworking and the Tree of Life. Raushanna documents her experiences and her daily card throws in her blog, DancingSparkles.blogspot.com, which has been in existence since 2009. She and her husband, her son and step son, and her numerous friends and large extended family can often be found on the beaches, bike paths and hiking trails of the Cape May, NJ area.