Book Review – In Focus Tarot: Your Personal Guide by Steven Bright
Book Review
In Focus Tarot
Your Personal Guide
by Steven Bright
192 Pages
In Focus Tarot: Your Personal Guide is written by Steven Bright, full-time Tarot reader, author and blogger, and published by Wellfleet Press, an imprint of The Quarto Group, 142 West 36th Street, 4th Floor, New York, NY 10018. In Focus Tarot is a 6¼" by 9¼" book with a color hard cover with Tarot images on the front and a book description on the back. The interior of the book consists of 192 pages, black easy-to-read type of a nice size on smooth and substantial white paper.
I like the setup of the first chapter, called Getting Started. Bright offers information regarding what Tarot is and isn't, who can use the Tarot and how to use the book in order to work with the Tarot, a brief description of the Universal Waite Tarot (the deck Bright chose for the lush full color illustrations in Focus Tarot), the structure of the Tarot, the suits and the Court Cards, reversals, and even a bit about the character genders of the Court Cards.
This useful information is followed by the card descriptions themselves. The card description section is separated into Major Arcana and Minor Arcana. Each card description contains a full color image of the card, and a few paragraphs of general information about the card. Also included is a section on seeing the card as a situation, and as a person; very useful information for readings and card interpretations! Next are some questions you can ask yourself or your seeker regarding the card, and finally some upright and reversed keywords.
The final chapter focuses on getting comfortable with spreads. This chapter includes suggestions for how often to do a reading, how to get comfortable with the cards, and how long it might take to become proficient at reading. Several spreads are included, as well as interpretations for the card positions and sample readings.
A nice bonus included in this book is an 18 by 24-inch wall chart of the Major Arcana cards and their keywords. Something that any professional reader or novice who is just getting to know the cards would find useful.
This is a great book for someone new to the Tarot, as well as for readers with some experience. The hard cover makes it easily portable, the paper stock is durable, and the card description information is valuable. I like the fact that the upright and reversed card keywords are at the end of the information provided about each card. Memorizing keywords has never been my strong point, and Bright provides enough useful card descriptions so that the keywords are almost not necessary. I have found that seeing each of the 78 cards in a Tarot deck as people with different personality traits is a useful way to get to know the cards and remember their meanings. Bright's section on the cards as people is well-constructed and easy to understand. Seeing a card as a situation adds a new layer of depth and texture to our understanding of the cards, as well.
Steven Bright was born in London; he is a professional Tarot reader with over 20 years of experience with clients from around the world, as well as a respected author, blogger and designer. Bright also reviews decks, and produces Tarot Thoughts videos on social media.

In Focus Tarot: Your Personal Guide on Amazon
***
About the Author: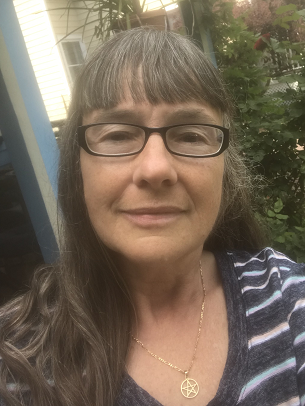 Raushanna is a lifetime resident of New Jersey. As well as a professional Tarot Reader and Teacher, she is a practicing Wiccan (Third Degree, Sacred Mists Coven), a Usui Reiki Master/Teacher, a certified Vedic Thai-Yoga Massage Bodyworker, a 500-hr RYT Yoga Teacher specializing in chair assisted Yoga for movement disorders, and a Middle Eastern dance performer, choreographer and teacher.  Raushanna bought her first Tarot deck in 2005, and was instantly captivated by the images on the cards and the vast, deep and textured messages to be gleaned from their symbols. She loves reading about, writing about, and talking about the Tarot, and anything occult, mystical, or spiritual, as well as anything connected to the human subtle body. She has published a book, "The Emerald Tablet: My 24-Day Journal to Understanding," and is currently working on a book about the Tarot, pathworking and the Tree of Life. Raushanna documents her experiences and her daily card throws in her blog, DancingSparkles.blogspot.com, which has been in existence since 2009. She and her husband, her son and step son, and her numerous friends and large extended family can often be found on the beaches, bike paths and hiking trails of the Cape May, NJ area.