Book Review – Magickal Tarot: Spreads, Spellwork, and Ritual For Creating Your Life by Robyn Valentine
Book Review
Magickal Tarot
Spreads, Spellwork, and
Ritual For Creating Your Life
by Robyn Valentine
Fair Winds Press
160 Pages
Magickal Tarot: Spreads, Spellwork, and Ritual For Creating Your Life by Robyn Valentine. Published in 2021 by Fair Winds Press, an imprint of The Quarto Group, 100 Cummings Center, Suite 265-D, Beverly, MA 01915. This book will not publish until May, 2021, and I am reviewing a pre-release digital copy. The published version will be hard cover, with 160 pages.
As stated in the Introduction, Magickal Tarot addresses the Tarot as not just a divination tool, but as a magickal tool as well. This book works only with the Major Arcana so if you are looking for a how-to book, this one might not touch all the bases. However, I am not discouraging anyone from adding Magickal Tarot to their library, for there is something here for everyone.
Magickal Tarot begins with a brief introduction to the Major Arcana, followed by reasons for learning symbolism, and for working with manifestation. Next comes useful instructions and procedures for bonding with your deck and getting to know its symbolism. This book specifically touches on the Tarot as a magickal tool, and the next chapter deals with that very concept. Suggestions for using the Major Arcana in spellwork are provided, as well as information regarding the elements, and channeling the energies of a particular card that is supportive of your working.
Then, we have the information regarding the individual Major Arcana cards. Each card section has a card image and four pages of information about that card, including correspondences, upright and reversed keywords, and whether or not this card works for a yes or no question. I love this last item! We were all taught that in order to get the most out of the meanings and messages of a card, we should not use yes or no questions, but sometimes they are unavoidable. I'm glad that Valentine addresses this. The card section continues with some great information about the symbolism found in the card image, using the card in magickal work (including a description of the energies of the card and suggested lunar phases), as well as several options for using the card in magickal workings.
The next chapter goes into detail regarding correspondences, touching on numerology, the elements and their correspondences, and lunar phases and their meanings. The last chapter offers five Tarot spreads along with simple instructions for when to use them and what to focus on while throwing them.
I love this book! Magickal Tarot does indeed bring the Major Arcana into our spreads, spellwork and ritual in a very useful manner. This book asks us to see our cards as what they are: magickal tools for creation and empowerment in our own lives and for counseling and encouraging others. While Magickal Tarot only covers the Major Arcana, I feel that a new reader would get a lot of valuable information from this book. More experienced Tarot enthusiasts would certainly enjoy this book because its focus and perspective are different from many Tarot books currently available. The information presented is easy to understand and easy to put into use. I particularly like the section discussing the symbolism of each Major Arcana card; this is something that not many books address.
Magical Tarot offers instructions for using the Major Arcana in magickal workings, but you don't havde to be a practicing witch or magickal worker in order to benefit from this book. Even if you are not interested in spellcrafting, knowing the energies and correspondences associated with a particular card can add depth and texture to your card interpretations.
What I really like about this book is that Valentine presents the idea that you never stop learning about your cards. Yes, a basic understanding of the framework of the Tarot and of traditional symbolism found in the images of the cards are important, but new meanings and new personal correspondences become more clear the longer you work with a particular deck. After all, learning the details of 78 cards is not something that will happen in a weekend, and Valentine offers useful methods for building a close relationship with a deck. So mark your calendars for May of next year and pick up a copy of Magickal Tarot. You won't be sorry.
Robyn Valentine is the author of the Tired Witch blog. Robin is a professional Tarot reader, a Mentor, Podcaster, and Creatrix of Magick Tools. A lifetime witch, she resides with her husband and two cats on the California-Oregon border. Her email address is [email protected].
Magickal Tarot: Spreads, Spellwork, and Ritual for Creating Your Life on Amazon
***
About the Author: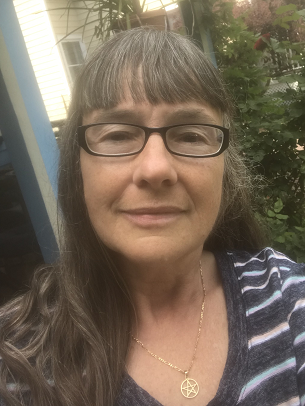 Raushanna is a lifetime resident of New Jersey. As well as a professional Tarot Reader and Teacher, she is a practicing Wiccan (Third Degree, Sacred Mists Coven), a Usui Reiki Master/Teacher, a certified Vedic Thai-Yoga Massage Bodyworker, a 500-hr RYT Yoga Teacher specializing in chair assisted Yoga for movement disorders, and a Middle Eastern dance performer, choreographer and teacher.  Raushanna bought her first Tarot deck in 2005, and was instantly captivated by the images on the cards and the vast, deep and textured messages to be gleaned from their symbols. She loves reading about, writing about, and talking about the Tarot, and anything occult, mystical, or spiritual, as well as anything connected to the human subtle body. She has published a book, "The Emerald Tablet: My 24-Day Journal to Understanding," and is currently working on a book about the Tarot, pathworking and the Tree of Life. Raushanna documents her experiences and her daily card throws in her blog, DancingSparkles.blogspot.com, which has been in existence since 2009. She and her husband, her son and step son, and her numerous friends and large extended family can often be found on the beaches, bike paths and hiking trails of the Cape May, NJ area.