Book Review – Wintering: The Power of Rest and Retreat in Difficult Times by Katherine May
Book Review
Wintering
The Power of Rest and
Retreat in Difficult Times
by Katherine May
Riverhead Books
256 Pages
… You may never choose to winter,
but you can choose how…
-From the Publisher
When I saw the title and cover image for Wintering: The Power of Rest and Retreat in Difficult Times by Katherine May I was immediately intrigued. I was pulled in even further when I read the subtitle speaking to difficult times and personal respite. I think we would all agree that 2020 has been an off-the-rails rollercoaster ride. And, even those of us who are normally blessed by smooth sailing have hit the rocky shores more than once.
… There are gaps in the mesh of the everyday world, and sometimes they open up and you fall through them into somewhere else. Somewhere Else runs at a different pace to the here and now, where everyone else carries on. Somewhere Else is where ghosts live, concealed from view and only glimpsed by people in the real world. Somewhere Else exists at a delay, so that you can't quite keep pace. Perhaps I was already teetering on the brink of Somewhere Else anyway; but now I fell through, as simply and discreetly as dust sifting between the floorboards. I was surprised to find that I felt at home there. Winter had begun… p. 9 – September
Wintering: The Power of Rest and Retreat in Difficult Times moves through the seasons of Fall into Winter's belly and brings the reader to conclusion in Late March, the threshold of new growth and survival's promise. Each chapter holds the story of the late Fall to Late Spring months and expresses a different level of "wintering" and the challenges and joys of overcoming and finding a space of respite from the onslaught of cold and storm, doubt and fear. The Prologue begins in September with the recounting of the author's suddenly finding herself in the spiral of worry and disbelief that rears up when a loved one is suddenly very, very ill and the feelings of powerlessness cling to you with icy hands. Add to this the other areas of her life that come crashing in around, setting off a chain of events that are unplanned and filled with open-ended challenges and you have the recipe for the brewing of the perfect storm and as Ms. May puts it … "Winter had begun".
Wintering:The Power of Rest and Retreat in Difficult Times is a beautifully written book that takes the reader through the metaphor and realities of those inevitable moments of crisis that we are all subject to at some point. The grace in the telling of her stories and those of related experience offers hope that all will be as it should be. And, then, just as the seasons themselves flow one into the other, follows through to conclusion exploring the coping skills required and openness and honesty that are necessary companions to survive the winter.
Would I Recommend:
There is not much that I can say by way of an in-depth review for Wintering: The Power of Rest and Retreat in Difficult Times by Katherine May that wouldn't detract from the immersive experience that can only be derived by reading the book for oneself. This is a book that is much needed right now and the feelings that are evoked soothe, heal and comfort in a time that feels much colder and longer than any winter has been. Ms. May has gifted us with an expressively written book with powerful verbal imagery that carries you gently home; safe and secure as the snow falls with intentioned purpose and the winds howl their discordant song of wintering lament.
About Author Katherine May:
Katherine May is a writer of both fiction and nonfiction. Her journalism and essays have appeared in a range of publications including The Times (London), Good Housekeeping, and Cosmopolitan. She lives by the sea in Whitstable, England and is an avid lover of the outdoors.
Wintering: The Power of Rest and Retreat in Difficult Times on Amazon
***
About the Author: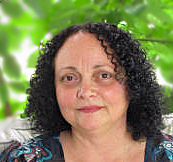 Robin Fennelly is an Elder within The Assembly of the Sacred Wheel Tradition and serves as High Priestess of Coven of the Mystic Path, the 12th Coven within the Assembly of the Sacred Wheel Tradition. She teaches and facilitates classes for the Pagan Experience Study Group that serves as foundation for membership within Coven of the Mystic Path.  
Her spiritual journey is strongly rooted in both Eastern philosophy and the Western Magickal systems from which she has formed a core foundation that is diverse in knowledge and rich in spiritual practice.  A life-long learner, her practice has evolved from the classical and philosophical teachings of books, practical experience and enrichment of this knowledge base by attending workshops of various spiritual traditions presented by master teachers.
Robin formally came to the Wiccan path in 1994. Following a practice as a solitary for 2 years, she dedicated to Oak and Willow Coven of The Assembly of the Sacred Wheel Tradition in November of 1996. She received her 1st, 2nd, 3rd and 4th (Elder) degrees within the Assembly Tradition and has served as High Priestess of two ASW covens since Samhain of 2001 and the Winter Solstice of 2015.

As a teacher of esoteric and magickal studies she uses Energetic Anatomy, Tarot, Astrology, Hermetic Qabala, Eastern Philosophy, and Numerology as the foundations of her diverse selection of workshops and writings for more than 25 years. Exploration of varied energetic protocol has been the focus of her work for some time now and the information gained through direct experience informs all of her magickal and spiritual work.
Robin's writings have been featured online, and in print Internationally.  She has authored several books incorporating her unique style of writing making use of poetry, prose and pathworking to enhance the concepts presented.  She has taught extensively throughout the Pagan community, including Sacred Space Conference, Spring Magick, Between the Worlds Interfaith Conference and Free Spirit Gathering Festival. Her most recent projects include a channel on youtube: A Journey to the Inner Chamber. She also shares audio pathworkings and ritual on her bandcamp site: Teachings on the Path with Robin.
Robin is the owner of Holistic Embrace providing services for mind, body and spirit such as Tarot readings, Astrology reports, Spiritual Guidance and other related offerings.  She lives in Eastern Pennsylvania and her life is blessed by a 40+- year marriage, five children and the opportunity to work in the field of public education.
Robin's Website: www.robinfennelly.com
Coven of the Mystic Path, ASW: www.covenofthemysticpath.org
Her books can be found on Amazon or purchased directly through her website:
For more info: http://www.robinfennelly.com/books.html
The Inner Chamber, Vol. 1 It's Written in the Stars-Astrology
The Inner Chamber, Vol. 2 Poetry of the Spheres-Qabalah
The Inner Chamber, Vol. 3 Awakening the Paths-Qabalah
The Light of SELF: Consciousness, Spiritual Practice and Learning to Breathe
Magickal Verse: A Collection of Poetry and Prose
A Year of Gaia: The Eternal Cord
The Elemental Year: Aligning the Elements of SELF
Temple of the Sun and Moon: Luminous Devotions
Sleeping with the Goddess: Nights of Devotion
A Weekly Reflection: Musings for the Year
The Magickal Pen: A Collection of Esoteric Writings
The Enchanted Gate: Musings on the Magick of the Natural World
The Temple of the Sun: An Astrological Solar Year
Writings in the Shadow: An Exploration of the Shadow Nature