Peeking in the Shadows: Crafting a Book of Shadows and Light
This month concludes our focus on 

Devotion and the Great Work.…
Nuances of The Great Work-Part Two
"When a human reaches up to his/her Higher Mind and learns to access the vibrational gifts from that realm (of his/her own higher consciousness), she or he will be filled with inspiration and courage. And this type of inspiration and courage could change the world through actions that are then taken by that individual."… anonymous …
The Essential Elements of Devotion
If we take a look at devotion through the lens of the Alchemical Elements, we can see the cycle that occurs in the process. These three (3) Alchemical Elements form the Triad of Fire and Energetic Awakening (AIR/FIRE/WATER).
"This is the FIRE that ignites the Passion and YEARNING for THAT which it seeks out and willfully INFLAMES"
FIRE
The Youthful stage that is enthused and excited about new found information, Deity and practice. This is the stage that ignites the desire to learn more, do more and be the most effective we can. It is the combined energy of enthusiasm stimulating the urge or desire to move forward that allows us to become a fertile ground within which the seeds of devotion and dedication are quickened.
WATER
We evolve from the impetuous nature of Youth and move to the place of guardian, nurturer and sustainer of what we have taken as our own. Because we have given time and energy to this natural organic flow we are able to claim authority over our feelings of devotion. Through our efforts at sustaining this "faith" and state of dedication we then become also the providers of that energy. Wanting to share what we feel and enable others to feel the power and glory of dedicating oneself to a path of devotion.
AIR
When we arrive at a place of "faith" and ownership of the ideals and energies we have found upon the Path we have a sense of conviction that is based upon internalization of those energies. We identify fully with what we are devoted and dedicated to. We wish knowledge for the place of service it may allow us. We wish communion with the Divine because that is our birthright and we wish for the best outcome for all, knowing that we are part of that recipe.
Incorporating Devotion into Your Practice
(Photo by Nikita Tikhomirov on Unsplash)
Setting up an Altar dedicated to a specific Deity is a beautiful way to display your dedication and devotion to that particular Deity. Acknowledging your Path and the work you have achieved on that Path as you sit in contemplative medication is an affirmation of your Devotion. Each time you spend a moment in thought about the magick that surrounds you, the marvel of your physical body and give thanks for those others who share your life generates the energetic pattern of Devotion. Just as the rose in the picture above shows, there are many chambers that are unfolding at any given moment. Some are hidden and others are there for all to see. But, all lead to the very center and heart of the flower. And it is by ever striving towards that center that we find the many ways that devotion forms and shapes our lives.
These queries are something that would fit nicely into your BOS in a section dedicated as "My Spiritual Practice". A Template You May Find Useful:
My Spiritual Practice
(Your Magickal Name)
Date of Entry:
My Thoughts on Devotion
What is my definition of Devotion?
How do I offer up Devotion to Myself?
Expressing My Parts of Self
How Do I Express Air in My Mundane Life?
How Do I Express Air in My Spiritual Practice?
How Do I Express Fire in My Mundane Life?
How Do I Express Fire in My Spiritual Practice?
How Do I Express Water in My Mundane Life?
How Do I Express Water in My Spiritual Practice?
What Do I Offer Up in Devotion to the Elements?
What Do I Offer Up in Devotion to the Alchemy of the Elements Within Myself?
Coming in June:
We begin a series on Our Relationship to the Divine
***
About the author: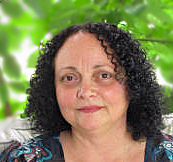 Robin Fennelly is an Elder within The Assembly of the Sacred Wheel Tradition and serves as High Priestess of Coven of the Mystic Path, the 12th Coven within the Assembly of the Sacred Wheel Tradition. She teaches and facilitates classes for the Pagan Experience Study Group that serves as foundation for membership within Coven of the Mystic Path.  
Her spiritual journey is strongly rooted in both Eastern philosophy and the Western Magickal systems from which she has formed a core foundation that is diverse in knowledge and rich in spiritual practice.  A life-long learner, her practice has evolved from the classical and philosophical teachings of books, practical experience and enrichment of this knowledge base by attending workshops of various spiritual traditions presented by master teachers.
Robin formally came to the Wiccan path in 1994. Following a practice as a solitary for 2 years, she dedicated to Oak and Willow Coven of The Assembly of the Sacred Wheel Tradition in November of 1996. She received her 1st, 2nd, 3rd and 4th (Elder) degrees within the Assembly Tradition and has served as High Priestess of two ASW covens since Samhain of 2001 and the Winter Solstice of 2015.

As a teacher of esoteric and magickal studies she uses Energetic Anatomy, Tarot, Astrology, Hermetic Qabala, Eastern Philosophy, and Numerology as the foundations of her diverse selection of workshops and writings for more than 25 years. Exploration of varied energetic protocol has been the focus of her work for some time now and the information gained through direct experience informs all of her magickal and spiritual work.
Robin's writings have been featured online, and in print Internationally.  She has authored several books incorporating her unique style of writing making use of poetry, prose and pathworking to enhance the concepts presented.  She has taught extensively throughout the Pagan community, including Sacred Space Conference, Spring Magick, Between the Worlds Interfaith Conference and Free Spirit Gathering Festival. Her most recent projects include a channel on youtube: A Journey to the Inner Chamber. She also shares audio pathworkings and ritual on her bandcamp site: Teachings on the Path with Robin.
Robin is the owner of Holistic Embrace providing services for mind, body and spirit such as Tarot readings, Astrology reports, Spiritual Guidance and other related offerings.  She lives in Eastern Pennsylvania and her life is blessed by a 40+- year marriage, five children and the opportunity to work in the field of public education.
Robin's Website: www.robinfennelly.com
Coven of the Mystic Path, ASW: www.covenofthemysticpath.org
Her books can be found on Amazon or purchased directly through her website:
For more info: http://www.robinfennelly.com/books.html
The Inner Chamber, Vol. 1 It's Written in the Stars-Astrology
The Inner Chamber, Vol. 2 Poetry of the Spheres-Qabalah
The Inner Chamber, Vol. 3 Awakening the Paths-Qabalah
The Light of SELF: Consciousness, Spiritual Practice and Learning to Breathe
Magickal Verse: A Collection of Poetry and Prose
A Year of Gaia: The Eternal Cord
The Elemental Year: Aligning the Elements of SELF
Temple of the Sun and Moon: Luminous Devotions
Sleeping with the Goddess: Nights of Devotion
A Weekly Reflection: Musings for the Year
The Magickal Pen: A Collection of Esoteric Writings
The Enchanted Gate: Musings on the Magick of the Natural World
The Temple of the Sun: An Astrological Solar Year
Writings in the Shadow: An Exploration of the Shadow Nature