Book Review – Tarot by the Moon: Spreads & Spells for Every Month of the Year by Victoria Constantino
Book Review
Tarot by the Moon
Spreads & Spells for
Every Month of the Year
by Victoria Constantino
Publisher: Llewellyn Publications
264 Pages
Publication Date: August 8, 2021
Tarot by the Moon: Spreads & Spells for Every Month of the Year by Victoria Constantino, is due for release in August 2021. It will be published by Llewellyn Publications, 2143 Wooddale Drive, Woodbury, MN 55125-2989. Because this book will not publish until next month, I am previewing and reviewing a pre-release digital copy. The published version will be a 7.5 inch by 9.25 inch paperback, with 264 pages. Copywrite by Victoria Constantino, ISBN: 978-0-7387-6712-3.
Tarot by the Moon begins with an Introduction that is more expanded than most Tarot books. The Introduction talks about the moon and its connection to cultures and spiritual practices, cartomancy and divination, and instructions for making the most of this book. It continues with a nicely-inclusive section called The Stance of this Book, followed by a meaty section called Interpreting the Tarot, which touches on general correspondences, the Minor Arcana suits, the Court Cards (including a handy table that discusses possible interpretations for multiple Court Cards in a reading), numerological correspondences, and a great list of individual symbols and suggested meanings. Next is a section dedicated to preparing for spells and rituals, which discusses tools such as the days of the week, the moon phases, unique moons, and colors, and their corresponding energies and influences.
The meat of this book is divided into 13 chapters, one for each calendar month of the year plus Chapter 13, which covers The Blue Moon. Each chapter begins with a brief description of the month's moon and the general focuses of that month. The rest of each chapter is devoted to three parts: Spreads, Spells, and Sidebars, each of which is chock-full of moon-specific information, as well as spreads and their explanations, and spells that work well with the particular month and moon focus.
Each chapter also includes valuable Sidebars, covering topics such as Shuffling and Drawing Tarot Cards, The Art and Science of Meditation, The Significance of Numbers, Planting the Seeds of Intention, and Reading Patterns, to name a few. These Sidebars offer valuable "bonus information about the cards themselves, divination tools, suggestions for interpreting such circumstances as card pairs or repeating cards, and flower, crystal and animal symbolism in the Tarot.
The book finishes with a Conclusion, and Appendices on Meditations, a Full Moon Ritual, and Feng Shui, followed by a Bibliography that includes online resources as well as books.
This is not a how-to-read-the-Tarot book. There are no keyword lists or upright and reversed meanings for individual cards. However, Tarot by the Moon is not only a valuable guidebook for integrating the Tarot with the many energies and archetypal symbols associated with the moon, but also a handy repository of quite a bit of information regarding the use of divinatory tools, rituals and correspondences. In Tarot by the Moon, we learn of the importance of timing as we attempt to manifest our desires, and we explore the ebbs and flows of the patterns of the moon's powers, through each individual month and through the cycle of the moon throughout the year. Tarot by the Moon offers a way for a new reader to delve into the hows and whys of divination and card interpretation, and it belongs in the library of anyone who reads Tarot for others. Tarot by the Moon also offers each of us the opportunity to expand our connection to the cycles of nature and to our own spirituality via the moon and the cards of the Tarot.
Victoria Constantino is a seasoned tarot practitioner and seeker of visionary wisdom who spent more than a decade as an editor and publisher of literary fiction and non-fiction, and was the managing editor of a prominent women's lifestyle magazine. Victoria left the publishing field in order to focus on her own writing and spiritual practice. She has published her own books, fiction, poetry, and instructional guides for the business publisher. She attended the University of Oxford and holds a master's degree in writing. You can learn more about her at her website, victoriaconstantino.com.
Tarot by the Moon: Spreads & Spells for Every Month of the Year on Amazon
***
About the Author: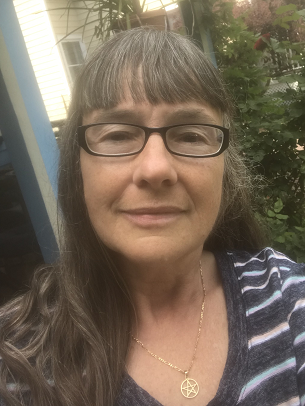 Raushanna is a lifetime resident of New Jersey. As well as a professional Tarot Reader and Teacher, she is a practicing Wiccan (Third Degree, Sacred Mists Coven), a Usui Reiki Master/Teacher, a certified Vedic Thai-Yoga Massage Bodyworker, a 500-hr RYT Yoga Teacher specializing in chair assisted Yoga for movement disorders, and a Middle Eastern dance performer, choreographer and teacher.  Raushanna bought her first Tarot deck in 2005, and was instantly captivated by the images on the cards and the vast, deep and textured messages to be gleaned from their symbols. She loves reading about, writing about, and talking about the Tarot, and anything occult, mystical, or spiritual, as well as anything connected to the human subtle body. She has published a book, "The Emerald Tablet: My 24-Day Journal to Understanding," and is currently working on a book about the Tarot, pathworking and the Tree of Life. Raushanna documents her experiences and her daily card throws in her blog, DancingSparkles.blogspot.com, which has been in existence since 2009. She and her husband, her son and step son, and her numerous friends and large extended family can often be found on the beaches, bike paths and hiking trails of the Cape May, NJ area.