Oracle Deck Review – The Living Legacy Oracle by Angie McCoy Hills
Oracle Deck Review
The Living Legacy Oracle
by Angie McCoy Hills
The Living Legacy Oracle, self-published by the creator of the Oracle, Angie McCoy Hills. I name her "creator" rather than "author," because it is the purchaser of this unique Oracle deck that is the author of their deck. The Living Legacy Oracle is a unique Oracle, inspirational in content and entirely customized by you, the purchaser. The Oracle is created to memorialize the advice, guidance and words of wisdom offered by you, an ancestor, or a loved one, to be gifted to a family member, a loved one, or kept for personal healing.
I reviewed a sample pack of 16 cards taken from the Living Legacy Oracle that Angie created for her son, Ethan. Angie described her Oracle to me as offering "words of wisdom, advice, and guidance, . . . my 'Legacy' and voice that I'm creating while I am still here in the physical world and . . . will continue Living on long after I am gone."
The complete deck consists of 72 cards and comes in a fully-customized box set up like a mailing envelope, with To and From information provided by you, as well as a custom postage stamp image, also provided by you. The deck contains a Letter Card that you write, with salutation and signature in your own hand, a Photo Card submitted by you, and 70 inspirational cards, each containing a message written by you and also with salutation and signature in your own hand. The image on the back of the cards is the same as the image on the box cover (with your customizations) with the same finish as the front of the cards.
This may sound complicated, but the order form for this deck makes the creation of your own unique Living Legacy Oracle not difficult at all. The order form even provides a long list of pre-written content that can be used as provided, or as inspiration or a starting place for your own custom messages.
The Oracle cards themselves are larger than playing cards, 3 1/2" by 5 3/4," but not difficult to handle at all because the card stock is both flexible and durable. The cards are in color with an antique parchment-type background with large black typeface, easy to read. I love the linen finish on these cards! The finish is not quite glossy, both slippery and easy to grip, making for effortless handling.
There is no guidebook for this Oracle because of its custom nature, and I don't think the Living Legacy Oracle requires one, as the cards themselves act as a guidebook.
This is not a divination oracle, although it certainly could be used as one. After all, by choosing the words for each card you are in effect creating your own archetypes. If you are interested in obtaining an oracle deck for divination purposes, this deck may not work for you, particularly if you are a beginner. But if you would like to memorialize family traditions, remind yourself of your own strengths, offer support to a loved one during trying times, or celebrate the achievements of a family member or dear friend, the Living Legacy Oracle will accomplish this in a moving and memorable fashion. Shuffling this Oracle, choosing cards, and then applying the guidance provided by applying it to a particular situation can be a powerful and enabling experience.
Angie McCoy Hills has been interested in the spiritual and mystical for as long as she can remember. Her childhood experiences working with the Ouija along with her mother inspired her to become certified as a Certified Life Coach, a Certified Spiritual Life Coach, a Certified Angel Life Coach, a Certified Angel Tarot Card Reader, a Certified Realm Reader, and a Certified Hypnotherapist in Past Life Regression, along with training in Tarot, Numerology and Astrology, among many others. She is currently attending the University of Metaphysics to achieve her Bachelors and Masters Degrees in Metaphysical Science, and she plans on continuing toward a PhD. She performs readings with Tarot and Oracle cards, Numerology, and Astrology and has launched Mystic Life ™ Style, incorporating her practices into apparel and accessories. The idea for the Living Legacy Oracle came to her organically, thorough her years of spirit communication and her wish that she could have received guidance from family members who are no longer with her. You can learn more about her by visiting her websites, livinglegacyoraclecards.com, angiemccoy.com, and mystic-life-style.com.
You can purchase your own set at livinglegacyoraclecards.com
***
About the Author: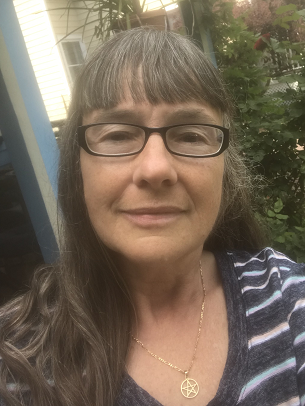 Raushanna is a lifetime resident of New Jersey. As well as a professional Tarot Reader and Teacher, she is a practicing Wiccan (Third Degree, Sacred Mists Coven), a Usui Reiki Master/Teacher, a certified Vedic Thai-Yoga Massage Bodyworker, a 500-hr RYT Yoga Teacher specializing in chair assisted Yoga for movement disorders, and a Middle Eastern dance performer, choreographer and teacher.  Raushanna bought her first Tarot deck in 2005, and was instantly captivated by the images on the cards and the vast, deep and textured messages to be gleaned from their symbols. She loves reading about, writing about, and talking about the Tarot, and anything occult, mystical, or spiritual, as well as anything connected to the human subtle body. She has published a book, "The Emerald Tablet: My 24-Day Journal to Understanding," and is currently working on a book about the Tarot, pathworking and the Tree of Life. Raushanna documents her experiences and her daily card throws in her blog, DancingSparkles.blogspot.com, which has been in existence since 2009. She and her husband, her son and step son, and her numerous friends and large extended family can often be found on the beaches, bike paths and hiking trails of the Cape May, NJ area.