Oracle Card Review – Animal Love Oracle Cards: Advice, Compassion & Wisdom from Our Animal Mentors by Nadine Gordon-Taylor
Oracle Card Review
Animal Love Oracle Cards
Advice, Compassion & Wisdom
from Our Animal Mentors
by Nadine Gordon-Taylor
Publish

er:

Bear & Company
52 Cards & 128 Page Guide Book
Publication Date: June 8, 2021
I was quite excited to get these cards! The first new oracle cards to review in my new house! I hoped that they would bring good luck and spiritual blessings to my lovely home! Beautifully packaged in a red box, these lovely oracle cards are the creative brainchild of artist Nadine Gordon-Taylor, marketed by Vermont publishers Bear & Company.
Nadine Gordon-Taylor has studied art since she was in high school and studied at the Arts Students League while still attending high school and all through her college years. She went to Hunter College in New York City – her home town – achieving a BA, concentrating in printmaking and art history, and then went on to get an MFA in painting from Long Island University. She then achieved a EdD in art from Columbia University. She has also studied comparative religion and alternative healing modalities, which informs her art. Once you start examining her art and really looking at each piece, you see how all her learning has come together into one beautiful synthesis to create these oracle cards.
Her website is Third Eye Arts Studio & Gallery. In fact, if you are wondering if you want to purchase these cards, every single one of them are featured on the website. Everything you might want to know about Gordon-Taylor – as a writer and artist, that is – is on this website. It's very informative – one of the best websites I've seen in a long time. Beautiful purple and blue print against a black background – easy to read and very professional while remaining artistic.
The cards come with a book, written by Gordon-Taylor, explaining how to use the cards, either for meditation or for divination. It is much more than the typical "little white book" that is included with most tarot or oracle card sets. Every card is shown in full color, with a complete explanation of the card and several affirmations that apply to that card alone.
The cards themselves are larger than usual. They are five and three-quarter inches long and four inches wide, and made of a thicker stock than the average card, so they are not very easy to shuffle. Quite honestly – they are almost impossible to shuffle! You have to spread them out on your table or the floor – wherever you do your readings – I've always preferred to sit cross-legged on the floor – and mix them up thoroughly like you're stirring up a oracular pot-au-feu. And then let them simmer for a moment or two while you think about your question or your coming day or whatever is on – or off – your mind.
Beautiful artwork. Some of the pictures are absolutely gorgeous.
One of the things that is different about these cards is that some of them are "portrait" and some are "landscape" – most divinatory cards – especially tarot cards – are set up in "portrait" mode only. This makes it easier for laying out spreads but it's not necessary and I have found that many oracle cards – especially newer ones – mix portrait and landscape modalities.
Like most oracle card sets, I think they work best for daily meditation. Mix the cards up and pull a card and that's your card for the day – set it on your altar and make it part of your morning meditation. If you want – take a picture of it with your phone so you can carry the image with it as you go about your errands – if you have to leave the house, that is.
It was hard to pick a few favorite cards but these are the ones that really spoke to me:
She includes two "wild cards" – a mermaid and a unicorn – animals which don't exist in actuality but do in our imaginations and our spiritual lives. These two cards can add depth to any reading and if you pull one of these cards for your daily meditation, then you know it's going to be a magical day!
I think Animal Love Oracle Cards: Advice Compassion & Wisdom form Our Animal Mentors by Nadine Gordon-Taylor is one of the loveliest set of oracle cards I have seen in a long time and the book is one the best-written I have ever read. I highly recommend this deck for anyone who loves animals, or who wants to become closer to our animal siblings in a more spiritual way.
References
Gordon-Taylor, Nadine. Animal Love Oracle Cards: Advice, Compassion & Wisdom from Our Animal Mentors. Rochester, Vermont: Bear & Company, 2021.
https://www.thethirdeyestudio.com/
*all photographs by Polly MacDavid
Animal Love Oracle Cards: Advice, Compassion, and Wisdom from Our Animal Mentors on Amazon
***
About the Author: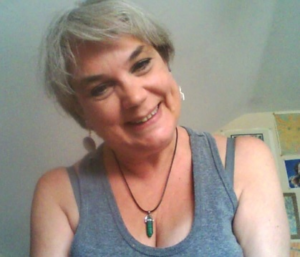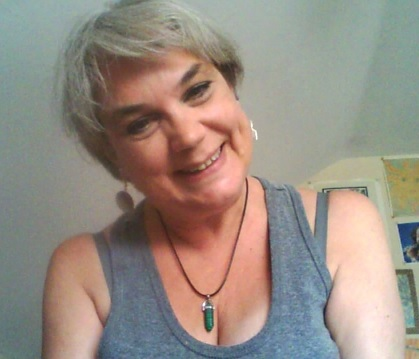 Polly MacDavid lives in Buffalo, New York at the moment but that could easily change, since she is a gypsy at heart. Like a gypsy, she is attracted to the divinatory arts, as well as camp fires and dancing barefoot. She has three cats who all help her with her magic.
Her philosophy about religion and magic is that it must be thoroughly based in science and logic. She is Dianic Wiccan but she gets along with a few of the masculine deities. She loves to cook and she is a Bills fan.
She blogs at silverapplequeen.wordpress.com. She writes about general life, politics and poetry. She is writing a novel about sex, drugs and recovery.