Tarot Deck Review – The Entanglement Tarot by Sarah McMenomy
Tarot Deck Review
The Entanglement Tarot
by Sarah McMenomy
Publisher: Laughing Cat Publishing
78 Card Deck & 56 Page PDF Guidebook

Publication Date: August 2021
The Entanglement Tarot kit comes in a very sturdy 3 inch by 3 1/2 inch by 1 1/2 inch cardboard box with a gift-box style lid.  The box has a black matte finish with card images on the lid, and a brief description of the deck and the link for the Entanglement Tarot Guidebook on the back.  The cards are hexagram in shape, 1 1/2 inches per side, with a matte finish, black for the background and colors for the card name and card symbols, all over a beautiful Flower of Life pattern.  The Flower of Life, a symbol of Sacred Geometry, is said to represent the cycles of life and creation, and the unification of their patterns and manifestations to create harmony and balanced proportion.  The card backs also show the Flower of Life, and this symbol is integral to the entire deck.
The card stock is durable but not cumbersome, and the matte finish allows the cards to slide together nicely.  While the small size of the cards makes them a bit challenging at first to shuffle, the ease of portability of the smaller deck in its sturdy cardboard box far outweighs the shuffling learning curve. Each card has a color-coded banner at the top of the image containing the card number or rank and card suit or name, with green representing Pentacles or the element of Earth, red representing Wands or the element of Fire, and blue representing Cups or the element of Water.  Swords or the element of Air use a combination of sky blue and sunlit yellow (which ends up as a yellow/lavender blend).  Each card image contains a unique collection of symbols, depicted as charms or tokens hooked to or laced into the Flower of Life pattern, that have elemental, archetype, zodiac and planetary correspondences.  For instance, The High Priestess card contains a scrying mirror, a pomegranate, and charms containing a crescent moon and the symbol for the element of Water, all in blue.  The charms for the King of Wands, in red for Fire, include a wand, a King chess piece, and elemental and astrological symbols.
The Guidebook for The Entanglement Tarot is a free digital download, but easily printed if you feel you need a hands-on copy.  The nice thing about this digital Guidebook is that anyone can access it, including those who are only considering whether to purchase this unusual and very intriguing deck.  The Guidebook offers general information about the Major Arcana and the Minor Arcana and how they are presented in this deck, plus very useful information about each card (identified by card name, rank or suit and card number) within the card description sections for the Majors and the Minors, along with information regarding what each card represents, the meanings of the charms found in the card image, and upright and reversed card meanings.  However, that is not all to be found in this useful book and deck.  
Sarah explains in the chapter entitled Inspirations the different information, practices, correspondences and visuals that have gone into the creation of this unique deck, including the classic elements, astrology and archetypes, as well as more diverse things like spell work, chess pieces, flowing energies, and knot work.  The next chapter, The Entanglement Tarot System, explains to us the way all these charms, tokens, colors and symbols of all kinds work together as a system.  These cards are meant to connect to each other!  The hexagon shape invites building spreads and then exploding them in order to find more depth and texture in a reading.  The symbols, charms and tokens may not be traditional card images, but that does not stop them from shouting their meanings. 
Following the chapters on card meanings, the Guidebook provides an extensive chapter called Making Magic with the Entanglement Tarot.  Here is where these cards shine.  Sarah offers suggestions for using these cards within such tasks as Casting a Circle, Cord Cutting and Breaking Addiction (yes, the concept of connection can be effectively utilized to break a connection!!), and Lunar or Solar Empowerment, among others, and instructions for creating sigils.  Next are correspondence and symbol definition lists.  Divination methods with the Entanglement Tarot follow (including instructions for determining upright and reversed positions with this uniquely-shaped deck), as well as a nicely fleshed-out chapter with spread examples.  The Guidebook finishes with a useful reading list that focuses on offering more detailed information regarding general Tarot knowledge, practical magic and spellcrafting information, and using the Tarot for spells and magic.
Like any Tarot deck, The Entanglement Tarot can be used very effectively for divination, although the deck and companion Guidebook might not be effective in teaching someone new to the Tarot how to read cards using traditional symbolism.  The Entanglement Tarot has encouraged me to make use of not only the meanings of individual cards, but also determine the effects of each card on the other cards literally connected to it, all thanks to the hexagon shape of the cards.  
What makes The Entanglement Tarot an uncommon Tarot deck is its ability to straddle the world of divination and the world of magical connection, ritual and empowerment.  Deliberately selecting appropriate cards (or asking the deck to provide cards) for a spell is akin to gathering correspondences, as the tokens and charms and symbols all lend themselves to magical workings.  Whether attempting to discover possible random connections within correspondences presented or performing a more traditional Tarot reading, The Entanglement Tarot takes both familiar and more unique symbols and creates a new and valuable perspective for any Tarot reading.
Sarah McMenomy is a visionary artist, author and witch, and student of herbalism, scrying, auras, and esoterica.  Sarah receives inspiration through trace states, dreams, auras, psychedelia, and the natural world, and weaves together themes of nature and the occult into her artwork and her writing.  She has created art and written for books, magazines, games, and more, and has produced digital fine art prints and acrylic paintings.  She has written for Pagan Pages, an online publication, and publishes on her own Tumblr.  She is also the creator of Dry Erase Tarot, an unusual Tarot-themed Tumblr.  You can find her writings, images, and other work on Facebook, Tumblr and Instagram, and at her website, sarahmcmenomy.myportfolio.com. 
The Entanglement Tarot is available from Laughing Cat Publishing
**
About the Author: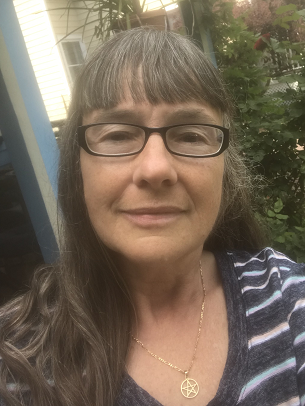 Raushanna is a lifetime resident of New Jersey. As well as a professional Tarot Reader and Teacher, she is a practicing Wiccan (Third Degree, Sacred Mists Coven), a Usui Reiki Master/Teacher, a certified Vedic Thai-Yoga Massage Bodyworker, a 500-hr RYT Yoga Teacher specializing in chair assisted Yoga for movement disorders, and a Middle Eastern dance performer, choreographer and teacher.  Raushanna bought her first Tarot deck in 2005, and was instantly captivated by the images on the cards and the vast, deep and textured messages to be gleaned from their symbols. She loves reading about, writing about, and talking about the Tarot, and anything occult, mystical, or spiritual, as well as anything connected to the human subtle body. She has published a book, "The Emerald Tablet: My 24-Day Journal to Understanding," and is currently working on a book about the Tarot, pathworking and the Tree of Life. Raushanna documents her experiences and her daily card throws in her blog, DancingSparkles.blogspot.com, which has been in existence since 2009. She and her husband, her son and step son, and her numerous friends and large extended family can often be found on the beaches, bike paths and hiking trails of the Cape May, NJ area.