What Are the Magickal Arts?
When I began this column for PaganPagesOrg many years ago, I had a vision of filling it with writings focused on exploring the magickal weavings of artistic endeavor. I am after all a former professional ballerina. One of my children is a trained fine artist, another is a classically trained musician, and all five of my children are excellent writers and artists in their own rights including the sciences- a pediatrician, a biomedical engineer and a veterinarian.
As the years continued forward I have come to using the term Magickal Arts as an expression of the artistic and refined nature the Craft requires. As magickal practitioners we are all "artists" in our own ways, honing our skills of creating magick, weaving patterns of energy that affect change and calling to the most Divine of our natures as we align with cosmos, greater earth and all of the many Beings that inhabit those realms. And, I like where this trend is taking us in exploring the craft in all of forms.
I began this year with posts leaning towards Astrology, one of many magickal arts that form the foundations of a rich and diverse base of skill and magickal development. My intention for the remainder of this year is to highlight some of these disciplines that when cultivated as a source of inspiration and resource, become as second nature in your workings as breathing is to your physiologic autonomic systems.
Let's begin with the Art of Healing for Ourselves…
Healing is a topic that comes up frequently as request for magickal working. And, as magickal workers we employ a variety of techniques to answer this call to service and help. Sometimes, it is not quite as easy to rally for ourselves or to even recognize what type of healing we need. You see another in need and can extract the information needed to be of help and narrow down what sort of options, both magickal (and, at times medically) the individual may benefit from. When it comes to our own needs assessment, there is the tendency to under or over play the nature of the situation and if not fully engaged in an intention that is clear and objective, we wonder why our best efforts fail to produce the results we are hoping for.
My focus on healing is the creation of a Healing Temple that can be called upon to begin the work needed for yourself. You may, with the individual's permission, also use this Temple for another who is requesting healing and you may also place the intention within it for healing at a global level- always with the caveat of "the highest good for all and harm to none".
You will be creating this Temple on the astral and if you have a personal astral Temple that is used for other workings, you may place this construct as an additional room within that astral space you have established. We will be using the colors of blue and green for their healing, merciful and heart directed intentions. These colors also align with the Heart (Green) and Throat (blue) chakras. In this way we are communicating or calling forth our intent and aligning it with compassionate emotion. The creation of this space acts as our desire and this aligns with heart and the breath of communication. We arrive in this Temple of Healing using a veil of Violet energy. In Qabalistic work the sphere of the Moon – Yesod – is attributed with the color violet in the Briatic world. Yesod is the interface that we enter in dreamtime, lower astral work and ritual work as we rise on the planes. This is also the place of memory of those things held within the subconscious mind. Using this as a gateway, we are calling forth our memory of a perfected and whole state of being. We are moving through the energy of dream state to plant the seeds of healing within our subconscious so that they may be nurtured and brought forth into the conscious manifest waking state.
The more you use this space and call it into being, the stronger and more connected your experience within it will become. As time goes on you may notice that things change within it. The chair may appear differently than in the beginning. The colors themselves may change slightly and you may find that at times the sky is not one of night, but infused with daylight and solar energy. These occurrences are a natural part of this working. As you change and expand your own inner perceptions, so too will those things you have created change and offer new visions. Simply make note of these changes (as they may hold additional information for you) and either leave them for that session or call back into form the original design.
So, let's begin the journey towards healing and renewal.
The Pathworking:
Sitting in a space where you will not be disturbed, take a moment to make conscious note of your surroundings and the physicality of your being in this space. Gently close your eyes and turn your awareness to the pattern of your breath. Allow your breathing to lengthen and relax into a calm and steady rhythm.
Shift your attention to the space between your brows and the inner screen of your meditative conscious mind. Sit as observer of this screen, taking note of the form of this inner landscape. Now see yourself standing and walking towards this inner screen. A pin- point of violet light forms just ahead of you and begins expanding in diameter as you walk towards it. When you arrive at the place of being immediately in front of this violet veil, it has expanded, stretched and opened to become an arched gateway. The faint glimmer of starlight flickers within its opening and you feel called to step into this place.
You step through this archway and find yourself in the center of a circular room. The walls are a shade of light sky blue and the floor is emerald green marble. You look upwards and see that the room appears to open and the vast panoramic view of stars twinkling offers view overhead. The room smells of Frankincense and is quiet and serene in ambiance. As you look around at the walls enclosing this space you take note of the sensation that the blues are variant in color and the impression is almost one of being encased within a glass structure and submerged in the depths of a clear beautiful ocean.
The floor sparkles like the facets of a freshly polished emerald and light and shadow co-mingle; entwined like lovers moving in the ecstasy of union. Take a moment to breathe deeply and take in the calming energy of this space. As you exhale you see that a chair is placed centrally in the room. It is ornately carved and made of fragrant wood. You approach and sit down, feeling the resiliency and gentle support of this chair. You sit for a moment and allow your body to rest in its supple support.
As you breathe slowly and deliberately you begin to form the intent for this healing work. Draw up in your mind's eye the vision of yourself, whole and functioning in a thriving and healthy manner. Now, speak softy the intent of this healing. Speak the words that form this intention of what needs healing and what needs release so that process may begin. As you begin to speak you see that the space of floor around you glows in vibrancy. Each word enlivens and informs this space of living energy. You continue to speak the words of release of what needs healing and they drop away from you, falling into this living mass of vibrant healing green energy. You pause now to allow the intent to fill the space surrounding you. The energy of green veil rising upward and encircling you as it draws from the space the words of release you have spoken. Sit in the energy of this healing release; quietly and simply observing each and every word as it is absorbed by this healing green energy.
The green veiling subsides and withdraws back to the floor beneath. You feel energized and have clearer intent about what you now wish to call into your being and this space as whole, enlivened and healthy energy. As you think on what these words shall be, you notice that the energy of the blue walls moves gently inwards towards you. You begin to speak the words of power and healing that affirm your renewed and whole state of being. Each word is held for a moment in a soft veil of blue soothing energy and then is enlivened and transformed into a sparkling bead of blue light. You continue with the affirmations and take note that the blue beads are increasing in amount and the vibrancy of their glow is palpable in feeling and intent. Speak all that you need, amassing as much of this transformed energy as you feel is needed. The air surrounding you is electrified with the energy of these intentions you have formed and you feel energized and enlivened. When you have spoken all that is needed, take a moment to sit and observe the beauty and power of this veil of pulsing blue light encircling you. Make note of how alive and responsive each of these intentions is. Affirm the potency of their nature and the power held within the core of their being.
As you sit observing you see that the vibrancy of the blue is pulsing more quickly now and with light that is increasing in brilliance and intensity. Each breath you take seems to offer more vibrancy to the growing light held within each. This is the brilliance of healing white light holding the intent of mind, heart and will. You close your eyes in response, as the intensity and brilliance of light continues to expand filling the Temple. You breathe in and with intent and focus draw this energy into you. Each inhalation draws more of this vibrant light of brilliant healing into the core of your being and each exhalation moves it into the areas of your body that need healing and renewal. Each breath fills you with this vibrancy and each breath encourages healing and strength. Continue in this way until you feel complete, strong and revitalized.
You open your eyes and see that the room has cleared of the brilliance of this light and looking upward you take note that the stars appear to be twinkling more brightly. You feel completely at one with all that surrounds you and offer up gratitude for the healing and renewal that has occurred. Remain quietly held in this space of gratitude and renewal for as long as is needed.
When you are ready, you stand and feel a surge of strength coursing through you and a deeper sense of your own power to affect change within your self. You look around once again and the walls are now a more vibrant blue and the floor shimmers like millions of small green emeralds, each separate yet more powerful and vibrant in their combined efforts. Take a deep breath in and feel the energy of this place. Declare it as your own space of healing and renewal and affirm that you will visit this space whenever you have need for healing and enlivening.
You see the archway through which you entered just ahead of you and begin to walk towards the entryway. Each step is now stronger in its placement and more purposeful in its intended destination. You arrive at the entry way and see that the violet veil of energy is sparkling more brightly and you feel its density and plasticity of form as you step through it. You emerge and find yourself once again sitting as observer of this inner screen. You breathe into the energy of your experience and with each inhalation and gently exhale you become more fully aware of your breath; the rise and fall of your chest and the physicality of your body sitting in the space in which you began. Gently flutter your eyes open and take a few more, very deep breaths offering the intention of gratitude, health and a renewed state of being.
So Mote It Be!
Join me in the August Issue as we explore the Magickal Art of Divination!
**
About the author: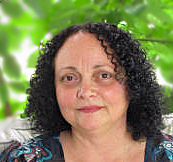 Robin Fennelly is an Elder within The Assembly of the Sacred Wheel Tradition and serves as High Priestess of Coven of the Mystic Path, the 12th Coven within the Assembly of the Sacred Wheel Tradition. She teaches and facilitates classes for the Pagan Experience Study Group that serves as foundation for membership within Coven of the Mystic Path.  
Her spiritual journey is strongly rooted in both Eastern philosophy and the Western Magickal systems from which she has formed a core foundation that is diverse in knowledge and rich in spiritual practice.  A life-long learner, her practice has evolved from the classical and philosophical teachings of books, practical experience and enrichment of this knowledge base by attending workshops of various spiritual traditions presented by master teachers.
Robin formally came to the Wiccan path in 1994. Following a practice as a solitary for 2 years, she dedicated to Oak and Willow Coven of The Assembly of the Sacred Wheel Tradition in November of 1996. She received her 1st, 2nd, 3rd and 4th (Elder) degrees within the Assembly Tradition and has served as High Priestess of two ASW covens since Samhain of 2001 and the Winter Solstice of 2015.

As a teacher of esoteric and magickal studies she uses Energetic Anatomy, Tarot, Astrology, Hermetic Qabala, Eastern Philosophy, and Numerology as the foundations of her diverse selection of workshops and writings for more than 25 years. Exploration of varied energetic protocol has been the focus of her work for some time now and the information gained through direct experience informs all of her magickal and spiritual work.
Robin's writings have been featured online, and in print Internationally.  She has authored several books incorporating her unique style of writing making use of poetry, prose and pathworking to enhance the concepts presented.  She has taught extensively throughout the Pagan community, including Sacred Space Conference, Spring Magick, Between the Worlds Interfaith Conference and Free Spirit Gathering Festival. Her most recent projects include a channel on youtube: A Journey to the Inner Chamber. She also shares audio pathworkings and ritual on her bandcamp site: Teachings on the Path with Robin.
Robin is the owner of Holistic Embrace providing services for mind, body and spirit such as Tarot readings, Astrology reports, Spiritual Guidance and other related offerings.  She lives in Eastern Pennsylvania and her life is blessed by a 40+- year marriage, five children and the opportunity to work in the field of public education.
Robin's Website: www.robinfennelly.com
Coven of the Mystic Path, ASW: www.covenofthemysticpath.org
Her books can be found on Amazon or purchased directly through her website:
For more info: http://www.robinfennelly.com/books.html
The Inner Chamber, Vol. 1 It's Written in the Stars-Astrology
The Inner Chamber, Vol. 2 Poetry of the Spheres-Qabalah
The Inner Chamber, Vol. 3 Awakening the Paths-Qabalah
The Light of SELF: Consciousness, Spiritual Practice and Learning to Breathe
Magickal Verse: A Collection of Poetry and Prose
A Year of Gaia: The Eternal Cord
The Elemental Year: Aligning the Elements of SELF
Temple of the Sun and Moon: Luminous Devotions
Sleeping with the Goddess: Nights of Devotion
A Weekly Reflection: Musings for the Year
The Magickal Pen: A Collection of Esoteric Writings
The Enchanted Gate: Musings on the Magick of the Natural World
The Temple of the Sun: An Astrological Solar Year
Writings in the Shadow: An Exploration of the Shadow Nature