Air-fryer Chicken Wings
I am just about the last person I know to get an air-fryer. My sister has had one for several years now. At the last family gathering – which was before COVID – there was a spirited conversation about air fryers, which brands cooked better, the trading of recipes. Recently, I was on a bus and I heard some people behind me talking about air fryers and what they cooked in them. I thought, I have got to get one of these things! But I wasn't in a real big hurry to purchase one – I'm never in a hurry for anything.
The day I went out to look at air fryers, I wasn't even in the market for an air fryer. I wasn't even thinking about it. This is what happened – my toaster died. I had this cheapo toaster from Dollar General or Family Dollar or somewhere that lasted way longer than its shelf date and it simply stopped working one day – the thing you press down wouldn't stay down so I had to stand there and hold it down and wait while the bread toasted and then cook my eggs – so the toast was cold by the time the eggs were cooked – or do the toast after the eggs were cooked – so that the eggs were cold and rubbery by the time the bread was toasted – either way, it wasn't a workable way to have my eggs and toast in the morning. I tossed the toaster out and decided not to have toast in the morning.
But eggs without toast is really sad. Yeah – it's about seventy or eighty calories less per day – but it's also depressing. And the only way you can do eggs without toast is by scrambling them. Which is OK – I like scrambled eggs – but I really missed that piece of toast.
So after about a month of this, my sister came into town, and we got together for lunch. Over our soup and sandwiches, I mentioned my dead toaster. She said that we should look for a new one and she thought I should get a toaster oven – something that I could get more use from than just the two-slice toasters I had always had for the last forty years. After lunch we took a ride to Target – one of her favorite stores. Honestly, I thought I'd just get another ordinary two-slice toaster. But we were browsing the aisles and we were in the aisles with the toaster ovens and – I guess I don't get out much anymore or something – but they put air fryers in toaster ovens now! It's all one appliance! Who knew! Yeah – they're much more expensive than a regular toaster – but you can do so much more!
The one I wanted wasn't in stock so it had to be ordered. When it came (within forty-eight hours!), I unpacked it and put it on my kitchen counter. I was worried it would be too big but it fit nicely. And not only is it an air fryer, but it also has a rotisserie attachment! There's going to be a whole lotta cooking going on! I'm psyched!
So here's the new toaster oven/air fryer/rotisserie:
You can see the baking pan and the air fryer basket and the rotisserie spit on top of the appliance. Inside of the toaster-oven is the grill that the bread lays on while it's toasting and the crumb tray underneath it.
I don't want to advertise one brand over another because I'm not that kind of person but I think I should mention that this appliance is a Hamilton Beach. There were other brands but I didn't recognize their names and I'm the kind of old fart who likes to buy a brand that I'm familiar with. Plus, this one had a rotisserie! The other ones didn't. That's what really made my decision for me.
Naturally – since I'm from Buffalo, NY – I had to do air-fryer wings before I cooked anything else. For years, nobody around here ever cooked wings at home since every bar and local pizza place – and even fine restaurants – had wings that were really quite cheap. I'm old enough to remember 5 cent wing nights – with 75 cent pitchers of beer! Those were the days! But now, a double order of wings – that's usually twenty wings but sometimes twenty-four – is just under $30 – and a few sticks of celery and a small container of blue cheese dressing cost you extra, instead of being included in the price. By the time you add in the tip, you're paying close to $40! Not that chicken wings in the supermarket are all that cheap. Honestly, it's amazing how expensive they've become. But it's a better buy to get them from the supermarket and to cook them at home than to order them out. I used to buy wings in the market and bake them in the oven but I never liked baking my wings – they never had the proper crispiness. Now everyone swears that air frying is the way to go.
I went to Wegmans early one Saturday morning – you have to go to Wegmans early or it's too crowded to shop comfortably – and I found a smallish package of wings. The Buffalo Bills were playing the next day and as I was picking out a package, one of the associates from the meat department was filling up the case with loads of packages of chicken wings – every size you can imagine – so I was able to get the freshest package imaginable (open disclosure: I used to work at Wegmans, back in the 1990s). I also bought everything else I needed – a new bottle of Frank's hot sauce, cooking spray for the basket so the wings wouldn't stick, and celery and carrots. You've got to have the celery and carrot sticks! I already had blue cheese dressing, so I didn't have to buy that.
So halfway through the second quarter of the first half of the Sunday football game, I started the wings.
First I took the wings out of the package and patted them dry with a piece of paper towel.
I set them on a plate and seasoned them with a little garlic salt and black pepper.
Next, I sprayed the air fryer basket with cooking spray.
Then I placed the chicken wings into the basket, making sure that none of the wings were touching one another.
I probably could have put a few more in there, but I didn't think I could eat more than that. I have never thought that chicken wings make for good leftovers, and I hate to waste food.
Now it was time to put them into the air fryer. I had read several recipes online, and of course I referred to the instructions that came with the appliance. But I went to the person I considered the expert – my sister. She said that she cooked them at 450 degrees for twenty-five minutes, turning them halfway through the cooking process. So that's what I did.
While the chicken wings were cooking, I prepped the hot sauce mixture. This is easy to do. You melt a few tablespoons of butter in a pan and add Frank's hot sauce to the melted butter, stirring until it's mixed completely and smooth as silk. Don't forget to stir in good intentions! Stirring in one of the best ways to practice kitchen witchery. If you want your sauce hotter, add more Frank's; a milder sauce, add less. Some people add cayenne pepper or hot pepper flakes but I can't take that kind of abuse anymore.
I also prepared the celery and carrot sticks.
I think one of the best things about cooking your own chicken wings is being able to have as many celery and carrot sticks as you want. Also – the celery isn't limp and the carrots aren't those pathetic little "baby" carrots with no flavor. And I can have a bowl of blue cheese dressing instead of a little plastic container which never lasts beyond the first couple of first few celery sticks.
The cooking wings filled the kitchen with a most heavenly smell. I couldn't wait to eat them! I was so hungry that I ate half of the celery and carrot sticks!
Finally they were done! I put them into a bowl and then poured the prepared hot sauce over them.
I wish I could properly convey to you the intense sensation of that sauce hitting my nose and eyes and lips – my forehead broke out in a small sweat and I had to sneeze! – it was so wonderful! There is nothing like chicken wings covered in hot sauce.
Here's my table setting. Notice the depleted bowl of celery and carrot sticks! LOL ~ notice, also the roll of paper towels – eating chicken wings are a messy business, it's good to have a lot of napkins or some other kind of cloth to wipe your fingers and your mouth upon – you'll need it! And don't forget the water or some other thirst-quencher.
While I prefer using a hot sauce-based sauce for my chicken wings – I am from Buffalo, after all – I do like other sauces on my wings (occasionally, anyway). When my son is with me, I often do them with a barbecue sauce, because that's how he prefers them. I like a honey-barbecue sauce, although that's sticky sticky sticky! I also like a lemon-soy sauce mixture, although once upon a time, I would have viewed that sauce for chicken wings as rank heresy! But now it's one of my favorites. You melt a couple of tablespoons of butter in a pan and add the juice of a lemon and a quarter-cup of your favorite soy sauce, and then stir under low heat until fully mixed and smooth. This is also a great marinade.
There are dozens of chicken wing sauce recipes online and I plan to try them over the course of this next year as I use this wonderful new appliance of mine. I do love the classic "Buffalo wing" sauce but it gives me wicked heartburn and I want to find other ways of enjoying wings. And don't forget – they're great with no sauce on them at all! Or maybe just sauce on the side. The possibilities are endless.
So Happy Yule and happy cooking!
**
About the Author: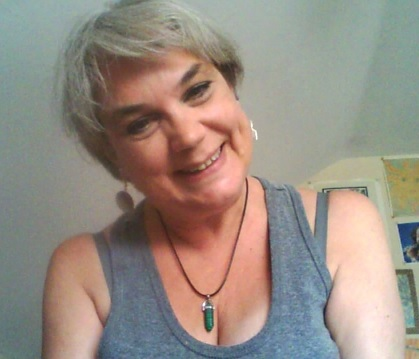 Polly MacDavid lives in Buffalo, New York at the moment but that could easily change, since she is a gypsy at heart. Like a gypsy, she is attracted to the divinatory arts, as well as camp fires and dancing barefoot. She has three cats who all help her with her magic.
Her philosophy about religion and magic is that it must be thoroughly based in science and logic. She is Dianic Wiccan but she gets along with a few of the masculine deities. She loves to cook and she is a Bills fan.
She blogs at silverapplequeen.wordpress.com. She writes about general life, politics and poetry. She is writing a novel about sex, drugs and recovery.