Book Review – Astrology of Love and Sex: A Modern Compatibility Guide by Annabel Gat
Book Review
Astrology of Love and Sex: A Modern Compatibility Guide
by Annabel Gat
288 pages
Bright Blessings!
If you are like me, you study Astrology, and learn all you can about yourself, and your loved ones. You see patterns in personalities and behaviors based on signs, and learn why those happen. I have been learning since I was a kid!
I like a good guide written by educated Astrologers, not amateurs like myself, and I like something I can take home, and hold onto. By that, I mean a book worth paying for, and worth using long term.
Enter Annabel Gat! She is certified by the International Society for Astrological Research, and holds an honorary Practitioners Certificate from The School of Traditional Astrology. She is the Senior Astrologer at Vice's Astro Guide, and has been featured in places such as Cosmopolitan Magazine, and MTV News. Aside from being an excellent Astrologer, she is a gifted Tarot Reader as well, and has been active in the Occult Community in NYC since the early 2000's.
Despite this illustrious career, Astrology of Love and Sex is her very first book, and truly I hope it is not her last.
To begin with in her "What is Astrology" section, Gat points out Astrology used to be considered a science. She says it is not something to believe in, but it is a tool. She writes,"…you do not need to "believe" in astrology or flush logic down the toilet to get something out of this book. I promise. Just as we need a compatibility book for the twenty-first century, we also need to leave behind the notion that you cannot be a scientific person while entertaining symbolic concepts."
In "Lets' Talk Quickly About Some Misconceptions," she writes, "Sitting with friends, and reading from our favorite astrology books about our crushes is seriously some of the most fun I have ever had learning astrology, and more importantly, learning about myself. I hope you enjoy it too."
I know you will.
For example, I am using myself here, a Libra. She writes, "At their best. Likely the most trendy, fashionable person you will ever meet, Libra isn't just artistically creative, but is highly intelligent as well…They love to connect with others and can be fantastic matchmakers, too. Charming, social, and flirtatious, they know how to give a compliment."
Awww shucks!!!!
Then she writes, "At their worst. Always one to keep things in balance, they can be as brutally mean as they are sweetly kind…Sometimes vain, snobby, and hooked on their cell phones or devices, they can be shallow, unreliable, and phony, charming their way out of a problem."
Guilty as charged.
I love the objective way Gat truthfully speaks of the positives and the negatives here. I always prefer Astrologers who do just this.
She goes on to describe love personality. From first impressions, to flirting techniques, dating style, and relationship approach before moving on to discuss sex turn-ons, and turn-offs. Then, she moves on to describe how the sign interacts with all the other signs. She does this for each of the twelve signs.
For Libra, she says about Libra and Leo, "These stylish signs have a lot in common: they love drama: and they are both hard to impress…Fire and Air make for quite a storm in the bedroom. They should bring in the mirrors and cameras, for sure…They build a solid social circle together and enjoy going on journeys, whether to an exotic location, or just a road trip."
Now, I have never dated a Leo, but I get on quite well with all my Leo loved ones, just as she described!
The two I have married are both Librans. Let's see what she says about that. "Finally! Someone who loves to flirt as much as they do. They'll instantly get along-but whether they start to like each other after a few hours needs to be seen!"
Then she writes, "If these two decide to settle down with each other, they'll likely build an impressive home with plenty of space for entertaining…Ruled by gentle Venus, Libra needs to be with a partner who is straightforward and decisive…Being able to ask for what they want is an important issue for both of them."
Yes, yes, and yes.
Included also is a glossary of the Astrology terminology at the end, and of course, at the beginning, explanation of how the book is set up, as well as Gats philosophies on Astrology, which I will let you read for yourself. I love her easy to read, conversational writing style, and how she spells out things like the meaning of elements, modality, and ruling planets. Even if this is your very first Astrology book, by the time you read it, you will have learned plenty!
You absolutely want to add this great book to your collection, and keep your eyes out for whatever books Gat publishes in the future.
Her website includes links as to where you can buy books, as well as her projects, and contact information.
It can all be found here:
***
About the Author: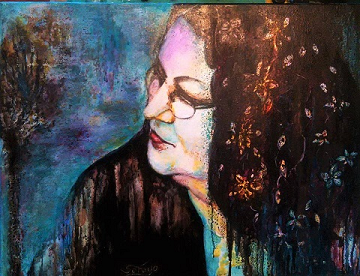 Saoirse is a practicing witch, and initiated Wiccan of an Eclectic Tradition.
A recovered Catholic, she was raised to believe in heaven and hell, that there is only one god, and only one way to believe. As she approached her late 20's, little things started to show her this was all wrong. She was most inspired by the saying "God is too big to fit into one religion" and after a heated exchange with the then associate pastor of the last Xtian church she attended, she finally realized she was in no way Xtian, and decided to move on to see where she could find her spiritual home.
Her homecoming to her Path was after many years of being called to The Old Ways and the Goddess, and happened in Phoenix, Arizona. She really did rise from her own ashes!
Upon returning to Ohio, she thought Chaos Magic was the answer, and soon discovered it was actually Wicca. She was blessed with a marvelous mentor, Lord Shadow, and started a Magical Discussion Group at local Metaphysical Shop Fly By Night. The group was later dubbed A Gathering of Paths. For a few years, this group met, discussed, did rituals, fellowship, and volunteering together, and even marched as a Pagan group with members of other groups at the local gay Pride Parade for eight years.
All the while, she continued studying with her mentor, and is still studying for Third Degree, making it to Second Degree thus far.
She is a gifted tarot reader, spellworker, teacher, and was even a resident Witch at a Westerville place dubbed The Parlor for a time.
Aside from her magical practice, she is a crocheter, beader, painter, and a good cook. She has been a clown and children's entertainer, a Nursing Home Activities Professional, a Cavern Tour Guide, a Retail Cashier, and a reader in local shops. Her college degree is a BA in English Writing. She tried her hand at both singing and playing bagpipes, and…well…let's just say her gifts lie elsewhere! She loves gardening, reading, antiques, time with friends and soul kin, and lots and lots of glorious color bedecking her small home!
On the encouragement of a loved one several years back, she searched for a publication to write for, and is right at home at PaganPagesOrg.
She is currently residing in Central Ohio with her husband, and furbabies.
Saoirse can be contacted at [email protected].