Oracle Deck Review – Arcane Bullshit Fortune-Telling Deck by Evan Doherty
Oracle Deck Review
Arcane Bullshit Fortune-Telling Deck
by Evan Doherty
Arriving in time to save us from the disappearance of Mad Magazine, the Arcane Bullshit Fortune-Telling Deck is a self-published fortune-telling deck, created by Evan Doherty and funded by a successful Kickstarter campaign. Doherty feels that the tarot world takes itself way to seriously, and that the occult should be less about rules and formalities and way more about creativity and dick jokes. After getting my hands on this beautifully crafted deck and working with the cards, I tend to agree with him.
The deck consists of 105 cards, and yes, there are no suits and no Major and Minor Arcana so if you need that kind of structure, this is not your deck. The 2¾ inch by 4¾ inch cards are printed on very sturdy cardstock (the stack of 105 cards is 2 inches high) with a matte finish black and white card image on the face and a bunch of black and white occult-looking symbols and images on the card back. The card images look like woodcuttings from an old alchemy book, and yes I looked closely at a few because like the images on the back of the cards, several images look close to what you would find in an old grimoire. With a few strange twists, of course.
The deck comes in a very sturdy matte black box with a lift-off lid. I love the image on the top of the box (an open book from which spews flames and symbols), printed in white, and I love the shiny embossed texture on the sides of the lid. Inside the lid is a warning, and brief instructions for setting up a reading. The bottom of the box is printed white-on-black with more symbols, and the sides of the box are shiny-embossed with words and phrases. I am assuming these are the words submitted by the Kickstarter backers, to be included in the guidebook as mentioned on the Kickstarter page.
Along with the cards is a 2¾ inch by 4¾ inch soft cover "little black book" (pardon the pun, the cover is black matte finish with a white image on the front and a description of Arcane Bullshit on the back). The interior is black ink on white paper with crisp, clear printing, very easy to read. The first two pages are more random words and phrases. Next comes Introductory Bullshit, What Doth Bullshit, and Bullshitting Procedures, including Shuffling Tips and Example Spreads. Finally, Bullshitting (instructions, of course) and Conclusioning (how to conclude a reading).
Then we have suggested meanings for the cards. The meanings offered are simple, some only a sentence or two, and are all tongue-in-cheek . . . or are they?? Because the card images are strange, part reality and part twisted reality, and because there are no detailed spoon-fed meanings and intentions behind the images, if you make the effort and work with the images you can create some cool, creative, and probably strange and very personal meanings for the cards.
The last page of the guidebook offers another warning. That is two warnings so far. Along with the cards and the guidebook, my set came with a black tarot bag with white and gold printing, a round black and white sticker with the Arcane Bullshit symbol (a pile of feces with a single eye), and a 4 inch by 6 inch card containing another warning.
There is a reason for the multiple warnings. This is a quasi-occult, quasi-esoteric and very cheeky fortune-telling deck. Be aware: there are card images showing genitals, breasts and nipples, and profanity sprinkled throughout. There is no typical Tarot structure, not even an Oracle-like structure. Because of the sturdiness of the cards, some traditional shuffling methods might not work for you, even though the cards are not large in size. If you are uncomfortable with any of these things, a more traditional deck might work better for you. I feel that bit of discomfort is a good way to grow and learn, especially in the divination world, and a time-out that provides a chance to not take ourselves seriously can be very beneficial, which is why I like this deck.
If you want to brave the multiple warnings and take divination in a less-serious manner, if you want to become acquainted with a whole new set of images and divination archetypes, and if you are not afraid to laugh at yourself or your cards, I highly recommend getting your hands on the Arcane Bullshit deck. You will notice that I did not include individual card names or descriptions; that is because you need to see and hold this deck in order to truly appreciate it. This is a quality deck made in the style of True Black Tarot, but with a completely irreverent energy to it. This deck offers totally twisted, out-there images that encourage a reader to think for herself and have fun because the Arcane Bullshit Fortune-Telling deck does not take itself seriously at all.
Or does it??
Arcane Bullshit Contacts
Site: arcanebullshit.com
Social Media:
***
About the Author: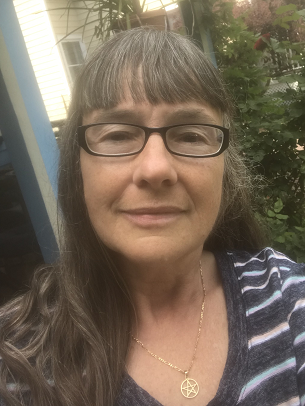 Raushanna is a lifetime resident of New Jersey. As well as a professional Tarot Reader and Teacher, she is a practicing Wiccan (Third Degree, Sacred Mists Coven), a Usui Reiki Master/Teacher, a certified Vedic Thai-Yoga Massage Bodyworker, a 500-hr RYT Yoga Teacher specializing in chair assisted Yoga for movement disorders, and a Middle Eastern dance performer, choreographer and teacher.  Raushanna bought her first Tarot deck in 2005, and was instantly captivated by the images on the cards and the vast, deep and textured messages to be gleaned from their symbols. She loves reading about, writing about, and talking about the Tarot, and anything occult, mystical, or spiritual, as well as anything connected to the human subtle body. She has published a book, "The Emerald Tablet: My 24-Day Journal to Understanding," and is currently working on a book about the Tarot, pathworking and the Tree of Life. Raushanna documents her experiences and her daily card throws in her blog, DancingSparkles.blogspot.com, which has been in existence since 2009. She and her husband, her son and step son, and her numerous friends and large extended family can often be found on the beaches, bike paths and hiking trails of the Cape May, NJ area.