Book Review – The Weiser Book of Occult Detectives: 13 Stories of Supernatural Sleuthing, Edited & Introduced by Judika Illes
Book Review
The Weiser Book of Occult Detectives
13 Stories of Supernatural Sleuthing
Edited & Introduced by Judika Illes
320 Pages
I confess, when I first heard about this book, I thought it was a book about true crime – stories in which crimes had been solved by calling in psychics and other occult professionals. But The Weiser Book of Occult Detectives: 13 Stories of Supernatural Sleuthing is a book of short stories – thirteen of the greatest detective stories ever written. Collected, edited and introduced by Judika Illes, they are an entertaining read for any fan of ghost stories, detective stories or just well-written prose.
In the introduction, Illes explains her criteria for choosing these thirteen stories. Like so many introductions to collections like these, there's a lot of important information packed into these preliminary pages, so even if you jump over them and start in with one of the short stories, be sure to go back and give it a good read!
Some of the stories I already knew quite well. "The Leather Funnel" by Sir Arthur Conan Doyle, I had read as a teenager. Some tives: 13 Stories of Supernatural Sleuthing, Edited , of the stories I had read in various college classes. But some I were reading for the first time. "The Cave of the Echoes" by Helena Petrovna Blavatsky was brand-new to me, although of course I knew who Blavatsky was – I had read her biography many years ago! How I thrilled to the story of her entry into Tibet!
One of my favorite stories in The Weiser Book of Occult Detectives: 13 Stories of Supernational Sleuthing is "The Dead Hand: Being the First of the Experiences of the Oracle of Maddox Street" by L.T Meade and Robert Eustace. I had heard of L.T. Meade – she was a very popular and prolific author in the late 1800's and early 1900's. I had even owned a few of her books. But I had never read this particular story. And it's really good! It had me going all the way to the end. I particularly liked the aspect of solving a crime by palmistry.
Another thing about these stories is that they reflect a time that is now historic. The oldest of these stories was written in 1855; the newest, 1922. There are no cell phones, Googling information, calling for an Uber, or any of the other tech-heavy apparatus that we all take for granted now. For this alone, I find these stories to be most informative and educational, far beyond their entertainment value. Read these stories out loud to your children and discuss them.
Judika Illes was educated at Rutgers University and is the author of numerous other books on the occult. For Weiser alone, she has published the following books: Magic When You Need It, The Weiser Field Guide to Witches, The Big Book of Practical Spells, and The Weiser Field Guide to the Paranormal (writing as Judith Joyce).
Her website is here: http://judikailles.com/. Check it out, there's a wealth of information here.
With the holidays coming up, I think this would be wonderful gift for anyone who loves a great mystery story or just loves reading classic literature. Go to your favorite bookseller and pick up a copy of The Weiser Book of Occult Detectives: 13 Stories of Supernatural Sleuthing, Edited and Introduced by Judika Illes. I guarantee you will not be disappointed.
References:
Illes, Judith. The Weiser Book of Occult Detectives: 13 Stories of Supernational Sleuthing. Newburyport, MA: Weiser Books, 2017.
***
About the Author: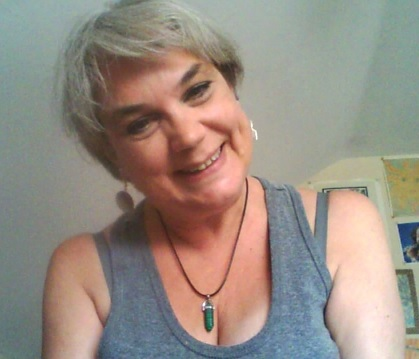 Polly MacDavid lives in Buffalo, New York at the moment but that could easily change, since she is a gypsy at heart. Like a gypsy, she is attracted to the divinatory arts, as well as camp fires and dancing barefoot. She has three cats who all help her with her magic.
Her philosophy about religion and magic is that it must be thoroughly based in science and logic. She is Dianic Wiccan but she gets along with a few of the masculine deities. She loves to cook and she is a Bills fan.
She blogs at silverapplequeen.wordpress.com. She writes about general life, politics and poetry. She is writing a novel about sex, drugs and recovery.