Book Review – Mindfulness at Work: Flourishing in the Workplace by Maria Arpa
Book Review
Mindfulness at Work
Flourishing in the Workplace
by Maria Arpa
144 Pages
….Achieving a work/life balance does not mean equal time for both. It is a fluid proposition that changes and fluctuates according to the demands being made on you and how you meet them. You achieve balance when you have the integrated self-responsibility to meet your obligations while also having the confidence to set boundaries that keep your life rewarding….
Mindfulness at Work: Flourishing in the Workplace should be a required read for employees in any modern-day workplace. The stress, demands and expectations of the work required are often overwhelming and job satisfaction is at an all time low. Add to this the need to communicate effectively and generally get along with co-workers whom are also at their maximum, filled with reactionary energy and competitiveness and the day-to-day experience where we spend more time often than at home becomes a toxic soup of bitter after taste. Ms. Arpa has crafted a simple and accessible plan for flourishing and finding joy in the workplace.
The book is arranged in six chapters, each building seamlessly upon the other beginning with Chapter One: Wake Up & Smell the Coffee and concluding with Chapter Six: Harvesting Your Efforts. Common themes of discontentment, rules, negativity and the feelings of helplessness are some of the topics of focus. The ultimate goal being one of creating your own space of calm and attentiveness regardless of the workplace environment. Using the approach of mindfulness and meditation sends a clear message that we do have more power over our reactions and responses and can cultivate a mindset that remains resilient and strong.
This thoughtfully written book is full of exercises and in keeping with the focus of being "mindful", excellent questions for self-reflection and exploring more of your own patterning and role in what you are discontent with or feel competitive about. Each chapter concludes with a Reflections box, which provides a gentle overview of the focus for the chapter and the work that could be accomplished in giving attention to its subject. I particularly liked the use of setting these "Reflections" apart from the body of the paragraph. And, perhaps I am reading too much into it, but the visual of a square framed box holding the extracts of wisdom from the chapter, gave a "frame" of reference , structure and order in its review, calling the reader to understand that what is contained requires an orderly approach.
I particularly enjoyed the Reflections concluding Chapter Five: Turning Work Into Productive Play:
"The outcome of this journey should be for you to understand what work means to you-whether you are enjoying your work in its current form, or have adjustments and changes you would like to make. You have a direction and a set for supporting tasks. It's now a case of beginning. No one can do this for you. It's up to you where you want to start. Just remember that every action you take has a consequence, so the closer you are to taking that action from a calm and centered place, the more likely you are to have a harmonious outcome."
All in all I enjoyed and will return to this book. If you are looking for a course in mindfulness meditation this is not the book for you. But, if you are looking to adjust your attitude and bring into perspective positive and productive priorities within a work setting this is the title for you. The beauty of this work is that it will spill over into all of your settings and relationships, as you are essentially cultivating a deeper awareness of yourself.
My only critique of this book is not for the author. I found the size and font used and the color saturation of text to be very challenging to read. I had to make sure that light was always shining directly on the page and even then, words tended to blur together, primarily because of the lack of crispness of the font.
Would I recommend?
Absolutely. But, only if you are willing to do the work and take responsibility for your own part in any disharmony you find.
Bonus Excerpt from the Publisher's Page:
If you see yourself as powerless, then you are powerless – but that doesn't mean you have to remain powerless. Spending many hours a day with a group of people you didn't choose to share this much of your life with, in a job you are not satisfied with, will create a pressure cooker of tension. Left unresolved, it will fester under the surface, creating stress and taking its toll on your emotional and physical well-being.
About Maria:
Maria Arpa is a London-based mediator and counselor who works with couples to help heal and mend troubled relationships. She is the founder of the Centre for Peaceful Solutions, and is a former chair of Mediation UK. Maria has a master's degree in mediation and conflict resolution, a diploma in counseling theory and practice, and is a Reiki Master. She has also trained with the pioneer of Nonviolent Communication (NVC), Dr Marshall Rosenberg.
***
About the Author: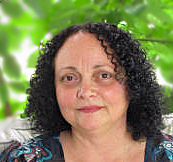 Robin Fennelly is a Third Degree Initiate within The Assembly of the Sacred Wheel Tradition and serves as High Priestess of Coven of the Mystic Path, the 12th Coven within the Assembly of the Sacred Wheel Tradition. She teaches and facilitates classes for the Pagan Experience Study Group that serves as foundation for membership within Coven of the Mystic Path.  
Her spiritual journey is strongly rooted in both Eastern philosophy and the Western Magickal systems from which she has formed a core foundation that is diverse in knowledge and rich in spiritual practice.  A life-long learner, her practice has evolved from the classical and philosophical teachings of books, practical experience and enrichment of this knowledge base by attending workshops of various spiritual traditions presented by master teachers.
Robin formally came to the Wiccan path in 1994. Following practice as a solitary for 2 years, she dedicated to Oak and Willow Coven of The Assembly of the Sacred Wheel Tradition in November of 1996. She received her 1st, 2nd and finally 3rd degrees within the Assembly Tradition and has served as High Priestess of Oak and Willow since Samhain of 2001.
As a teacher of esoteric and magickal studies she has used Energetic Anatomy, Tarot, Astrology, Hermetic Qabala, Eastern Philosophy, and Numerology as the foundations of her diverse selection of workshops and writings for more than 25 years. Exploration of varied energetic protocol has been the focus of her work for some time now and the information gained through direct experience informs all of her magickal and spiritual work.
Robin's writings have been featured online, and in print Internationally.  She has authored several books incorporating her unique style of writing making use of poetry, prose and pathworking to enhance the concepts presented.  She has taught extensively throughout the Pagan community, including Sacred Space Conference, Spring Magick, Between the Worlds Interfaith Conference and Free Spirit Gathering Festival this Summer. Her most recent project is hosting an online blogging community entitled The Pagan Experience.
Robin is the owner of Holistic Embrace providing services for mind, body and spirit such as Tarot readings, Astrology reports, Spiritual Guidance and other related offerings.  She lives in Eastern Pennsylvania and her life is blessed by a 40+- year marriage, five children and the opportunity to work in the field of public education.
Robin's Books
The Inner Chamber, Vol. 1 It's Written in the Stars-Astrology
The Inner Chamber, Vol. 2 Poetry of the Spheres-Qabalah
The Inner Chamber, Vol. 3 Awakening the Paths-Qabalah
The Light of SELF: Consciousness, Spiritual Practice and Learning to Breathe
Magickal Verse: A Collection of Poetry and Prose
A Year of Gaia: The Eternal Cord
The Elemental Year: Aligning the Elements of SELF
Temple of the Sun and Moon: Luminous Devotions
Sleeping with the Goddess: Nights of Devotion
A Weekly Reflection: Musings for the Year
The Magickal Pen: A Collection of Esoteric Writings
The Enchanted Gate: Musings on the Magick of the Natural World
For more info: http://www.robinfennelly.com/books.html
Robin's Website: www.robinfennelly.com
Coven of the Mystic Path, ASW: www.covenofthemysticpath.org