Move slowly and
speak not a word
And we may catch
A glimpse of HIM yet.
The night is dark
But I have seen the
Icy thread of HER cloak.

Crystal blue eyes and
Hair black as the midnight sky
Grace a face of pale beauty
Poised on a body that is tall and lithe.
She has etched the night sky with
Fingers long and fair painting starlight and
Holding the breath of new dawn
In HER hands' cupped embrace.

SHE has embraced the world
In the longest of nights.
HER Promise held deep within.
The forest is hushed and white with snow.
Ice crystals glisten round and all of life
Patiently holds strong in stillness
And pause with anticipation of
Newly born hope and renewal.
We watch and wait in silence.
The cold penetrating and deep
In its reminder that we are vibrant, alive, aware.

It is for us that this night returns as the
Wheel comes to rest in imbalance.

It is our yearning that calls us from our
Warmth and comfort to offer up
Adoration and honor to the Light that
Sustains and answers with flame.
We watch and we wait in silence.
And the time is almost near
As our hearts beat in excitement,
Attuned to the cycles that are eternal.
Stillness hangs heavy.
Softly, softly…
Crimson lips gently part and
SHE breathes an exhale of gentle release
As sun light stretches from its inner sleep.

The fiery fingers of new child's grasp
Reaching out to experience, explore
And warm all within its reach.

The returning Light of the Solstice
Cries out anew, its sounds inaudible
To all but those who have silently
Waited in the darkness.
The Mother of Winter's long cold night
Has called forth Her Child as the world
Awakens to the Promise of Sun King's return.
***
About the Author: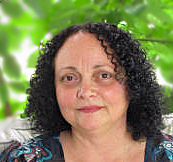 Robin Fennelly is a Third Degree Initiate within The Assembly of the Sacred Wheel Tradition and serves as High Priestess of Coven of the Mystic Path, the 12th Coven within the Assembly of the Sacred Wheel Tradition. She teaches and facilitates classes for the Pagan Experience Study Group that serves as foundation for membership within Coven of the Mystic Path.  
Her spiritual journey is strongly rooted in both Eastern philosophy and the Western Magickal systems from which she has formed a core foundation that is diverse in knowledge and rich in spiritual practice.  A life-long learner, her practice has evolved from the classical and philosophical teachings of books, practical experience and enrichment of this knowledge base by attending workshops of various spiritual traditions presented by master teachers.
Robin formally came to the Wiccan path in 1994. Following practice as a solitary for 2 years, she dedicated to Oak and Willow Coven of The Assembly of the Sacred Wheel Tradition in November of 1996. She received her 1st, 2nd and finally 3rd degrees within the Assembly Tradition and has served as High Priestess of Oak and Willow since Samhain of 2001.
As a teacher of esoteric and magickal studies she has used Energetic Anatomy, Tarot, Astrology, Hermetic Qabala, Eastern Philosophy, and Numerology as the foundations of her diverse selection of workshops and writings for more than 25 years. Exploration of varied energetic protocol has been the focus of her work for some time now and the information gained through direct experience informs all of her magickal and spiritual work.
Robin's writings have been featured online, and in print Internationally.  She has authored several books incorporating her unique style of writing making use of poetry, prose and pathworking to enhance the concepts presented.  She has taught extensively throughout the Pagan community, including Sacred Space Conference, Spring Magick, Between the Worlds Interfaith Conference and Free Spirit Gathering Festival this Summer. Her most recent project is hosting an online blogging community entitled The Pagan Experience.
Robin is the owner of Holistic Embrace providing services for mind, body and spirit such as Tarot readings, Astrology reports, Spiritual Guidance and other related offerings.  She lives in Eastern Pennsylvania and her life is blessed by a 40+- year marriage, five children and the opportunity to work in the field of public education.
Robin's Books
The Inner Chamber, Vol. 1 It's Written in the Stars-Astrology
The Inner Chamber, Vol. 2 Poetry of the Spheres-Qabalah
The Inner Chamber, Vol. 3 Awakening the Paths-Qabalah
The Light of SELF: Consciousness, Spiritual Practice and Learning to Breathe
Magickal Verse: A Collection of Poetry and Prose
A Year of Gaia: The Eternal Cord
The Elemental Year: Aligning the Elements of SELF
Temple of the Sun and Moon: Luminous Devotions
Sleeping with the Goddess: Nights of Devotion
A Weekly Reflection: Musings for the Year
The Magickal Pen: A Collection of Esoteric Writings
The Enchanted Gate: Musings on the Magick of the Natural World
For more info: http://www.robinfennelly.com/books.html
Robin's Website: www.robinfennelly.com
Coven of the Mystic Path, ASW: www.covenofthemysticpath.org