Peeking in the Shadows: Crafting a Book of Shadows and Light
Last month we began the exploration of what a BOS could be. This month I'd like to spend some time on ..Selecting the Perfect Book…
(Photo by Plush Design Studio on Unsplash)
Let me begin by saying that I have MANY journals that have at one time or another served as my BOS. I have a tendency to begin using one journal that I especially like and multi-purpose it, allowing it to morph into whatever my needs happen to be at the time. When I move on to another focus, of course I also need a different journal/Book for those endeavors, and a new BOS is born. This approach works for me, and the way in which I organize things mentally. The lesson here is that there is no one way to "house" your Book of Shadows.
(Photo by Domenico Loia on Unsplash)
In fact, another tool I use is a digital version that holds all of my rituals written, spells and more, particularly those that I share or use frequently. I don't always have the time I would like to sit and tactically write down everything, so the digital is a one-step resource (and also reduces the storage needs of yet more paper). For many witches the thought of a digital BOS is sacrilege and I respect that. My preferred method is always to hand write my magickal papers and imbue them with as much as possible of my own personal energetic imprint. So, my compromise has been a mixture of beautiful journal dedicated to the purpose of a BOS (with room for notes and observations) and a digital version for those quick print-outs or reference where a "book" would not be as discreet as I'd like.
Here are some suggestions and questions to get you started:
Sit quietly and ask yourself:
What purpose will my BOS serve?

A repository for everything

A combination of experiment and observation

An archiving of my growth magickally

An instant resource for future or continued work(ings)

A tool of instruction ultimately to be shared with those I may mentor
How wed am I to everything contained being handwritten? And am I leaning towards this method because:

It's cooler and fits the usual image of a BOS

I like the tactile sensation of pen, paper and a beautiful vessel of containment

I believe this to be the most effective way to lay down and embed my own personal energy into what is being scribed

And, I have the time to dedicate to this endeavor
How large do I want my BOS to be?

If it will grow with you, you will need something large enough to hold your work

If you are very prolific with ritual writing, spells, recipes, etc… you may need to have multiple BOS that are dated and cover many years

Will you be taking your BOS with you to events, etc…

How discreet would you like it to be
You can see just from the few questions I offered for consideration that a BOS can be compiled in multiple ways and for multiple purposes. In fact, a BOS that's has some flexibility built in is a very intentional and reflective tool of that same quality that should be part of your personal practice.
Lest you think that I am moving too slowly with diving in to what to put in, what it should look like, how to use it-there is a purpose to my intentional methodology. A well thought and planned BOS will serve you far better than a hastily put together "something". That attitude also reflects one of "I can't wait to get it done", which in this case should be reframed. A Book of Shadows-YOUR Book of Shadows is a sacred object. One that has been intentionally and intention-filled crafted. That is not to say that the way your book looks or what it contains will not ever change, but the first one crafted (which also includes an updating of an existing) BOS represents where you are at that exact point in time. It mirrors what you choose as important to you in the Craft and just as like calls to like, the more of yourself you put into it the more it will respond, resonate and vibrate in accord with you. I'll talk more about this in later posts.
So, your homework for this month is to ask the questions. Think through what you want. And, really allow yourself to open to the potential and possibilities and power of a Book of Shadows and Light created from the core of your personal practice. Enjoy!
Next Month:
Top Picks and Ideas for Starting Your BOS
***
About the Author: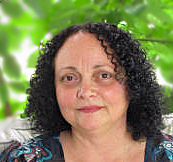 Robin Fennelly is a Third Degree Initiate within The Assembly of the Sacred Wheel Tradition and serves as High Priestess of Coven of the Mystic Path, the 12th Coven within the Assembly of the Sacred Wheel Tradition. She teaches and facilitates classes for the Pagan Experience Study Group that serves as foundation for membership within Coven of the Mystic Path.  
Her spiritual journey is strongly rooted in both Eastern philosophy and the Western Magickal systems from which she has formed a core foundation that is diverse in knowledge and rich in spiritual practice.  A life-long learner, her practice has evolved from the classical and philosophical teachings of books, practical experience and enrichment of this knowledge base by attending workshops of various spiritual traditions presented by master teachers.
Robin formally came to the Wiccan path in 1994. Following practice as a solitary for 2 years, she dedicated to Oak and Willow Coven of The Assembly of the Sacred Wheel Tradition in November of 1996. She received her 1st, 2nd and finally 3rd degrees within the Assembly Tradition and has served as High Priestess of Oak and Willow since Samhain of 2001.
As a teacher of esoteric and magickal studies she has used Energetic Anatomy, Tarot, Astrology, Hermetic Qabala, Eastern Philosophy, and Numerology as the foundations of her diverse selection of workshops and writings for more than 25 years. Exploration of varied energetic protocol has been the focus of her work for some time now and the information gained through direct experience informs all of her magickal and spiritual work.
Robin's writings have been featured online, and in print Internationally.  She has authored several books incorporating her unique style of writing making use of poetry, prose and pathworking to enhance the concepts presented.  She has taught extensively throughout the Pagan community, including Sacred Space Conference, Spring Magick, Between the Worlds Interfaith Conference and Free Spirit Gathering Festival this Summer. Her most recent project is hosting an online blogging community entitled The Pagan Experience.
Robin is the owner of Holistic Embrace providing services for mind, body and spirit such as Tarot readings, Astrology reports, Spiritual Guidance and other related offerings.  She lives in Eastern Pennsylvania and her life is blessed by a 40+- year marriage, five children and the opportunity to work in the field of public education.
Robin's Books
The Inner Chamber, Vol. 1 It's Written in the Stars-Astrology
The Inner Chamber, Vol. 2 Poetry of the Spheres-Qabalah
The Inner Chamber, Vol. 3 Awakening the Paths-Qabalah
The Light of SELF: Consciousness, Spiritual Practice and Learning to Breathe
Magickal Verse: A Collection of Poetry and Prose
A Year of Gaia: The Eternal Cord
The Elemental Year: Aligning the Elements of SELF
Temple of the Sun and Moon: Luminous Devotions
Sleeping with the Goddess: Nights of Devotion
A Weekly Reflection: Musings for the Year
The Magickal Pen: A Collection of Esoteric Writings
The Enchanted Gate: Musings on the Magick of the Natural World
For more info: http://www.robinfennelly.com/books.html
Robin's Website: www.robinfennelly.com
Coven of the Mystic Path, ASW: www.covenofthemysticpath.org