Book Review – Find Your Happy: Daily Mantras by Shannon Kaiser
Book Review
Find Your Happy
Daily Mantras
by Shannon Kaiser
Find Your Happy: Daily Mantras: 365 Days of Motivation For a Happy, Peaceful and Fulfilling Life is one of the most positive books I have had the pleasure of reading in a long time. Published by Beyond Words Publishing, an imprint of Simon & Schuster, Inc., this book is designed to be a daily reader of wisdom and motivation. However, I read it within forty-eight hours. It's a really great book!
One of the things I like about it is that there are no dates attached to the daily mantras. Day 1 is entitled "I Am Abundant And Secure" (Kaiser, 1) with two paragraphs explaining how to focus on abundance and how to bring abundance into your life. However, unlike so many other daily meditation or mantra books, Day 1 isn't January 1 – it's whatever Day 1 you happen to open the book and start this journey.
There are so many gems in this book. Day 113 is "Self-Love Is A Practice I Show Up For Daily." Kaiser writes, "Self-love is not selfish, nor is it something that just happens. It is a practice…When you show up for yourself each day, your life becomes more manageable because you are more grounded and balanced." (Kaiser, 117). Also: Day 152 with "I've Done Nothing Wrong". "Instead of thinking things didn't work out, start celebrating how things have fallen into place…Forgive yourself and know that you did the best you could with what you knew at the time." (Kaiser, 157)
There are affirmations for each day. "I smile confidently and with great love." and "We are all connected and a smile brings us closer" are some of the affirmations for Day 273, which is entitled "I Smile At Strangers" (Kaiser, 283). Any one day offers an affirmation that can be taken with you for the entire day as a personal power thought. The affirmations for Day 189, "Just Because It Hasn't Been Done Doesn't Mean It Can't Be" are perfect for this kind of thing: "I am a force of energy and focus." or: "When I put my mind to something I desire, it will come true." (Kaiser, 196)
Each day follows up with questions for the day. For instance, Day 245 is "I Start Each Day With A Grateful Heart". After the small sermon and the affirmations, Kaiser poses the question: "How can I cultivate a morning gratitude practice?" (Kaiser, 254). Day 80 has the lovely title of "I Love My Body Because Of What It Has Overcome" and asks, "How can I send light and love to every cell of my body?" (Kaiser, 83). Indeed.
There are 365 days of these gems and jewels… they most certainly are! Read them one day at a time or read them within a two-day period like I did or skip around the book to find the wisdom that resonates most readily with your own reality. You won't be disappointed with what you find within the covers of this book.
Shannon Kaiser's website is HERE. There are plenty of things to see on her site check it out!
There is also "Find Your Happy" Oracle Card set! Pagan Pages writer Robin Fennelly wrote a review of the set a few months ago. If you haven't read it, you can read it HERE.
I would personally love to get this deck someday!
So go to your favorite local bookstore or buy on your favorite online store – mine is Thriftbooks.com – and purchase this very helpful and holistic book filled with wisdom and healing. I can't recommend it enough.
Brightest Blessings!
References
Kaiser, Shannon. Find Your Happy: Daily Mantras: 365 Days of Motivation For A Happy, Peaceful, And Fulfilling Life. Hillsboro, OR: Beyond Worlds Publishing, 2018.
https://www.playwiththeworld.com/
PaganPagesOrg Review of The 365 Find Your Happy Mantra Deck
***
About the Author: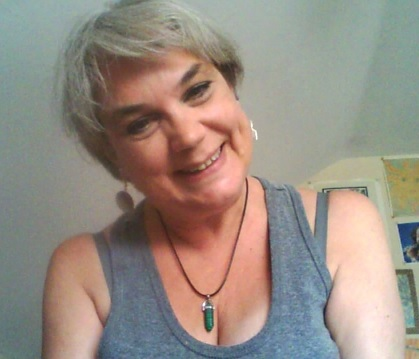 Polly MacDavid lives in Buffalo, New York at the moment but that could easily change, since she is a gypsy at heart. Like a gypsy, she is attracted to the divinatory arts, as well as camp fires and dancing barefoot. She has three cats who all help her with her magic.
Her philosophy about religion and magic is that it must be thoroughly based in science and logic. She is Dianic Wiccan but she gets along with a few of the masculine deities. She loves to cook and she is a Bills fan.
She blogs at silverapplequeen.wordpress.com. She writes about general life, politics and poetry. She is writing a novel about sex, drugs and recovery.