Book Review – Sex Signs: Your Perfect Match Is in the Stars by Constance Stellas
Book Review
Sex Signs
Your Perfect Match Is in the Stars
by Constance Stellas
256 Pages
With Valentine's Day this month, many of us are thinking about our love life. Either we are looking for a new lover or we are looking to reignite a love that perhaps has fizzled out a bit. Here is the book for you! It's Sex Signs: Your Perfect Match Is in the Stars.
I have always loved these kinds of books. Who doesn't? Who doesn't want to find their "perfect match"? Published by Adams Media, an imprint of Simon and Schuster, Sex Signs is written by Constance Stellas, an astrologer living in New York City with over twenty-five years experience casting horoscopes for a variety of high-profile clients, as well as being the astrologer for the Huffington Post. Her author website is HERE and her personal website is here: http://constancestellas.com/. She also has a Facebook page and a presence on Twitter. Her books are sold on her website and on Amazon; I am sure you can find them on other book seller's sites as well.
If you are young and looking for love, this book will certainly be helpful. My grandmother used to say that "it's as easy to fall in love with a gentleman as a bum" – but in my experience, it's not so simple to tell one from the other. Many of my lovers looked like diamonds but they were just finely polished stones. Beautiful – but!! And some of them could talk the talk but they could not walk the walk – and when I insisted that they do walk the walk, they ran away! Oh well. Such is life. Now into my crone years, I read the descriptions of the celestial lovers and think not so much of someone to enter my life but of those whom I had loved once upon a time.
Before you actually start reading this book, you might want to take the "Sex Signs Compatibility Quiz" which starts on page 10. Don't be afraid – there's no wrong answers! There's a scoring chart on page 19, and on page 20, another chart telling you which signs are most compatible to you, according to your score.
I scored 105, which told me that my most compatible signs were Taurus, Virgo and Capricorn and that Cancer, Scorpio and Pisces were also "Interesting Possibilities". But I'll be honest with you – I've had great sexual relationships with almost every sign in the astrological wheel! It's the living together that's tough. And even when you're paired up with your astrological soul mate, it still might not work out. Of course – maybe you're not looking for a long-term relationship. Maybe you just want to have some fun. I personally think that's a great way to start a relationship – sexual fun – because if it doesn't happen in bed, if often doesn't happen at all!
After this point, Stellas goes through the horoscope, sign by sign, differentiating between men and women – this book is highly gendered. However, if you are going to use to book to help you find a same-sex lover, I don't see any reason why you wouldn't be able to. So many of us are blends of male and female – I know this is true of myself – and it's easy to find representations of all kinds of people within these pages.
All in all, this is a fabulous little book that I would recommend to anyone looking for the perfect lover – or just a lover for the night! Take the quiz and find out who the most compatible signs are for you and get hunting for that love of your life!
Happy Valentines Day to all lovers!
Brightest Blessings!
References
Stellas, Constance. Sex Signs: Your Perfect Match Is in the Stars. NY: Adams Media, 2018.
https://www.simonandschuster.com/authors/Constance-Stellas/1853412
http://constancestellas.com/http://constancestellas.com/
***
About the Author: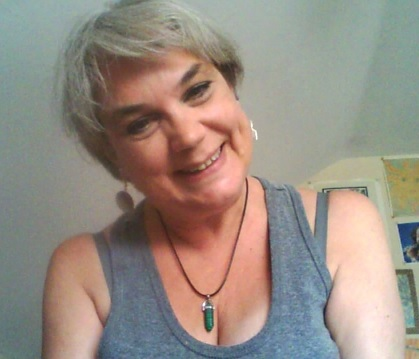 Polly MacDavid lives in Buffalo, New York at the moment but that could easily change, since she is a gypsy at heart. Like a gypsy, she is attracted to the divinatory arts, as well as camp fires and dancing barefoot. She has three cats who all help her with her magic.
Her philosophy about religion and magic is that it must be thoroughly based in science and logic. She is Dianic Wiccan but she gets along with a few of the masculine deities. She loves to cook and she is a Bills fan.
She blogs at silverapplequeen.wordpress.com. She writes about general life, politics and poetry. She is writing a novel about sex, drugs and recovery.