Learning Lenormand Interviews – Diana Clark, Creator of the Gaelic Lenormand
This interview was done a few months ago, before the COVID-19 virus crisis hit all of us, so it's a tad dated (I know that was just a short while ago, but doesn't it seem like years already?). But I hope all of you will enjoy it. I have to say that I am looking forward to her horse-themed Lenormand! I have always loved horses, as anyone who knows me will attest!
Polly MacDavid (PM): In the beginning of the Companion Guide of the Gaelic Lenormand, you talk about your family history & how this informs your divinatory style.  Since not all of our readers have read the Gaelic Lenormand Companion Guide, would you tell us your story?
Diana Clark (DC): Being a 3rd generation card reader, I feel lucky that I grew up reading Lenormand. Since those early years, I have developed and morphed my style of reading – all due to deepening and awakening through my personal spiritual journey. The beauty of my family lineage is that some of the knowledge I have regarding reading Lenormand is old and could be lost, which is why I included as much information as I could in the companion guide. There are thousands of Lenormand decks. The Gaelic Lenormand Companion Guide can be used for any deck. It's like learning to read Tarot, once you learn all the meanings you can use any tarot deck for reading. Most of us have a preference to a particular deck; one that speaks to us. I think that's the beauty of the vast varies of card decks available.
PM: I come to the Lenormand after learning the Tarot first, so it's like learning a second language.  But you don't mention ever learning the Tarot at all.  Do you read Tarot cards?
DC: I do own a Tarot deck that I will use for fun readings with my family, but as far as my professional readings, I am exclusive to Lenormand with my clients.
PM: Do you read the cards every day?  Do you read for yourself?  Do you read for other people?  Do you read professionally?  Is this your job?  Or do you have a "day job"? 
DC: I do not read cards every day as I have a large clientele. When I get a day off, I replenish myself. I will look at my cards every once in a while, but I usually refer to my aunt for my personal readings. I read professionally and am usually booked out about 3 months, which translates to doing many readings. Reading is my evening job, but it's really not like a "job" as I am passionate about it. There is nothing more rewarding than helping people. During the day, I work at a radio station, where I've been for twenty-four years. I work in the business office and occasionally you can find me "on the air" being interviewed and doing live reads. I also co-host The Women's Hour on Conscious Talk radio on 1150am-KKNW in the Seattle market, which is the 3rd Friday of each month.
PM: Erika Wright did the artwork for the Gaelic Lenormand.  How did you connect with her?  Did you give her the ideas first or did you work together?
DC: Erika and I work together at the radio station where she is the graphic/digital artist. One day she passed by my desk and I asked her about card templates and shared my desire to design my own card deck. She was interested in this venture and the two of us collaborated. It was a Divine connection! The ideas were all mine, but she understood what I wanted, and the rest is history. Digital graphics is an amazing art form.
PM: One thing that quite impressed me about the companion book is that you give combinations for ALL the cards – that's something I've never seen before.  I actually check out your book for combinations even if I'm using another deck!  What made you go that "extra mile"? 
DC: I have a vast knowledge of Lenormand and wanted to pack as much as I could into the companion guide. The first time I looked on the internet to see what others had to say about Lenormand happened during the writing of the companion guide. While much of the information out there was similar, there were some discrepancies on the meanings of the cards. Meaning, some of it was incorrect. That fueled me to share as much as I could. Knowing the combinations is vital to interpreting the Lenormand, and the combinations are endless.
PM: Do you use other Lenormand decks?  Which ones?  Why do you like them?
DC: Outside of using The Gaelic Lenormand, I use the A.S.S. Lenormand. It is the deck I grew up on. I know every nuance of it, and can easily read beyond the cards. They help me drop into the Divine zone, which is the space I am reading from. It's that same zone we tap into when we're creating. The space where we lose all track of time.
PM: Are you working on another deck?  What is the theme? Are you working with Erika Wright or with another artist?  When can we expect to see it?
DC: I do have an idea for another deck, one that will be horse themed as horses are one of my passions! It would be super cool to work with Erika again as we have a natural artistic flow together. As for the timing – I believe in Divine timing, that everything will happen in my highest good and in the highest good of those concerned.
Thank you for reading! Brightest Blessings! And please be safe in this time of this COVID-19 virus! Protect yourself and your loved ones!
)O(
The Gaelic Lenormand on Amazon

***
About the Author: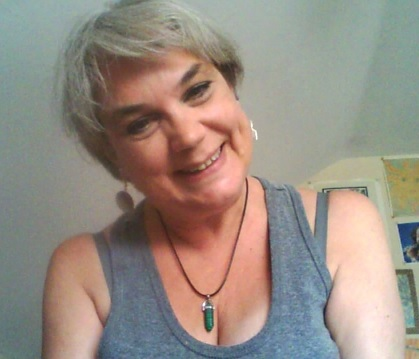 Polly MacDavid lives in Buffalo, New York at the moment but that could easily change, since she is a gypsy at heart. Like a gypsy, she is attracted to the divinatory arts, as well as camp fires and dancing barefoot. She has three cats who all help her with her magic.
Her philosophy about religion and magic is that it must be thoroughly based in science and logic. She is Dianic Wiccan but she gets along with a few of the masculine deities. She loves to cook and she is a Bills fan.
She blogs at silverapplequeen.wordpress.com. She writes about general life, politics and poetry. She is writing a novel about sex, drugs and recovery.