Oracle Deck Review – The Everyday Witch Oracle by Deborah Blake & Elisabeth Alba
Oracle Deck Review
The Everyday Witch Oracle
by Deborah Blake & Elisabeth Alba
The Everyday Witch Oracle, published by Llewellyn Publications, a Division of Llewellyn Worldwide, Ltd., 2143 Wooddale Drive, Woodbury, MN 55125-2989, is created by Deborah Blake (who also created the Everyday Witch Tarot), with art by Elisabeth Alba. This is an Oracle deck containing 40 cards with witch and magic-themed images.
The Everyday Witch Oracle comes in a sturdy 4 1/4" by 6" box with a matte color finish. The front of the box has a full color card image and the name of the deck; the back of the box has a description of the deck and three sample card images, also in color. The guidebook is 3 3/4" by 5 1/2" with a color glossy soft cover showing another full color card image and the name of the deck and a color glossy back cover with a different write-up about the deck and five sample card images.
The Oracle cards are a bit big, 3 3/4" by 5 ½," but not difficult to handle. The 40 cards that make up this Oracle deck have a glossy finish full color image printed on nice card stock, flexible but durable; the glossy finish makes them nicely slippery, easy to shuffle despite the size of the cards. Elisabeth Alba's lush and colorful card images cover the entire surface with no margin or border, leaving more space for images that are vibrant and attractive. At the bottom of each card is a banner with a key phrase describing the card. The image on the back of the cards is also glossy and in full color, showing a blue star field, representations of the four elements, and four different cats.
The accompanying guidebook has 99 white pages with black easily read typeface. The book begins with bios of the author and the artist, a Table of Contents, and an Introduction. The first four chapters cover foundational information about the Oracle deck and its use, such as suggestions for how to use the Oracle, how the deck is set up, descriptions of the patterns to be found in each of the four themes of the Oracle, and a few sample spreads.
Chapter Five begins the card descriptions. The Everyday Witch Oracle is divided into four elemental themes each containing 10 cards, with Earth cards representing grounding and practical action, Air cards dealing with thoughts and communications, Fire cards representing creativity and passion, and Water cards dealing with change and movement. Each card entry is numbered, and begins with the key phrases found in the banner at the bottom of the corresponding card. Next is a brief explanation of the key phrase, followed by three divination options: Action (something to do), Divination (a concept to think about) and Magic (a suggested ritual or working), all connected to the meaning of the card. The book finishes with suggested ways to use the Everyday Witch Oracle along with the Everyday Witch Tarot.
As the name suggests, there are pointy black hats and broomsticks and cats, but the enchanting card images are friendly and inviting, filled with light and joy and whimsy as well as spells and magic. The figures in the card images of this Oracle are quite diverse, and the images themselves personify the meaning of each card so well that a reader could easily create their own card interpretations, without needing the guidebook.
That brings me to my one problem with this beautiful Oracle: while the guidebook card descriptions are separated into their elemental themes and each card description is numbered, the cards themselves do not indicate their element and are not numbered. There are no card images in the guidebook, and the only way to look up a card is to look for its key phrase. Someone new to divination would find looking up individual cards very cumbersome, not something to do while attempting to do a reading. Yes, the Table of Contents does list each card individually with a corresponding page number for the card meanings, grouped by the four elements, but that is one more step added to the process of looking up a particular card.
I really like this Oracle. The brilliantly colored images really do present the key phrases in a way that is easily absorbed and interpreted, the "witchy" themes are welcoming whether you are a practicing witch or are buying this Oracle for fun. I used these cards for a while as part of my own daily card throw, and found that they supported and expanded on my Tarot card nicely. I plan on continuing to use them. This would be a great deck to use for a morning card throw; the drawings themselves present mature concepts in an attractive and welcoming manner, the interpretations are easy to connect with and offer valuable wisdom and guidance, and with three suggested divination options, Action, Divination and Magic, even an inexperienced divinator can find valuable day-to-day guidance.
Deborah Blake, the creator of the Everyday Witch Oracle and Everyday Witch Tarot, is a Wiccan high priestess and leader of the Blue Moon Circle. She is also prolific book author who has also written numerous articles for Llewellyn annuals and an ongoing column in Witches & Pagans Magazine. She is a jewelry maker, a Tarot reader and an energy worker. She writes a blog called Writing the Witchy Way, and runs The Artisans' Guild, a cooperative shop she founded with a friend in 1999. Her website can be found at www.deborahblakeauthor.com.
Elisabeth Alba's work can be seen in magazines, games, and books (including Llewellyn's Magical Almanacs). Her artwork focuses on fairy tales, fantasy and historical subjects, and she usually works with ink, watercolor and gouache (an opaque watercolor usually used by artists for posters, illustrations, and other design work). Her website can be found at www.albaillustration.com.

Everyday Witch Oracle on Amazon
***
About the Author: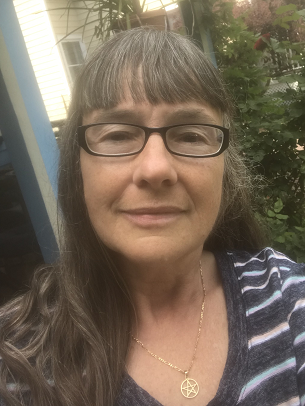 Raushanna is a lifetime resident of New Jersey. As well as a professional Tarot Reader and Teacher, she is a practicing Wiccan (Third Degree, Sacred Mists Coven), a Usui Reiki Master/Teacher, a certified Vedic Thai-Yoga Massage Bodyworker, a 500-hr RYT Yoga Teacher specializing in chair assisted Yoga for movement disorders, and a Middle Eastern dance performer, choreographer and teacher.  Raushanna bought her first Tarot deck in 2005, and was instantly captivated by the images on the cards and the vast, deep and textured messages to be gleaned from their symbols. She loves reading about, writing about, and talking about the Tarot, and anything occult, mystical, or spiritual, as well as anything connected to the human subtle body. She has published a book, "The Emerald Tablet: My 24-Day Journal to Understanding," and is currently working on a book about the Tarot, pathworking and the Tree of Life. Raushanna documents her experiences and her daily card throws in her blog, DancingSparkles.blogspot.com, which has been in existence since 2009. She and her husband, her son and step son, and her numerous friends and large extended family can often be found on the beaches, bike paths and hiking trails of the Cape May, NJ area.