Book Review – My Pocket Meditations for Anxiety by Carly Centen
Book Review
My Pocket Meditations for Anxiety
by Carly Centen
Adams Media
176 Pages
The timeliness of publishing of My Pocket Meditations for Anxiety by Carly Centen could not have been planned more effectively. The challenges of COVID-19, a contentious and volatile election, civil unrest and the revealing of long prevailing inequities has everyone anxious and afraid. This little treasure offers a bit of respite and if used regularly, the cultivation of mindfulness as a tool for greater calm. This title is part of an eleven (11) book series; each small in size, big in tools and information and covering a variety of subjects.
… You can't eradicate stress from your life, but developing a healthy stress response is part of good health…1.
I truly appreciate this reminder at the onset that stress is part of the human experience and we do have power over how we respond-or react- to what comes our way. My Pocket Meditations for Anxiety contains 150 brief meditation prompts spread throughout twelve (12) chapters and aligned by the theme of that chapter. Themes include Meditations:
To Move Into Stillness, To Visualize Natural Calm, To Understand Stress and Anxiety, To Relax Through Your Breath, To Find Focus with a Mantra or Phrase, To Get Out of Your Head and Into Your Senses and others that hone in on all of the components and ways of expression anxiety will out-picture. Each meditation gives an introductory paragraph to set the intention and a list of 4-5 steps and suggestion to engage in the meditation. Some are written exercises and others are physically settling in
The Introduction takes the reader through all the basic information about meditation and the how to. Although you are encouraged to begin in any of the chapters not respecting the order, each chapter's meditations build one upon the other in creating the mindset and balance of achieving calm through its work.
I especially found the meditations in Chapter 11: Meditations to Be Mindful In the Everyday very useful and ones that I will routinely return to. Wake Up with Intention and Take a Pause at Red Lights were great reminders to slow down….
….Take a Pause at Red Lights
1. When you're stopped at a red light, notice your breath.
2. Stay alert, watching the traffic and the signal ahead.
3. Breathe in with gratitude for this pause in your travel. There is
nothing else you need to do in this moment but watch and wait.
4. Breathe out any worry about rushing or being at your destination.
Consider that you're simply early for your next green light…..2.
The final Chapter 12 ends with a meditation entitled "Be At One" and its intention speaks to the simplicity, yet power of establishing a daily practice of mindful intention…
…Build your open awareness self-guided practice bit by bit every day-going into yourself, but also realizing as you do that everything is connected and that you are a part of it all…3.
Would I Recommend:
My Pocket Meditations for Anxiety by Carly Centen is an easy and usable entry point into gaining greater self-control and modulating your emotions as we navigate these very challenging times. For anyone who thinks they don't have time for meditation this offering demonstrates that meditation is not just a practice that requires an isolated space, the right décor or time that stretches on. Establishing the space of contemplative reflection (aka. Meditation) can be achieved in any venue (shower, kitchen, car to name a few that stood out) and with an intention held within 2-4 easy steps.
I would say that you owe it to yourself to gift yourself (and loved ones) with My Pocket Meditations for Anxiety.
About the Author:
Carley Centen is a writer and yoga teacher who first encountered mindfulness as part of her own quest to tackle her general anxiety. Through online courses, in-person retreats, and storytelling, she now draws on over a decade of practice in her mission to share, grow, and continually learn about the ideas and tools that work to improve our bodies, minds, and lives. Carley has taught yoga and mindfulness in places around the world from Costa Rica to Colombia to London.
Footnotes:
Introduction

p. 149

p. 171

My Pocket Meditations for Anxiety on Amazon

***
About the Author: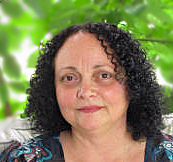 Robin Fennelly is a Third Degree Initiate within The Assembly of the Sacred Wheel Tradition and serves as High Priestess of Coven of the Mystic Path, the 12th Coven within the Assembly of the Sacred Wheel Tradition. She teaches and facilitates classes for the Pagan Experience Study Group that serves as foundation for membership within Coven of the Mystic Path.  
Her spiritual journey is strongly rooted in both Eastern philosophy and the Western Magickal systems from which she has formed a core foundation that is diverse in knowledge and rich in spiritual practice.  A life-long learner, her practice has evolved from the classical and philosophical teachings of books, practical experience and enrichment of this knowledge base by attending workshops of various spiritual traditions presented by master teachers.
Robin formally came to the Wiccan path in 1994. Following practice as a solitary for 2 years, she dedicated to Oak and Willow Coven of The Assembly of the Sacred Wheel Tradition in November of 1996. She received her 1st, 2nd and finally 3rd degrees within the Assembly Tradition and has served as High Priestess of Oak and Willow since Samhain of 2001.

As a teacher of esoteric and magickal studies she has used Energetic Anatomy, Tarot, Astrology, Hermetic Qabala, Eastern Philosophy, and Numerology as the foundations of her diverse selection of workshops and writings for more than 25 years. Exploration of varied energetic protocol has been the focus of her work for some time now and the information gained through direct experience informs all of her magickal and spiritual work.
Robin's writings have been featured online, and in print Internationally.  She has authored several books incorporating her unique style of writing making use of poetry, prose and pathworking to enhance the concepts presented.  She has taught extensively throughout the Pagan community, including Sacred Space Conference, Spring Magick, Between the Worlds Interfaith Conference and Free Spirit Gathering Festival this Summer. Her most recent project is hosting an online blogging community entitled The Pagan Experience.
Robin is the owner of Holistic Embrace providing services for mind, body and spirit such as Tarot readings, Astrology reports, Spiritual Guidance and other related offerings.  She lives in Eastern Pennsylvania and her life is blessed by a 40+- year marriage, five children and the opportunity to work in the field of public education.
Robin's Books
The Inner Chamber, Vol. 1 It's Written in the Stars-Astrology
The Inner Chamber, Vol. 2 Poetry of the Spheres-Qabalah
The Inner Chamber, Vol. 3 Awakening the Paths-Qabalah
The Light of SELF: Consciousness, Spiritual Practice and Learning to Breathe
Magickal Verse: A Collection of Poetry and Prose
A Year of Gaia: The Eternal Cord
The Elemental Year: Aligning the Elements of SELF
Temple of the Sun and Moon: Luminous Devotions
Sleeping with the Goddess: Nights of Devotion
A Weekly Reflection: Musings for the Year
The Magickal Pen: A Collection of Esoteric Writings
The Enchanted Gate: Musings on the Magick of the Natural World
For more info: http://www.robinfennelly.com/books.html
Robin's Website: www.robinfennelly.com
Coven of the Mystic Path, ASW: www.covenofthemysticpath.org