Divination Deck Review – Visionary I Ching Cards: The Book of Changes for Intuitive Decision-Making by Paul O'Brien
Divination Deck Review
Visionary I Ching Cards
The Book of Changes for
Intuitive Decision-Making
by

Paul O'Brien
Beyond Words
64 cards; 224-page

B

ooklet
The accelerating speed of life and the furious speed of change creates a feeling of chaos.
"Change itself is really the only constant – the one thing we can absolutely count on," Paul O'Brien wrote in the introduction, adding, "And the I Ching helps to befriend and manage these inevitable, unexpected, and sometimes confusing changes in our lives."
The Book of Change, one of the oldest books in the world, offers ancient wisdom to make informed and timely adjustments to adapt to these changes, making for a more successful and happier life.
A psychologically sophisticated divination system, it stimulates intuition and helps develop strategies to manage change based on the Taoist dynamics of ring and yang. Classical interpretations of the 64 hexagrams that are built from the bottom up has archaic text not easily understood by the casual user.
In "Visionary I Ching Cards: The Book of Changes for Intuitive Decision-Making," O'Brien has updated the language. Rather than use the traditional coins or sticks to cast, he turned each hexagram into a card with paintings by watercolor artist Joan Larimore. He updated the text to remove patriarchal references and translated military directives.
How to approach a reading, frame an inquiry, pick cards, and read them are explained.
He cautions it's best to consult the I Ching about the approach, method, or attitude rather than seeking specific details about what is going to happen, and turning to this most revered divination system only when logic will not resolve a dilemma.
To give you an example of the language, I drew two cards seeking guidance. The first was seven: organized discipline. In traditional texts, it's known as the army. Looking at lines two and three, a traditional text reads, "In the midst of the army. Good fortune. No blame. The king bestows a triple decoration." and "Perchance the army carries corpses in the wagon. Misfortune."
O'Brien's words for the same two lines are "Good fortune results when leader works with their team. When honors are bestowed, everyone is proud to see their leader rewarded on their behalf." and "Misfortune follows if you overestimate you capabilities or underestimate your weaknesses. Be certain that you and those around you are playing the role for which each is best suited, and you will overcome challenges."
The second card I drew was fifteen: humility. His definition includes, "The most successful people are those who know how to bring situations into balance by reducing those who are too inflated and adding to those who are too minimized. Such a person strives for balanced and stable relationships, not power over others."
The same traditional source as above calls the card modesty with the wisdom, "Modesty creates success. The superior man carries things through. … [He] reduces that which is too much, and augments that which is too little. He weighs things and makes them equal."
The words are very different, but their meanings are not. The cards are large, making them more difficult to handle, but a good size to prop on an altar or mirror as a reminder. The paintings depict the meaning of the card. For instance, card fifty-six, the wanderer, is shown as mountains with fire on them, no different from the traditional image description of "fire on the mountain."
If you have not been drawn to the coins or sticks, these cards offer another way to access the ancient divination method for its wisdom and insights.
About Author Paul O'Brien:
In 1989, Paul O'Brien developed and published the first divination software – Synchronicity, an interactive I Ching program that evolved into I-Ching.com and tarot.com. Selling them in 2007, he founded the nonprofit Divination Foundation (https://divination.com/) to help people make better decisions with authentic divination tools. He's written the Visionary I Ching Oracle app and several books.
Visionary I Ching Cards on Amazon
***
About the Author:
Lynn Woike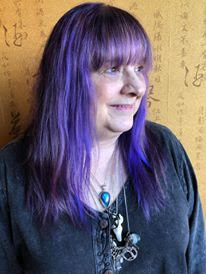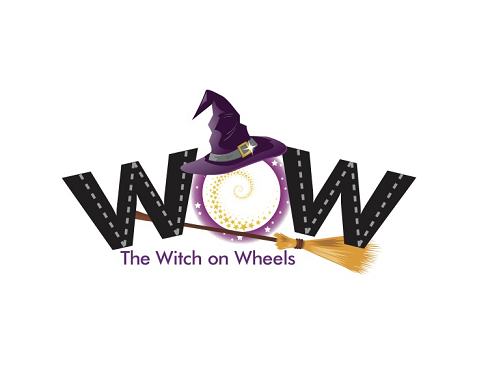 All my life I have known magic was real. As a child, I played with the fae, established relationships with trees and "just knew things." In my maiden years I discovered witchcraft and dabbled in the black-candles-and-cemeteries-at-midnight-on-a-fullmoon magick just enough to realize I did not understand its power. I went on to explore many practices including Zen, astrology, color therapy, native traditions, tarot, herbs, candle magic, gems, and, as I moved into my mother years, Buddhism, the Kabbalah and Reiki. The first man I dated after my divorce was a witch who reintroduced me to the Craft, this time by way of the Goddess. For 11 years I was in a coven, but with retirement, I have returned to an eclectic solitary practice. When accepting the mantle of crone, I pledged to serve and teach. This is what I do from my skoolie – a 30-year-old school bus converted into a tiny house on wheels that I am driving around the country, following 72-degree weather, emerging myself into nature, and sharing magic with those I meet. Find me at thewitchonwheels.com, Facebook and Instagram.