Review of Little Evil
Bright Blessings, Film Lovers.
I thought I'd do a horror since it's October- Halloween month!
This one is not scary really, but it is a horror comedy. It's hilarious and deals with theme of evil, cults, and the individual will.
Little Evil was released in 2017 and stars the illustrious Clancy Brown, the very funny Adam Scott, and the legendary Sally Field. Here is a trailer so you can see how great this is.
Gary meets the woman of his dreams, Samantha, and after a very short courtship, marries her and moves in with she and her five-year-old son, Lucas. Lucas is a gorgeous ginger child who dresses like Damien from the Omen, and resembles a five year old Angus Young from AC/DC.
At first, Adam thinks Lucas is just a moody kid who needs to warm up to him, and a friend from work talks him into joining a stepdad's support group. He is immediately put at ease as all the members tell horror stories about how their step kids make their lives living hells. This encourages him that everything is 100% normal and all he has to do is be good to Lucas, and with time, they will have the perfect family life.
Unfortunately, things don't go as planned.
Gary is contacted by the wedding photographer, who shows him something VERY disturbing and sends him to see a mystic who convinces him that Lucas is, in fact, the spawn of Satan.
Led by Reverend Gospel, played by Clancy Brown, a cult is trying to bring about the end of the world!
During this time, Lucas shows some bad behavior, like burying his step ad alive in the back yard, and telling a teacher to go to hell.
As Gary understands what is happening, he talks over and over again to Lucas about being who you ARE, not who the people who birthed you expect you to be. He talks about making your own choices, being our own person, and taking responsibility for what you do, and being who you decide to be.
All along, Adam and his friends fight the cult to beat the devil and save Lucas, who he has come to love.
In the end, when given the choice to be like his biological father, or be more like his stepdad, you will be surprised what Lucas decides to do.
As many reading this don't believe in the Biblical Satan, the magic in no way lies in good, evil, and end times, but in personal will.
Lucas, at the age of five, is faced with a monumental decision no other five-year-old ever had to make. In his limited years, how much could he have learned to make a choice? But the magic of Gary's love and guidance helps steer Lucas. Some say there is no greater power than the power of love, and for Lucas, this is absolutely true.
Lucas had no understanding of what was happening to him, and I daresay him mom had no clue what to do. It was as if she was completely blinded by a curse to what Lucas was becoming.
The spell was broken just in time thanks top Adam.
I found a quote I think applies by a Willa Cather. She said " Where there is great love, there are always miracles."
When somebody really loves you, stands by you, wants the best for you, and never gives up on you, no matter how bad things get? These things can open up your ability to find the strength inside to transcend even the worst of things!
Lucky Lucas did NOT live up to what he was born to be. He became something better- who he chose to be- all because of the magic of love.
Watch and see this inspiring story for yourself!
Happy Film Viewing!
Blessed Be!
***
About the Author: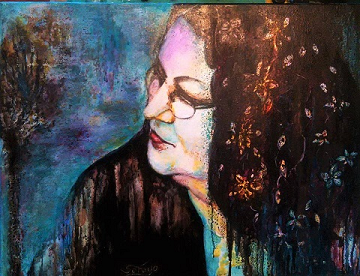 Saoirse is a practicing witch, and initiated Wiccan of an Eclectic Tradition.
A recovered Catholic, she was raised to believe in heaven and hell, that there is only one god, and only one way to believe. As she approached her late 20's, little things started to show her this was all wrong. She was most inspired by the saying "God is too big to fit into one religion" and after a heated exchange with the then associate pastor of the last Xtian church she attended, she finally realized she was in no way Xtian, and decided to move on to see where she could find her spiritual home.
Her homecoming to her Path was after many years of being called to The Old Ways and the Goddess, and happened in Phoenix, Arizona. She really did rise from her own ashes!
Upon returning to Ohio, she thought Chaos Magic was the answer, and soon discovered it was actually Wicca. She was blessed with a marvelous mentor, Lord Shadow, and started a Magical Discussion Group at local Metaphysical Shop Fly By Night. The group was later dubbed A Gathering of Paths. For a few years, this group met, discussed, did rituals, fellowship, and volunteering together, and even marched as a Pagan group with members of other groups at the local gay Pride Parade for eight years.
All the while, she continued studying with her mentor, and is still studying for Third Degree, making it to Second Degree thus far.
She is a gifted tarot reader, spellworker, teacher, and was even a resident Witch at a Westerville place dubbed The Parlor for a time.
Aside from her magical practice, she is a crocheter, beader, painter, and a good cook. She has been a clown and children's entertainer, a Nursing Home Activities Professional, a Cavern Tour Guide, a Retail Cashier, and a reader in local shops. Her college degree is a BA in English Writing. She tried her hand at both singing and playing bagpipes, and…well…let's just say her gifts lie elsewhere! She loves gardening, reading, antiques, time with friends and soul kin, and lots and lots of glorious color bedecking her small home!
On the encouragement of a loved one several years back, she searched for a publication to write for, and is right at home at PaganPagesOrg.
She is currently residing in Central Ohio with her husband, and furbabies.
Saoirse can be contacted at [email protected].