Book Review – Sleep Tight: Illustrated Bedtime Stories & Meditations to Soothe You to Sleep by Alison Davies, with illustrations by Alexandra Kern
Book Review
Sleep Tight
Illustrated Bedtime Stories &
Meditations to Soothe You to Sleep
by Alison Davies
with illustrations by Alexandra Kern
Publishers: Leaping Hare Press
128 Pages
Publication Date: 4/13/2021
As a lifelong insomniac, I was really excited to receive this book for reviewing. I thought it was going to be a guide to how to get to sleep when one is anxious or manic, how to turn off one's racing brain and get the rest so badly needed; how to stay asleep and what to do – and not do – if awoken; and what to do during the day to ensure good sleep at night. And of course, I wanted to see if any of the tools I had acquired in my sixty years were recorded.
But no.
This is not that kind of book.
This is not about making your sleep more restorative. No matter what Alison Davies so earnestly writes in the introduction, this is about making your sleep more productive. This book is about putting you into a frame of mind so you dream a certain kind of dream and when you wake up, you are able to work the kind of work you want to do.
There's nothing wrong with that – it's just not what I thought I was going to be reading.
When I was much younger, I hated sleep. I thought it was a waste of time. I would have liked to never have slept – to be productive twenty-four hours a day, seven days a week. Of course – this is impossible – but I certainly did try! Three of four days into sleeplessness, I usually crashed. It was fun while it lasted!
I would have loved this book in those days.
I always told myself stories to help myself relax or to go to sleep. I never called them "guided meditations" but I guess that's what they were. They were usually a tad more erotic than these stories. But they helped me go into dreamland and when I woke, I usually had a poem ready to write.
What changed everything for me was pregnancy. All of a sudden, I wanted to sleep – I had to sleep – I didn't have a choice – I was nodding off whether I wanted to or not. Pregnancy was such a sweet dream – and at the end of it, there was my lovely little baby boy. I can't believe he's all grown up and in the Army now. Twenty-five years gone in a flash. But I digress.
I think if I were going to use this book, I would want it as an audio book – so I could hear it outside of myself – or use it with another person. I think it might work better. At the very least, I would read it out loud. There's power in the spoken word that just doesn't exist when you are reading silently.
There are fifteen meditations altogether. You can choose to work with patience one night and creativity another night and confidence the third night or do a whole week of tenacity. Each meditation includes affirmations to help you achieve your goal of spiritual enlightenment.
There are also pointers, like what crystals to use to help enhance your meditation experience or what colors to visualize when you are falling asleep. Or on page 55: "Good posture generates positive energy. It affects the way we think and feel and allows us to breathe correctly, which in turn floods the system with oxygen, providing focus and clarity." (Davies, 55)
The illustrations by Alexandra Kern are lovely and enhance Alison Davies' prose perfectly. Each chapter has a beautiful full-color illustration to put you in the mood as you start on your nighttime journey.
This beautiful book would make an enchanting gift for any spiritually gifted person – indeed, for any kind of gifted person, especially a creative one. I highly recommend it – even if it wasn't what I expected!
References
Davis, Alison. Sleep Tight: Illustrated Bedtime Stories & Meditations to Soothe You to Sleep. Brighton: Leaping Hare Press, 2021.
Sleep Tight: Illustrated bedtime stories & meditations to soothe you to sleep on Amazon
***
About the Author: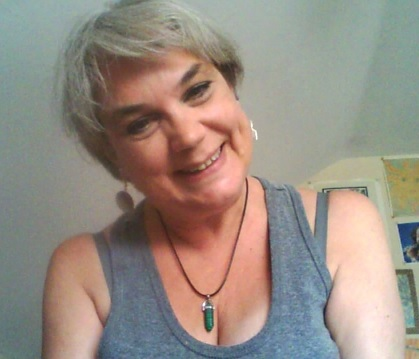 Polly MacDavid lives in Buffalo, New York at the moment but that could easily change, since she is a gypsy at heart. Like a gypsy, she is attracted to the divinatory arts, as well as camp fires and dancing barefoot. She has three cats who all help her with her magic.
Her philosophy about religion and magic is that it must be thoroughly based in science and logic. She is Dianic Wiccan but she gets along with a few of the masculine deities. She loves to cook and she is a Bills fan.
She blogs at silverapplequeen.wordpress.com. She writes about general life, politics and poetry. She is writing a novel about sex, drugs and recovery.