Tarot Deck Review – Tarot Z Deck by Artist Alejandro Colucci & Written by Jaymi Elford
Tarot Deck Review
Tarot Z Deck
by Artist Alejandro Colucci
Written by Jaymi Elford
Publisher: Llewellyn Publications
128 Pages
Publication Date: 10/08/2019
Tarot Z, published and copyrighted by Lo Scarabeo, Vi Cigna 110, 10155 Torino, Italy, is a Tarot deck created and designed by award-winning artist Alejandro Colucci, with a Little White Book written by Jaymi Elford.
Tarot Z comes in a very sturdy 3 1/4 inch by 5 inch cardboard box with glossy color card images or the name of the deck on all sides. Once the pull-off lid is removed, enough of the box remains that the cards and the accompanying guidebook can stand on end, enabling easy access to this fascinating deck.
The 2 3/4" by 4 3/4" inch guidebook has 128 glossy white pages with black typeface, red chapter headings, and a few color images. The nicely-sturdy cardboard cover is in glossy color, and the upper and lower edges of the inside pages are stained red, as if the book had been dropped in a pool of blood, a nicely creepy touch. The guidebook provides its information in six languages, and begins with a Forward by the guidebook's author, Jami Elford, followed by Welcome To The Apocalypse, offering a bit of preparation before we plunge into the world of zombies.
Next is the card descriptions, beginning with the Major Arcana followed by the Minor Arcana. Each description contains a nicely-meaty paragraph describing the image and how it relates to the theme of the deck and the card itself by providing a post-apocalyptic interpretation of traditional Tarot symbolism, followed by some keywords. The card descriptions are great, totally in keeping with the theme of the deck and sprinkled with terms and bits of knowledge connected to the zombie world that any zombie enthusiast would know. Elford does an amazing job of creating card descriptions that keep within the RWS foundation that inspires Colucci's deliciously dark images, yet remain easily understood by a non-zombie Tarot fan like me. The guidebook finishes with three brief but necessary sections: An Introduction to Tarot, Using the Cards, and a sample spread.
The cards themselves are 2 3/4" by 4 3/4" inches, made of sturdy yet bendy card stock that makes a hefty 1 3/8" thick pack with glossy color images on both sides of each card. The deck handles nicely and is easy to shuffle despite the substantial stock. The cards contain full images that are borderless except for a small ribbon at the bottom of the image, containing a card number for the Major Arcana cards and a number and suit representation for the Minor Arcana. The image on the back of the cards is also glossy with no border, a beautifully detailed sepia-toned zombie hand reaching out from the grave.
As stated, the imagery of the Tarot Z is based on the traditional Rider Waite deck, but that foundation is not necessarily easy to perceive in every image. The symbolism is there, though, and Colucci's openly frightening images are worth taking a second, deeper look. Yes, those images are gory, oozing and dark, but this is a zombie deck after all!
This deck is not for the squeamish or faint-hearted (which makes it the perfect deck for zombie and horror enthusiasts!). Because of the subtlety of the symbolism found in the card images, this might not be a good deck for a beginner who has not yet learned about traditional Tarot symbolism. The cards are numbered but not named, so a beginner would need to memorize the images themselves in order to interpret what cards have showed up in a spread.
Tarot Z is a great deck for those readers drawn to the horror genre in general and zombies in particular. Tarot Z would make an incredibly powerful deck to use in Shadow Work. We are also at the Halloween time of year, and this deck fits perfectly with the energies of that holiday. If you collect Tarot decks, this is the one you want for a representation of zombie-themed decks. I was pleasantly surprised when I opened this deck, as I did not expect to be drawn in by the artwork. But drawn in I was, and I leafed through each of the cards, enjoying some of the clever interpretations created by Colucci.
Alejandro Colucci has illustrated many fantasy, crime, horror, science fiction and historic fiction publications from around the world. You can learn more about the work of Colucci at his website, https://www.alejandrocolucci.com where you can see examples of his powerful and hypnotic artwork.
Jaymi Elford is the author of Tarot Inspired Life and the Triple Goddess Tarot who describes herself as a writer, tarot coach, firespinner, gamer and avid reader; her website is https://www.shadesofmaybe.com

Tarot Z Deck on Amazon
***
About the Author: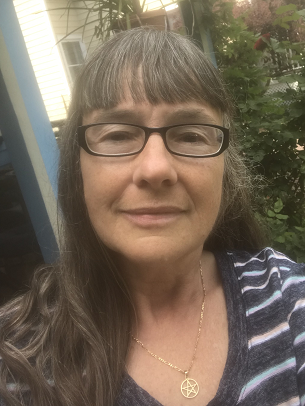 Raushanna is a lifetime resident of New Jersey. As well as a professional Tarot Reader and Teacher, she is a practicing Wiccan (Third Degree, Sacred Mists Coven), a Usui Reiki Master/Teacher, a certified Vedic Thai-Yoga Massage Bodyworker, a 500-hr RYT Yoga Teacher specializing in chair assisted Yoga for movement disorders, and a Middle Eastern dance performer, choreographer and teacher.  Raushanna bought her first Tarot deck in 2005, and was instantly captivated by the images on the cards and the vast, deep and textured messages to be gleaned from their symbols. She loves reading about, writing about, and talking about the Tarot, and anything occult, mystical, or spiritual, as well as anything connected to the human subtle body. She has published a book, "The Emerald Tablet: My 24-Day Journal to Understanding," and is currently working on a book about the Tarot, pathworking and the Tree of Life. Raushanna documents her experiences and her daily card throws in her blog, DancingSparkles.blogspot.com, which has been in existence since 2009. She and her husband, her son and step son, and her numerous friends and large extended family can often be found on the beaches, bike paths and hiking trails of the Cape May, NJ area.