Book Review – Prayers for Healing: 365 Blessings, Poems & Meditations from Around the World by Rev. Maggi Oman Shannon
Book Review
Prayers for Healing
365 Blessings, Poems & Meditations
from Around the World
by Rev. Maggi Oman Shannon
Publisher: Conari Press
302 Pages
Publication Date: 9/15/2020
Prayers for Healing: 365 Blessings, Poems & Meditations from Around the World by Rev. Maggi Oman Shannon brought back so many wonderful memories for me. We have five children (under five) and when they were little ones we started a tradition of celebrating many different cultures and spiritual/religious beliefs. Every weekend was another trip to some part of the world and a special celebration that was happening on those dates. We did this as a way of raising our children in a way that supported exploration of cultural and religious practices, encouraging that one size does not fit all and that what becomes your life's journey is your own, not necessarily that of your parents. Of course, this meant lots of prayers, affirmations and more from a variety of sources that were incorporated into meal times, special holidays and anywhere it seemed appropriate. The entire venture was one that would be considered "interfaith " in its application and multi-cultural in its intent.
Reading through the prayers and affirmations included in Prayers for Healing: 365 Blessings, Poems & Meditations from Around the World reminded me of the power of remaining open and all inclusive in our spiritual practices. And, this powerful little book gathers from some of the most respected authors of these prayers, poems and meditations that have served as guidance and inspiration for generations. These include:
One of my favorite poet/mystics is Rumi and his wisdom is well represented….
You're song.
a wished for song.
Go through the ear to the center
where the sky is, where wind
where silent knowing.
Put seeds and cover them.
Blades will sprout
where you do your work. 1.
Prayers for Healing: 365 Blessings, Poems & Meditations from Around the World is separated into sections aligning with the seasons and for those who may wish to read an offering each day, they are dated as well. Another of my favorite's was the offering for February 14- St. Valentine's Day…
Fill my heart with Love.
that my every teardrop may becomes a star.
Hazrat Inayat Khan 2.
The beauty in a book such as this is that no words (of review) can truly do it justice or disservice. The content will be received in a purely subjective manner, just as any work of creative effort, art, dance, music, etc… appeals to each in a unique and very personal way. It is a gift of experience that has to be sat with, slowly digested and allowed the space for integration to occur as resonance or discord settle in. For me personally, I enjoy these samplings that have arisen within the hearts and minds of these great thinkers, texts and mystics.
Would I Recommend:
Prayers for Healing: 365 Blessings, Poems & Meditations from Around the World by Rev. Maggi Oman Shannon is a gift of comfort, peace and stillness.
This Pawnee prayer dated for the Summer Solstice (June 20) is a beautiful rendering of the inspiration that arises from this book….
Earth, ourselves,
breathe and awaken,
leaves are stirring,
all things moving,
new day coming,
life renewing. 3.
Notes:
p.106

p. 96

p.148
About Author Rev. Maggi Oman Shannon:
Rev. Maggie Oman Shannon, M.A., is an ordained Unity minister, spiritual director, workshop and retreat facilitator, and author of six books including works such as One God, Shared Hope and The Way We Pray, editor of Prayers for Healing and coauthor of A String and a Prayer. In 2000, Oman Shannon founded The New Story, a coaching and consulting business focused on helping people create deeper meaning in their lives. Ordained as a Unity minister in 2014, she has had the honor of serving as the spiritual leader of Unity Spiritual Center of San Francisco since January 2010. Oman Shannon lives in San Francisco with her husband and daughter.
Prayers for Healing: 365 Blessings, Poems, & Meditations from Around the World (Meditations for Healing) on Amazon
***
About the author: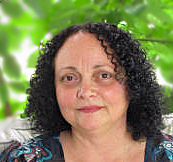 Robin Fennelly is an Elder within The Assembly of the Sacred Wheel Tradition and serves as High Priestess of Coven of the Mystic Path, the 12th Coven within the Assembly of the Sacred Wheel Tradition. She teaches and facilitates classes for the Pagan Experience Study Group that serves as foundation for membership within Coven of the Mystic Path.  
Her spiritual journey is strongly rooted in both Eastern philosophy and the Western Magickal systems from which she has formed a core foundation that is diverse in knowledge and rich in spiritual practice.  A life-long learner, her practice has evolved from the classical and philosophical teachings of books, practical experience and enrichment of this knowledge base by attending workshops of various spiritual traditions presented by master teachers.
Robin formally came to the Wiccan path in 1994. Following a practice as a solitary for 2 years, she dedicated to Oak and Willow Coven of The Assembly of the Sacred Wheel Tradition in November of 1996. She received her 1st, 2nd, 3rd and 4th (Elder) degrees within the Assembly Tradition and has served as High Priestess of two ASW covens since Samhain of 2001 and the Winter Solstice of 2015.
As a teacher of esoteric and magickal studies she uses Energetic Anatomy, Tarot, Astrology, Hermetic Qabala, Eastern Philosophy, and Numerology as the foundations of her diverse selection of workshops and writings for more than 25 years. Exploration of varied energetic protocol has been the focus of her work for some time now and the information gained through direct experience informs all of her magickal and spiritual work.
Robin's writings have been featured online, and in print Internationally.  She has authored several books incorporating her unique style of writing making use of poetry, prose and pathworking to enhance the concepts presented.  She has taught extensively throughout the Pagan community, including Sacred Space Conference, Spring Magick, Between the Worlds Interfaith Conference and Free Spirit Gathering Festival. Her most recent projects include a channel on youtube: A Journey to the Inner Chamber. She also shares audio pathworkings and ritual on her bandcamp site: Teachings on the Path with Robin.
Robin is the owner of Holistic Embrace providing services for mind, body and spirit such as Tarot readings, Astrology reports, Spiritual Guidance and other related offerings.  She lives in Eastern Pennsylvania and her life is blessed by a 40+- year marriage, five children and the opportunity to work in the field of public education.
Robin's Website: www.robinfennelly.com
Coven of the Mystic Path, ASW: www.covenofthemysticpath.org
Her books can be found on Amazon or purchased directly through her website:
For more info: http://www.robinfennelly.com/books.html
The Inner Chamber, Vol. 1 It's Written in the Stars-Astrology
The Inner Chamber, Vol. 2 Poetry of the Spheres-Qabalah
The Inner Chamber, Vol. 3 Awakening the Paths-Qabalah
The Light of SELF: Consciousness, Spiritual Practice and Learning to Breathe
Magickal Verse: A Collection of Poetry and Prose
A Year of Gaia: The Eternal Cord
The Elemental Year: Aligning the Elements of SELF
Temple of the Sun and Moon: Luminous Devotions
Sleeping with the Goddess: Nights of Devotion
A Weekly Reflection: Musings for the Year
The Magickal Pen: A Collection of Esoteric Writings
The Enchanted Gate: Musings on the Magick of the Natural World
The Temple of the Sun: An Astrological Solar Year
Writings in the Shadow: An Exploration of the Shadow Nature